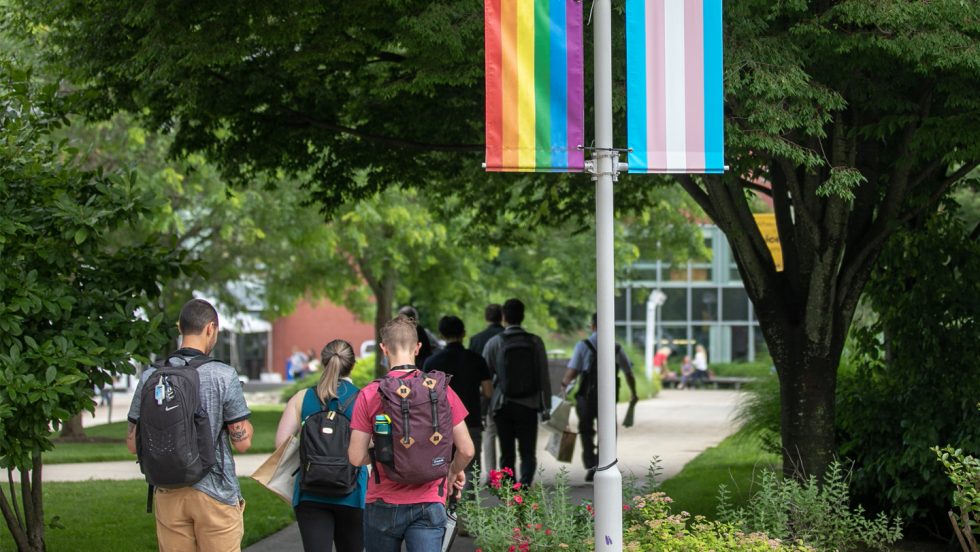 Transgender Awareness Week runs from November 13 to November 19 this year and for the second consecutive year, Adelphi will hold events for the entire community.
"We've been very fortunate to have chances like this to produce programs and consult on these issues around the LGBTQIA+ community, particularly for our trans and gender-nonconforming community," said Scott Zotto '04, MSW '09, coordinator of substance use counseling and prevention programming and co-chair of Adelphi Pride. "The University as a whole is embracing diversity, equity, inclusion and social justice into all of the programs and the curriculum. We're seeing more people taking chances and asking questions, saying, 'I just didn't know what that identity was, or, I just didn't understand what it meant to identify my pronouns.'"
"Several first-year students have reported to us that part of why they came here was because they saw rainbow flags that were inclusive on campus," said Zotto, who noted that the trans community of students has been growing. "When students see that the work is being done across the spectrum of Adelphi's community, when they see that the University is invested, that's a powerful message. We're everywhere. We're part of the whole fabric of the University."
The second annual observation of the week is a visible, important way that Adelphi supports diverse sexual and gender preferences, said organizer Mena Sposito '10, videographer in the Office of University Communications and Marketing and an advocate for transgender awareness, education and rights. Sposito, Zotto and others in Adelphi Pride are working with students in the Gender and Sexuality Alliance (GSA) to plan the Transgender Awareness Week events.
Those events include a talk by National Gay and Lesbian Sports Hall of Fame triathlete and six-time member of Team USA Chris Mosier, a film screening and follow-up discussion, and the Trans Day of Remembrance. The Adelphi community is invited to attend and more events may be added.
"Trans Awareness Week is important because most people don't realize the everyday battles that trans people face," said Sposito, who uses they/them/theirs pronouns. "It's important to bring awareness to the struggles of trans people and humanize them in order to help people understand that we're just trying to survive."
Such battles often include rejection by family and friends, as well as discrimination—much of it legal—and prejudice in the workplace, housing and healthcare. Federal laws do not protect transgender people. As a result, they are at high risk for depression and anxiety.
They are also at risk for violence against them: 2021 is on track as the deadliest on record in the United States, with 40 trans and gender-nonconforming people killed so far, according to the Human Rights Campaign.
"It's important to bring awareness to the struggles that trans people face," Sposito said, "because that's what leads us to lose people."
A Week of Events
The week's anchor event is the Trans Day of Remembrance, an annual observance honoring the memory of the transgender people whose lives were lost in acts of anti-transgender violence that year.
"The vigil is central to the week," Sposito said. "It honors people who have been taken from us."
Trans activist and artist Zayn Silva will be the vigil's guest speaker again this year. Adelphi will observe the day on November 19. The names of those who have died in 2021 will be read and participants will be invited to share their reflections. The event is nondenominational and is co-hosted by Adelphi's Interfaith Center.
Mosier, whose many firsts include being the first transgender athlete to qualify for the Olympic Trials in the gender with which they identify, will give a talk on November 16. Trans athletes and their right to compete has been in the news recently, as states pass legislation disallowing trans athletes to participate in sports. The film screening and discussion is slated for November 17.
"I feel immensely proud of Adelphi for being able to do all this," said a member of the GSA, a transgender student who preferred not to be named because he is not out to his family. "Being able to see the faces of people change by the end of an event is amazing."
Adelphi's Commitment to LGBTQIA+ Students
The week's events are just one of the many ways Adelphi strives to provide support to its LGBTQIA+ students.
Those efforts are paying off, as evidenced by the rise of the University's overall Campus Pride Index rating to four and a half out of five stars for LGBTQ inclusivity. The index is a nationally recognized measure of LGBTQ+-friendliness. In 2021 Adelphi received perfect five-star ratings in three areas: LGBTQ Counseling and Health, LGBTQ Campus Safety, and LGBTQ Recruitment and Retention.
Additionally:
Today's entering first-year and transfer students can find support and receive guidance from their peers through the LGBTQIA+ First-Year Experience Program.
Students can join the Gender and Sexuality Alliance student group, which features the InQUEERies web series on its Instagram account.
Students are invited to join Adelphi Pride, which also welcomes staff, faculty, administrators and alumni.
Adelphi now has 37 gender-neutral restrooms on campus.
The University worked with Adelphi Pride to create a new Panther logo that uses the Progress Pride colors.