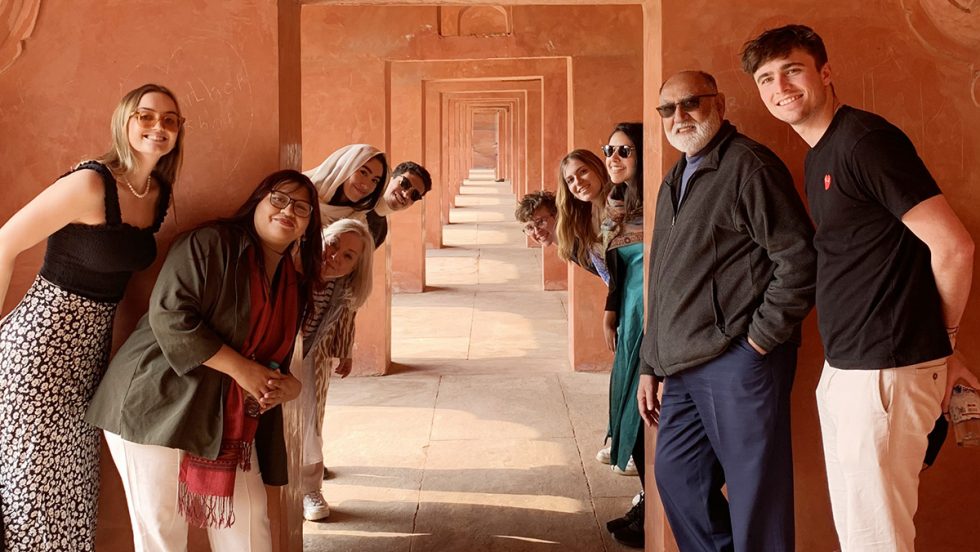 Bharat Bhisé, MBA '78, believes Adelphi students should have global exposure to other countries, cultures and economies—and he funded an all-expenses-paid study tour to India to prove it. Meet the students who benefited from this extraordinary inaugural trip.
A whirlwind. An eye-opening experience. A life-changing trip.
Those are some of the ways students and faculty members who participated in the Bhisé Global Learning Experience 2023 described their study tour of India this January during Intersession.
Made possible by the generous donation of Bharat Bhisé, MBA '78, the program provides eight select members of Adelphi's Levermore Global Scholars (LGS) program with an all-expenses-paid trip led by two faculty members, and is paired with a semester of on-campus cultural and academic opportunities.
Bhisé, the founder and CEO of Bravia Capital, established the program as an incubator for global learning. His goal is for the eight students to come back and serve as ambassadors to their peers, providing them with new knowledge as well as diverse and different ways of thinking.
"This generation of college kids is the first that have had iPads since they were toddlers and, unfortunately, this has turned into more disinformation on the internet," Bhisé said. "So now, more than ever, its critical for young people to have direct exposure to different countries and cultures to broaden their horizons and gain new perspectives. It's a critical part of being able to make the right decisions to succeed."
Bhisé credits Adelphi with being the first step in his career. He also notes his appreciation for the University's "commitment to global awareness and its Levermore Global Scholars program."
The study tour included stops in New Delhi, Agra, Goa and Mumbai, with visits to cultural landmarks like the Taj Mahal and the Elephanta caves, as well as colonial heritage sites. The group went to colleges and dance schools and even the world's largest online school and a global call center. They watched dance performances, went to an Indian rock concert and toured Bollywood Film City. They attended lectures on far-ranging topics including culture, politics, domestic violence, slum renovation, education, the environment, and health and wellness. Bhisé and his wife also hosted the group at their home in India and at several performances.
Here's what some of the participants had to say about their learning experience in India, followed by a gallery of photographs taken along the way.
"Every day was a revelation on this study tour! Perhaps the most transcendent experience for me was the concert and dance performance at Mr. Bhise's residence in Goa where the rhythms so central to Carnatic music in southern India and the deep expressiveness in classical Indian dance cast a mesmerizing spell. But the moving experiences were so many, including visits to Indian schools where we met with NGOs that are working on girls' empowerment in desperately poor neighborhoods in Mumbai and helping women who face domestic-partner abuse in Delhi.— Katie Laatikainen, PhD, professor and acting chair of political science, director of the Levermore Global Scholars program
"Traveling to India was fascinating because it was like no other place I had been to. I consider myself a well-traveled person, but India really surprised me in its plurality, diversity, and multitude of landscapes, peoples and wonderful food. It was definitely an experience I'll cherish forever and never forget." — Caio Gomes, senior, international studies major
"I will always remember our visit to the Gender Lab, when we went with Mr. Bhisé to a high school in an impoverished area in Mumbai. The Gender Lab there educates girls and boys on leadership, women's rights and about resources they can utilize in their area. It was an encounter I'll cherish forever!"— Amanda Frånstedt, senior, finance major
"India was an eye-opening trip for me. I realized how privileged I truly am as an American. I learned so much from traveling. It is important to travel to experience the world and understand it better. It made me appreciate my life more."— Malika Burieva, junior, communications major
"Seeing India really changed me. The colorful streets and buildings, the smell of incense all around, the hospitality, the food, the great people I met—it was an explosion of all my senses. My experience really connected me to this wonderful country, Bharat Mata (Mother India)."— Tiffany Pacheco, senior, international studies major
"I'm from India, but seeing it through the students' eyes gave me new insights into my country. — Rakesh Gupta, associate professor of decision sciences and marketing
Bhisé Global Learning Experience 2023
The Bhisé Global Learning Experience is an incubator for global learning that provided Adelphi students with an immersive study tour of India.
Launch Gallery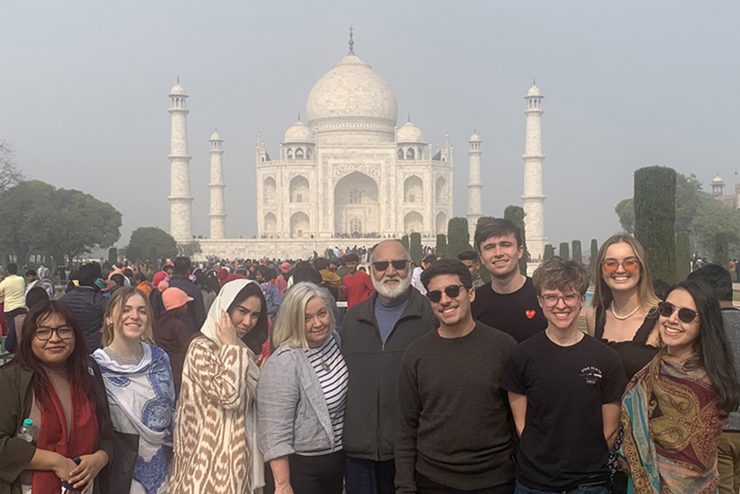 12 Photos
Bhisé Global Learning Experience 2023
The Bhisé Global Learning Experience is an incubator for global learning that provided Adelphi students with an immersive study tour of India.
12 Photos