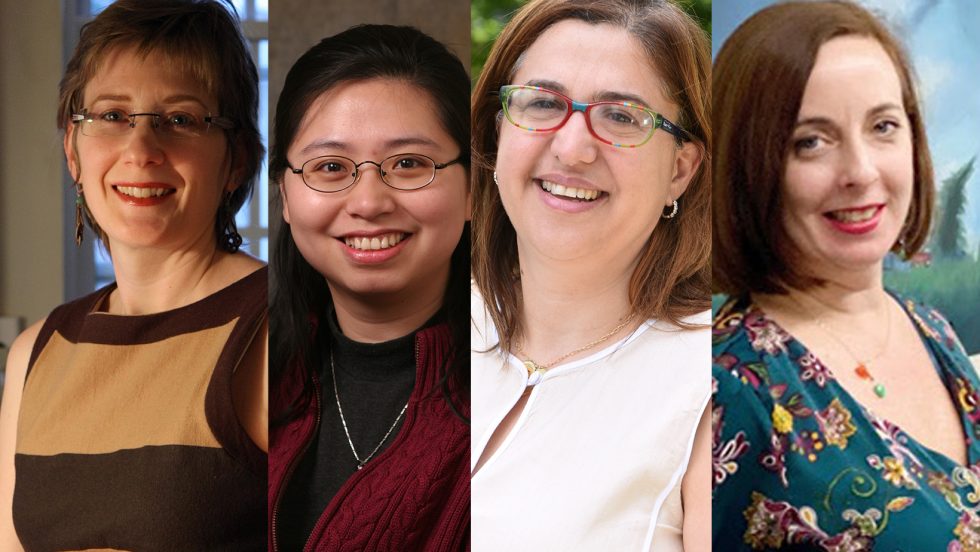 Unique to Adelphi, the Viret Family Faculty Leadership Fellows Program develops aspiring University administrators and leaders. Paris-based donor Lionel Viret '95 established this innovative program with a $1 million donation. (This year's Fellows, above.)
Kellyann Monaghan, associate professor and chair of Adelphi's art and art history department, believes art can bring us together and get us talking about our world.
It is a belief that drives her own art, including her paintings of stormy landscapes that show nature dramatically affected by the pressures of climate change.
It is also a conversation that she hopes will become an everyday aspect of life at Adelphi.
"I like for the arts to be integral to the campus as much as possible," Monaghan said. To help make that a reality, she applied for and was named a 2021–2022 Viret Family Faculty Leadership Fellow, becoming a member of a unique program at Adelphi that gives faculty members who aspire to leadership positions the opportunity to develop new skills while working on projects of importance to the University.
Endowed by a $1 million donation from Lionel Viret '95, the program has supported 21 faculty members since it was established in 2017. Each fellow spends a semester away from teaching duties not only to work on their chosen project but to develop executive leadership abilities. Fellows work directly with a leadership mentor and attend professional development seminars and national conferences in their areas of interest.
"We are thrilled that this alumnus, now living in Paris, chose to reach all the way to Garden City, Long Island, to support our world-class university," said Adelphi President Christine M. Riordan, PhD at time of the program's launch. "Mr. Viret's gift enables faculty to create new paths and fresh solutions to transforming higher education—changes that make a profound difference in the lives of our students."
An Incubator of Talent and New Programs
Faculty members have taken on a variety of projects over the past seven years that have led to important innovations at the University.
Jacqueline Jones LaMon, JD
Jacqueline Jones LaMon, JD, was a professor in the English department when she became a member of the inaugural group of fellows in Spring 2017. In exploring Adelphi's formal mentoring program, she discovered numerous other instances of mentoring taking place on campus. In doing so, she strengthened the University's reputation for mentoring, highlighted by a 2019 Encoura Innovation Award honoring Adelphi's formal mentoring program. She became an associate dean in the College of Arts and Sciences, and in December 2019 was named the University's vice president of diversity, equity and inclusion.
Andrea Ward, PhD
Andrea Ward, PhD, was a biology professor when she joined the first group of fellows in Spring 2017. Her project studying how Adelphi might establish a new health degree led to the launch of the University's Bachelor of Science in Health Sciences in Fall 2020. Dr. Ward is now interim associate provost for student success.
Diann Cameron Kelly, PhD
Diann Cameron Kelly, PhD, was the third member of the inaugural group of fellows. An associate professor of social work and chair of the BSW program at the time, she compared Adelphi's sponsored research program—which helps faculty members find funding and manage aspects of their projects—with those at 12 other universities. She later served as interim dean of the School of Social Work program and is now the associate provost for student success in the Office of the Provost. The American Council on Education named Dr. Cameron Kelly an ACE Fellow for the academic year 2022–2023. One of only 46 leaders nationwide chosen to participate in the organization's intensive mentorship program.
Zachary Johnson, PhD
Zachary Johnson, PhD, who was an assistant professor of marketing at the time, used his fellowship in Fall 2018 to develop a comprehensive business plan for Adelphi's proposed Innovation Center. The center opened two years later with relationships with leading corporations and a $100K-plus grant from a Jovia Financial. Dr. Johnson is currently interim associate dean for undergraduate students in Adelphi's Robert B. Willumstad School of Business.
Salvatore Petrilli, EdD
Salvatore Petrilli, EdD, then an associate professor and chair of the mathematics and computer science department, studied Adelphi's summer session course offerings and developed a summer enrollment strategy during his 2018 fellowship. He is now associate dean for academic operations and general education in the College of Arts and Sciences.
CarolAnn Daniel, PhD
CarolAnn Daniel, PhD, a professor in the School of Social Work, focused her work in 2019 on creating a central structure to provide all junior faculty with a network of mentors; she also developed a curriculum to enhance mentor and mentee competencies. Dr. Daniel is now the interim associate dean in the School of Social Work,
Current Viret Fellows Tackle Diverse Projects
Kellyann Monaghan
Kellyann Monaghan is one of four current Viret fellows. Her project examining ways to integrate the arts and culture more fully into campus life was inspired in many ways by her leadership of the University's annual Fall Arts Festival. She is exploring ways to incorporate art and art history classes into other disciplines, develop Adelphi's art and art history department into a cultural center for the campus as well as the surrounding community, and partner with the community for experiential arts learning opportunities for Adelphi students.
Reem Khamis, PhD
Reem Khamis, PhD, professor of communication sciences and disorders, is using her fellowship to work on the future of interprofessional education (IPE) at Adelphi, an approach that encourages students from different health and wellness disciplines to learn together. The goal is to advance collaborative healthcare practices that provide patients with holistic, culturally informed care.
"It is truly an honor to see IPE recognized as an institutional priority in my selection as a Viret fellow," Dr. Khamis said. "I look forward to taking a leadership role in helping facilitate a community-based and participatory plan to further promote interprofessional education and research at Adelphi."
Lahney Preston-Matto, PhD and Monica Yang, PhD
Lahney Preston-Matto, PhD, professor of English, and Monica Yang, PhD, professor and chair of management, are working to promote workload equity on the faculty.
"A common challenge for department chairs is to find faculty to serve on the increasing number of committees," Dr. Yang explained. "I'm working on a dashboard that will keep track of assignments and help chairs and deans discuss workload equity with faculty members and create clarity around expected contributions."
"There are many different kinds of faculty service—work on committees at Adelphi, work with professional and community organizations, and work that doesn't fit into other categories, such as running an interdisciplinary program," Dr. Preston-Matto said. "I'm working on coming up with definitions and ways to assess faculty service, neither of which is currently detailed in any of our governing documents, including the collective bargaining agreement."
The Viret Experience
Being a Viret fellow allowed Monaghan to drop one of the studio art classes she teaches and spend the time seeing firsthand what it's like to be leader in academia. "I've gotten to learn from my leaders," she says. "I've learned from the dean's office, the president's office, the provost office. I'm gaining skills from their skills."
Monaghan says the program has had a positive impact on her career by helping her see the big picture of how the University works. "It's given me a greater perspective on how things function in executive leadership," she said. "It's taught me patience. I'm the type of person who wants things to happen yesterday, but I've been learning that you have to go through a lot of channels to make things happen on a bigger scale."
She says she likes discovering how every element of the campus works together to create a better outcome.
"I always like thinking about the next steps to make, how to improve the arts and how to use the arts to improve life for students," she said. "In the Viret program, I've learned that being a leader is sort of like putting a lot of paint on your palette and trying to mix all those colors together into a new project that affects people. Just like I do when I create a painting."
Viret Family Faculty Leadership Fellows
Reem Khamis, professor of Communication Sciences and Disorders, Ruth S. Ammon College of Education and Health Sciences
Kellyann Monaghan, associate professor and chair of art and art history, College of Arts and Sciences
Lahney Preston-Matto, professor of English, College of Arts and Sciences
Monica Yang, professor and chair of management, Robert B. Willumstad School of Business
Beverly Araujo, professor, School of Social Work
CarolAnn Daniel, professor, School of Social Work
Anthony Dotterman, senior lecturer, General Studies, College of Arts and Sciences
Margaret Gray, associate professor and chair of political science, College of Arts and Sciences
Eugenia Villa-Cuesta, associate professor of biology, College of Arts and Sciences
Priya Wadhera, associate professor and chair of languages, literatures and cultures, College of Arts and Sciences
Elizabeth Palley, professor, School of Social Work
Zachary Johnson, interim associate dean for undergraduate students. Robert B.School of Business
Salvatore J. Petrilli, associate dean for academic operations and General Education, College of Arts and Sciences
Dana Battaglia, associate professor, Ruth S. Ammon College of Education and Health Sciences
Rachel Isaac-Menard, associate professor, University Libraries
Edmund J.Y. Pajarillo, associate professor, College of Nursing and Public Health
Daryl Gordon, associate professor, Ruth S. Ammon College of Education and Health Sciences
MaryAnne Hyland, interim dean, Robert B. Willumstad School of Business
Diann Cameron-Kelly, associate provost for Student Success, Office of the Provost
Jacqueline Jones LaMon, vice president for diversity, equity and inclusion
Andrea Ward, associate dean for student success strategic initiatives, College of Arts and Sciences