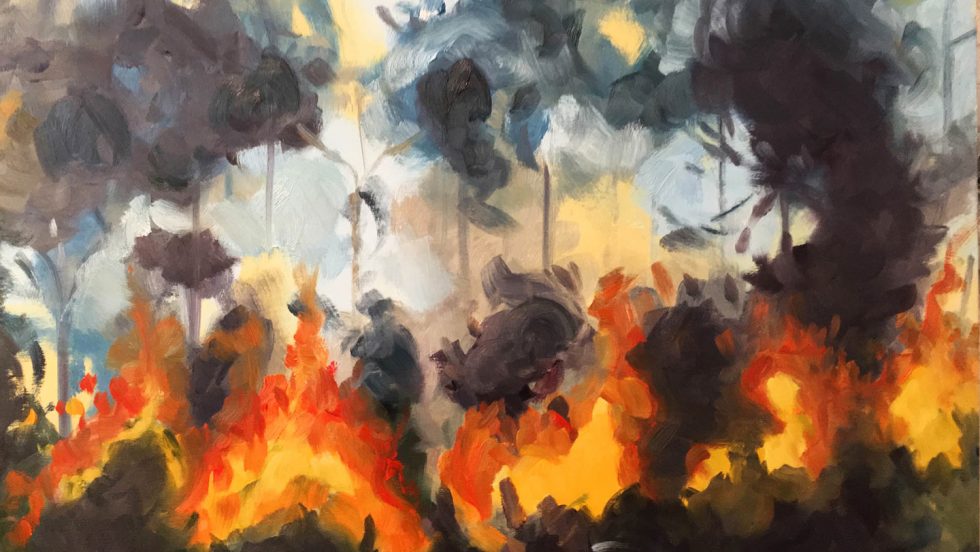 One artist captures nature in a time of climate change.
Landscape painting has long documented artists' relationships to the natural world. But as climate change threatens to transform the land around us, some artists today are wondering how to breathe new life into this illustrious tradition.
Kellyann Monaghan, associate professor and chair of Adelphi's art and art history department, is one of these artists. A trained plein air artist who has painted landscapes around the globe, Monaghan began to feel the pressures of climate change in 2015. "Observing all the changes in the world—environmental, social, political—I needed to find a new way to respond as a painter," she recalled. "I think of myself first and foremost as an observer and documenter of nature."
Monaghan began using the internet to find photos and videos of climate change's more dramatic manifestations: tornadoes, hurricanes, earthquakes, fires. "I get a lot of my imagery from watching videos and photo capture and Photoshopping images or making a composite of several images together," she said, explaining the editing liberties she has taken in recent work. Nevertheless, Monaghan still tries to preserve some of the intensity that comes from painting outdoors. "I get myself physically worked up when I'm about to paint in nature and responding to the light or the changing weather," she said. "When I work in my studio, I try to mimic that process."
The resulting pieces are composites that offer what Monaghan characterizes as "symbolic and literal" depictions of the destructive phenomena shaping our world. Her paintings are finding receptive audiences nationwide—some in unlikely places. In 2019, when New York Lawyers for the Public Interest teamed up with the Human Impacts Institute to jointly curate a summerlong pop-up show, All Access: An Exhibit Exploring Human Rights, Justice, and Community Action, Monaghan was invited to exhibit her paintings about floods and smog.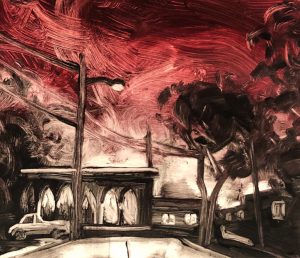 The show's success suggests the staying power of climate change-related art. "The opening reception was rewarding because people from the arts world, community activists, and lawyers who represent environmental and social justice issues could engage in an exciting dialogue," Monaghan said. All Access also managed to foster new collaborations that may lead to more effective responses to the problems at hand. "Because we were this intersection between art, law and activism, everyone involved could see we needed to address these issues together."
Since the pop-up show, Monaghan has continued to focus on today's most severe environmental crises through painting. In February 2020, she opened a 20-painting solo show at the HOTE Gallery in Los Angeles, titled Where Do We Go From Here?
As Monaghan looks to the future, she strives to find new ways of depicting familiar subjects without repeating herself. "I need to have a visceral gut reaction to what I'm about to paint," she said.