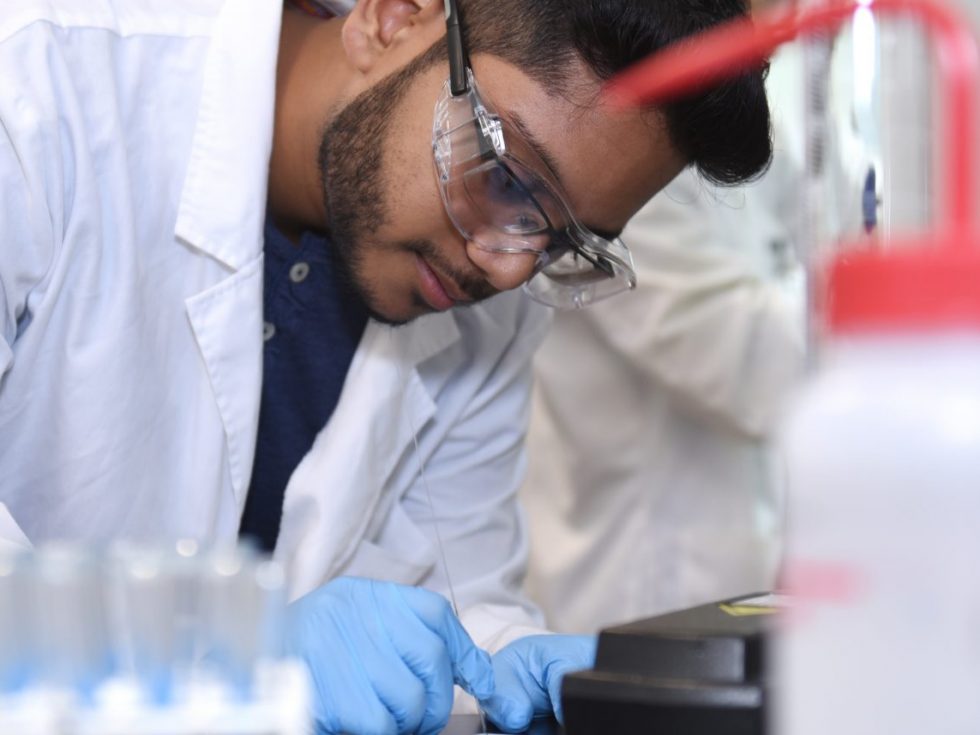 In Fall 2022 Adelphi opened the new Office of Undergraduate Research and Creative Works to further our emphasis on and support of student research.
The McDonell Summer Fellows Program gives budding scientists opportunities, mentorship and a stipend so they can dive into research

Adelphi social work professor advocates for better practices and policies after shocking statistics on suicide come to light.

Shining a light on the struggles of vulnerable healthcare workers.

The College of Arts and Sciences (CAS) Adjunct Faculty Development Grant supports the current research of adjunct faculty members with a $500 award.

The Dean's Innovation Grant is the result of an Envisioning CAS Implementation Committee recommendation to support faculty who are investing in evidence-based teaching—pedagogy that's based on empirical evidence rather than tradition or personal judgments—as well as faculty investing in developing interdisciplinary work.

At Adelphi, from day one, our new PATH core curriculum—with its focus on Preparation, Awareness, Transformation and Hands-On Learning—points students in the right direction on their pathway to college and lifetime learning.

Taking Spanish at the Wantagh, New York, high school was "serendipity," said Laraine Fletcher '61, PhD, a longtime anthropology professor at Adelphi University. It was the decision of a lifetime.

Adelphi's 2022 Spirit Weekend, running from October 12–October 16, will offer five days of fun on campus and beyond—and more events than ever before.

Dear Adelphi Community, The Clery Act is a federal law which mandates the reporting of timely, accurate, and complete information about crime and safety both on and off campus to members of the university community. This enables students, faculty, staff, alumni, and visitors to make informed decisions to keep themselves safe and to educate both…

Lance Houston, JD, joined Adelphi University in August as Title IX coordinator and director of equity and compliance. Houston is well versed in compliance and Title IX, the federal civil rights law enacted in 1972 and expanded in 2020, that protects individuals in educational settings from discrimination based on sex and gender.

For the fifth consecutive year, U.S. News & World Report has ranked Adelphi University a Best College among national universities. The University was also included in several of its other prominent 2023 rankings, including Best Value Schools, Best First-Year Experiences, A+ Colleges for B Students and Top Performers on Social Mobility. For the first time this year,…

For Ray Hughes '83, chief of campus safety and emergency management, the possibility of an active shooter on campus isn't the unthinkable, it's something to think about and be prepared for, in collaboration with fellow institutions.

On Adelphi's busy campus, there's a place where students, faculty and staff can find a moment for prayer or reflection and meet with others to worship, enjoy a meal or share ideas.

In Fall 2022 Adelphi opened the new Office of Undergraduate Research and Creative Works to further our emphasis on and support of student research.

An active-shooter situation is expected Friday at Adelphi University – but this one has the potential to save lives.

Yula Serpanos, a professor in communications sciences and disorders, shares her thoughts on at-home hearing tests.

Kees Leune, PhD, assistant professor of mathematics and Computer science and IT security officer, weights in on the rise in cyberattacks and how to combat them.

"How do we experience being alive?" That's the question Igor Webb, PhD, professor in Adelphi University's Department of English, explores in his latest book, Buster Brown's America: Recollections, Reveries, Reflections—and incorporating This Old Writer: A Journal of a Plague Year. "In everyday life, we don't experience being alive in the same way," said Dr. Webb. "It's not…

Marissa Abram, PhD, assistant professor in the College of Nursing and Public Health, co-authors on an article on best practices for treating Trauma.

Adelphi's Don Center upcoming panel event on risk management is featured.

Adelphi's partnership with West Hempstead School District through The Education Innovation and Research Program, is mentioned.

Adelphi University has earned the exceptional achievement of a five-star rating on the Campus Pride Index—a nationally recognized measure of LGBTQ+ friendliness and inclusivity. Campus Pride also chose Adelphi as one of the Top 40 Best of the Best LGBTQ-Friendly Campuses.

The COVID-19 pandemic—and the more recent rise of monkeypox—have brought an often overlooked field into sharp focus: public health. At Adelphi, the work of our Master of Public Health (MPH) students and faculty has become even more important , and they have stepped up to serve.

Most colleges have programs to get incoming first-year students acquainted with the campus. Adelphi takes that idea one step farther with a program that gets new students acquainted with the University's commitment to serving the surrounding community.

Former Soviet President Mikhail Gorbachev's speech at Adelphi in 1998 is mentioned.

Recent facilities updates at Adelphi's Garden City campus, including the new Multicultural and Mindfulness spaces, are featured.

Kees Leune, PhD, assistant professor of mathematics and computer science, believes everyone benefits when a classroom is more diverse. It's a belief he shares with Salvatore Petrilli '05, EdD, now associate dean for academic operations and general education in the College of Arts and Sciences, and that led them in 2016 to rethink the undergraduate computer science curriculum.

Dear Adelphi Students, Faculty and Staff, I am pleased to welcome everyone to Fall 2022 on Adelphi's campuses to continue our 126-year tradition of student success. This academic year marks the launch of our Momentum 2 strategic plan, which will guide our University through 2027 with increasingly innovative goals. Our mission to transform the lives…

The news of Adelphi being included on Campus Pride's Best of Best list.