2018-2019 Teaching Fellows Cohort
Matt Curinga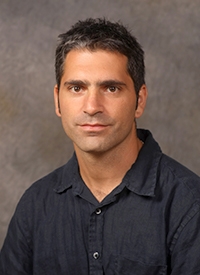 Program in Educational Technology, Curriculum and Instruction, Ruth S. Ammon School of Education
Teaching Fellows project
Teaching Computer Science K-12 is an exciting new course that we are designing for the graduate program in Educational Technology. This class introduces students to new and innovative methods of teaching computer science and programming to children and adolescents. The course will come to life as the instructor and Adelphi students team up to plan and deliver a cutting edge technology afterschool program for public school students in Brownsville, Brooklyn. We will design hands-on lessons derived from the latest learning theories and with the latest tools: robotics kits, Internet of Things, video game design, augmented reality, and more. This new Adelphi course will pilot a model of instruction that fosters stronger partnerships with local schools, prioritizes contributions to our community, and positions Adelphi to be a leading voice in shaping computing education in K-12 schools.
About
Dr. Curinga teaches courses in computer programming, digital media studies, and learning sciences in the graduate program in Educational Technology. Before entering academia he worked for many years as a software developer in the New York City tech startup scene. He continues to build software systems for teaching and learning. His current research looks at ways we can teach computer programming effectively to a broad audience, especially when we combine computer science and critical media studies.
John Drew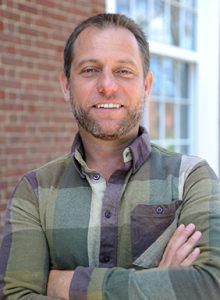 Department of Communications, College of Arts and Sciences
Teaching Fellows Project
As a Teaching Fellow, Prof. Drew is developing a course entitled Digital Literacies and Democracy, which is intended to provide a broad but rigorous introduction to the many ways in which new digital technologies are infiltrating and changing the ways in which corporations, individuals and both small and large communities (such as universities and nation states) surveil, mine data and subsequently interact with one another. The course will be taught as a freshman seminar in the fall with the goal of identifying ways in which it can be further developed to eventually become a permanent part of the freshman year learning experience.
About
John Drew is an Assistant Professor in the Department of Communications and teaches courses in film and video, journalism and in digital media studies. Before entering academia he worked both as a print and video journalist. His research focuses on the intersections of the following areas: digital technology, human migration, neoliberalism and social justice. He is the recipient of three faculty development grants and is an active member of Adelphi's DACA, International and Immigration Task Force. In 2016, along with two other Adelphi colleagues, he took a team of eleven students to Cuba whose coursework was developed into a multimedia website, Cuba Stories, which later became a finalist in the European Commission sponsored 2017 Annual MEDEA Awards. Professor Drew is also an avid filmmaker.
Ashwini Namasivayam-MacDonald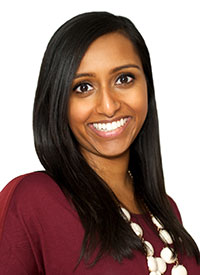 Department of Communication Sciences and Disorders, Ruth S. Ammon School of Education
Teaching Fellows Project
Dr. Namasivayam-MacDonald is designing a course that will help speech-language pathology Masters-level students to think critically about the management of swallowing disorders (dysphagia), with the use of simulated patients. Given that a large proportion of speech-language pathologists work with adults who present with swallowing difficulties, it is important that students develop the confidence and skills necessary to manage this population. In order to facilitate this, the new course will expose students to varying clinical scenarios and actively engage them in hands-on critical thinking and evidence-based practice procedures. In partnership with the School of Nursing, the students will practice their clinical skills with digitized mannequins in the nursing simulation labs. The ultimate goal is to design and implement a course that fosters top-notch future clinicians, who can use critical thinking to systematically navigate speech-language pathology literature relevant to their area of practice in order to confidently assess and treat their future caseloads.
About
Dr. Namasivayam-MacDonald is an Assistant Professor and Speech-Language Pathologist in the Department of Communication Sciences and Disorders. She teaches Dysphagia: Evaluation and Management, a Masters-level course focusing on the clinical management of dysphagia (swallowing disorders) in adults, and she supervises student clinicians managing clients with swallowing difficulties in the Hy Weinberg Center for Communication Disorders. Prior to joining Adelphi, she completed her doctoral studies at the University of Toronto and conducted research focusing on the relationship between nutritional status and swallowing disorders in residents of nursing homes. Her current research in the Aging Swallow Research Lab primarily focuses on understanding swallowing in people living with dementia, as well as dysphagia-related caregiver burden. She has received a Faculty Development Grant to carry out some of this work. In Spring 2018, she piloted a 3-credit, independent-study Advanced Dysphagia class for clinical Master's students at Adelphi to help develop their critical thinking and clinical skills. As a part of this class, the five students conducted research projects that were presented at Adelphi University Research Day.
Edward Reno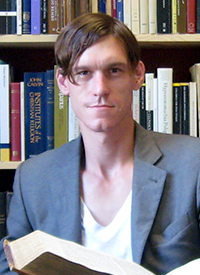 Department of History, College of Arts and Sciences
Teaching Fellows Project
As a Teaching Fellow, Prof. Reno will develop a History course entitled Digital Archiving. The goal of the course is two-fold. The first is for students to learn the essentials on how to produce archival-quality digitizations of historical documents. Beyond their utility within the discipline of History, the technical skills gained through the course will be serviceable in many different areas as all of us are increasingly called upon, in our professional and personal lives, to become curators of information. The second goal is to allow students to experience the discipline of History in its purest and most foundational form, which is the discovery and identification of historical sources. Students will work with the Adelphi Library's University Archives and Special Collections to find documents within its rich holdings to digitize them. They will then develop research projects on the basis of this material, focusing on the particular history of the documents they have chosen and embedding them within the broader history of their respective eras. The material made accessible through these projects will become a permanent part of the Library's growing Digital Collections. For an overview of the various collections maintained at Adelphi, visit Adelphi Library's Special Collections site.
About
Professor Reno teaches the Western Civilization sequence, Modern Condition, period surveys on the Middle Ages and the Renaissance and Reformation, and advanced research seminars focused on topics such as the Crusades and the History of Early Christianity. His research centers on the History of the medieval Canon Law – the body of papal rulings, conciliar decrees and learned jurisprudence that, at its height, was the most advanced legal system in medieval Europe. His main focus has been in the area of textual scholarship, using the tools of paleography (the study of writing) and codicology (the study of manuscripts as a physical document) to discover previously unknown legal texts or make more accessible for other scholars a legal tradition that is still largely in unedited, manuscript form. Prof. Reno has also developed a number of Digital Humanities initiatives in service of making this material more accessible, including the Digital Decretals, an ongoing project to produce a fully searchable version of one of the most important medieval canon law commentaries, the Glossa Ordinaria of Bernard of Parma to the Liber extra; and the Medieval Canon Law Virtual Library (founded with David Freidenreich of Colby College), which assembles currently available digital versions of the principal monuments of medieval jurisprudence.
Rani Varghese, PhD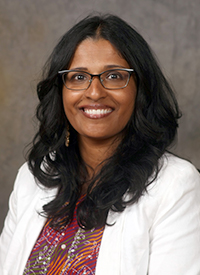 Teaching Fellows Project
Dr. Varghese teaches a course she designed entitled Intergroup Dialogue: Facilitating Social Justice Conversations. The course is designed to give students both a theoretical and practical foundation in the awareness, knowledge and skills needed to engage in intergroup dialogue (IGD) as well as effectively plan, facilitate and evaluate a one time dialogue. The goals of IGD include developing a critical awareness of social identities, understanding one's own connections to power, privilege and oppression, and developing interpersonal communication skills such as active listening, purposeful sending, and providing feedback. Her Teaching Fellows research project will investigate the effectiveness of the IGD course and how the course engages high impact practices, such as collaborative projects and diversity and global learning. It will also assess the course's use of key indicators of student engagement like reflective & integrative learning, discussions with diverse others, and student-faculty interaction.
About
Dr. Varghese is an Assistant Professor in the School of Social Work. She teaches undergraduate and graduate courses related to social work practice and research. She also teaches an undergraduate course which she developed on facilitating social justice conversations based in Intergroup Dialogue (IGD). Having been trained in the fields of Social Work, Social Justice Education and Women, Gender and Sexuality Studies, she brings an interdisciplinary approach and social justice framework (i.e. attention to multi-level analysis, intersectionality, positionality and power) to her teaching and research. Her research focuses on the following areas: social work education, clinical social work practice, social justice practices and principles, and intergroup dialogue.
Eugenia Villa-Cuesta, PhD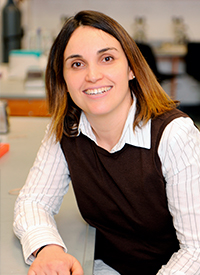 Department of Biology, College of Arts and Sciences
Teaching Fellows Project
Dr. Villa-Cuesta's Teaching Fellows project is to design an open-ended inquiry based research laboratory that is required for students majoring and minoring in biology. During her fellowship year, she will work on generating a framework for this course that will meet a consistent set of learning goals while also accommodating a range of disciplines within biology, so that it can be taught by most of the faculty members in the biology department. The goal of her project is to make the project laboratory flexible enough so that, every year, project laboratory courses with different topical focuses can be offered giving students the opportunity to choose a laboratory with a topic that interests them.
About
Eugenia Villa-Cuesta is an Assistant Professor in the Department of Biology. She teaches Genetics, an inquiry based project laboratory and two upper level courses about the Biology of Aging. Her research and teaching are intertwined and often feed each other, as one of her main goals is to teach Biology as a process. With the help of very talented students, Dr. Villa-Cuesta's laboratory studies mitochondrial biology in health and disease. Her laboratory has been funded by the NIH with $250,000 to provide biomedical research experiences for undergraduate students and to enhance the research environment at Adelphi University. She is also the recipient of the Frederick Bettelheim Research Award and two Adelphi University faculty development grants. Dr. Villa-Cuesta was named Outstanding Biology Professor in 2014, 2015 and 2017, Faculty Advisor of the Year for the Biology department in 2016, and was awarded the Teaching Excellence Award for untenured faculty at Adelphi University in 2018.
Hours
Regular Semester Hours

Mon-Thu: 9:00am - 7:00pm

Fri: 9:00am - 5:00pm

Summer Hours

Mon-Thu: 9:00am - 3:30pm

Fri: Closed