Innovation Center Design Thinking Bootcamp
This course will be led by an IBM Accredited Adelphi Instructor. Upon completion of this one-week hands-on Bootcamp, you will receive an IBM Design Thinking Badge and an Innovation Center Certificate of Completion. The learning outcomes of this course will help you prepare for better design and planning when it comes to problem-solving. No prerequisites are required.
Main Objectives and Learning Outcomes:
Soft Skills
Collaborate within teamwork using interpersonal skills
Use an interdisciplinary approach to problem-solving and team building
Appreciate empathy through listening and learn to observe, reflect, and make
Learn ideation, storyboarding, and the different types of user feedback
Understand user feedback and the Loop
See how design thinking is introduced and utilized in an organization
Hard Skills
Adopt new technologies to streamline key processes or to disrupt established markets or the competitive landscape
Use ideation strategies to optimize problem-solving & brainstorming processes
Learn 7 key habits of effective design thinkers and understand the importance of user research
Skill Sets this Bootcamp Enhances:
In this workshop, you will focus on enhancing skills such as Design research, Collaboration, Ideation, and Storytelling.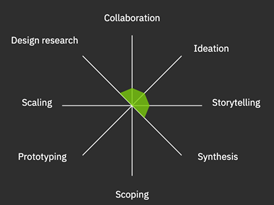 Icebreaker and Self-Introductions
Students will go around and introduce themselves before a brief icebreaker activity.
Enterprise Design Thinking (EDT) Badge Course

Students will follow along on their computers with the instructor for the IBM EDT badge. The course includes short pop quizzes, exercises, videos, and lecture slides.
Team Formation, Company Selection, Team Building Workshop, and Brainstorming Session 
Once you form your team you will select a company to perform the design thinking framework on.
Assign team roles and responsibilities.
After a brief research session, begin ideating on your company's problem or opportunity that you want to build a solution for.
Prepare a brief playback for the rest of the class.
Recap Learning Goals, Introduction to the Software/Toolkit for the Exercise, and Introduction to Case Study
EDT Exercise 1-4
Resource
Identify your user, their problem, and experience
User persona and stakeholder map
Empathy Map
As-is-Scenario Map
Hills & Needs Statement
Prepare a playback
EDT Exercise 5-10
Resource
Identify your idea and new user experience
Big Idea Vignettes
Prioritization Grid
To-be-Scenario Map
Prepare a playback
Closing Remarks