Therapeutic Writing Series: The Use of Literature and Guided Writing to Address Symptoms of Anxiety with Your Clients
This workshop equips participants with beginning skills applicable to a range of client populations, though additional training in therapeutic writing and poetry therapy are needed for in-depth work.
Please note Zoom (link provided 24 hours prior to the event).
Overview
Anxiety disorders are currently the most commonly diagnosed mental illness and can sometimes be a challenge to address completely within the confines of a session. Writing and literature, both in and out of session, can serve important functions in the role of ego support and enhancement as well as to assist in externalizing and concretizing patient concerns.
Join us for this three-hour didactic and experiential workshop to learn a variety of writing structures and prompts to help both contain and explore anxiety, methods to encourage clients' positive coping through writing as well as how these methods can serve as a form of desensitization or cognitive rehearsal. Specific attention will be given to some of the research based on ways in which writing practices impact neurological processes.
This workshop equips participants with beginning skills applicable to a range of client populations, though additional training in therapeutic writing and poetry therapy are needed for in-depth work.
Learning Objectives
Participants will be able to:
Identify at least 2 writing structures that are helpful in the containment of anxiety
Understand how writing processes can anchor positive associations or reduce abreaction
Apply 2 exploratory types of structured writing to current treatment plan goals and objectives
Workshop Information:
Course Date:
December 13, 2021
Meeting Time:
10:00 a.m.–a:00 p.m.
CEs:
3
Tuition:
Registration fee:

 

$70.00

Alumni, FI, FFL, Adjunct Faculty: $50

Veterans, current AUSSW students: $25
Faculty Bio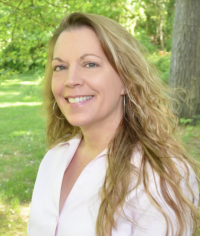 Nancy S. Scherlong, LCSW-R, PTR, CJT, M-S is a Licensed Clinical Social Worker in the states of NY and CT. She is also a Registered Poetry/Biblio Therapist, Certified Journal Therapist and an approved trainer in both methods. She is the current co-president for the International Federation of Biblio-Poetry Therapy (IFBPT), one of the six expressive arts credentialing organizations. Nancy is a writer and an integrative psychotherapist specializing in stress management, trauma and addiction and has worked in the field of therapeutic writing for over 25 years. She provides workshops as well as distance coaching, consultation and training services. An Adelphi alum (1997) and adjunct faculty since 2008, she also provides online campus advising for Columbia University and is a member of core faculty of the Therapeutic Writing Institute and on the training staff of Kint Institute. For more about her work please visit Change Your Narrative, LCSW PLLC at www.wellnessmetaphors.com.
---
Adelphi University School of Social Work is an approved provider for continuing education credits for the following:
NYSED Social Workers
NYSED LMHC
NYSED LMFT
CASAC Renewal
APA Psychology
NYSED LCAT
NYSED Psychology
Successful completion for the award of approved continuing education credits requires attendance at the entire training/workshop and submission of a completed evaluation form.
See full credentialing information and CEUs
Cancellation Policy
Unfortunately, we cannot provide refunds for cancellations made seven working days or fewer before the event for any reason—or for no-shows. We can provide credit towards a future workshop up to 24 hours before the event. After that, no credit will be issued.
Accessibility Statement
The Student Access Office ensures equal access to all of Adelphi University's programs, services and facilities for students with documented needs. Through assistance, advocacy and reasonable accommodations, the office provides an accessible and supportive campus environment.
The Student Access Office provides cost-free assistance and services that are tailored to meet the needs of individuals based on their specific, appropriately documented needs, while preserving Adelphi's academic integrity and high standards of academic expectations and performance
If you are a student with a documented disability and wish to request accommodation services, please submit a Petition for Reasonable Accommodations form along with the required information as detailed in the Guidelines for Documentation.
Please be aware that all decisions regarding accommodations and equal access are made in accordance with the Americans with Disabilities Act (ADA), Section 504 of the Rehabilitation Act, and prevailing University Policy.
For further information, please contact the Student Access Office at 516.877.3806 or sao@adelphi.edu.