School of Business AACSB Accreditation
The Willumstad School of Business belongs to a select group of higher education institutions that meet the highest standards for business education. We've been continuously accredited by AACSB-International since 2007.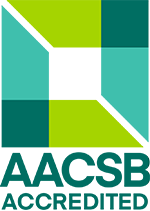 Fewer than 5 percent of the world's 16,000 schools that confer business degrees have earned accreditation from AACSB International—The Association to Advance Collegiate Schools of Business. AACSB accreditation affirms that a school maintains:
This accreditation assures quality—promoting excellence and continual improvement in undergraduate and graduate education for business. To earn this accreditation, a business school must undergo a systematic process of meticulous internal review, evaluation, and adjustment. AACSB accreditation indicates that the school maintains:
Highly qualified faculty
Challenging and contemporary curricula responsive to the needs of business
Dedication to promoting excellence and improvement in business education
To earn AACSB accreditation, a business school must undertake a process of meticulous internal review, evaluation and adjustment. To maintain accreditation, schools undergo a rigorous peer review every five years.
We're proud to have earned this distinction.
Location
Hagedorn Hall of Enterprise, 106