Global Student Teaching Program
Gain student teaching experience in a new cultural context.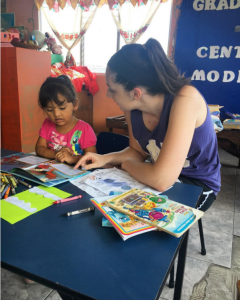 The Global Student Teaching program, administered by University of Minnesota Morris (UMM), enables Adelphi students who are master's candidates in the childhood, adolescent or TESOL programs to earn student teaching credits in an international destination and experience education from a new cultural perspective.
Students participating in the Global Student Teaching Program will have two, 8-week student teaching placements: one domestic, one international, for a total of 6 credits of student teaching to meet New York State Teacher Certification Standards.
Adelphi students are advised to begin their Global Student Teaching mid-semester (e.g. March for spring and October for fall) and are required to participate for at least eight weeks, which in addition to a domestic placement fulfills the Adelphi student teaching requirement. Students planning to do Global Student Teaching must work diligently to have the EdTPA finished prior to departure. Email cie@adelphi.edu to schedule an advising appointment and learn more.
Hours
Regular Semester Hours

Mon-Fri: 8:30 am - 4:00 pm