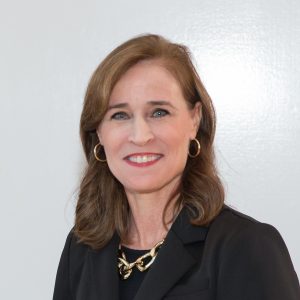 Meet President Christine M. Riordan
PhD in organizational behavior, Georgia State University

MBA, Georgia State University

Bachelor of Textile Engineering

, Georgia Institute of Technology
Christine M. Riordan, PhD, is the first woman to serve as president of Adelphi University. She is an internationally recognized expert in leadership development, team building and diversity and inclusion, and is recognized for her groundbreaking initiatives to personalize and transform the higher education experience.
Prior to joining the Adelphi community, Dr. Riordan served as provost of the University of Kentucky, which had more than 30,000 students, 19,000 full- and part-time employees, and a budget of $3 billion, and as dean of the Daniels College of Business at the University of Denver, a U.S. News & World Report–ranked Best Business School.
Awards and Accolades
The Council for Advancement and Support of Education (CASE) awarded Dr. Riordan their highest honor in 2021 for her "outstanding efforts in promoting the understanding and support of education." The organization also cited her leadership during the COVID-19 pandemic—both at Adelphi and across our region as a guiding voice in New York state's higher education restart plan in her role as chair of the Commission on Independent Colleges and Universities (CICU).
For other recent awards, rankings and accolades recognizing Adelphi University and Dr. Riordan, visit adelphi.edu/about/awards/
Strategic Vision: Momentum and Milestones
Upon her appointment as Adelphi's 10th president in 2015, working with a wide array of members of the Adelphi community, Dr. Riordan led a fast-tracked yet comprehensive analysis of the University—beginning with a 100-day listening tour—to gain a thorough understanding of the institution's strengths and opportunities. 
This effort laid the foundation for our strategic plan, Momentum, and a set of transformational goals to strengthen the academic experience, deepen the commitment to student success, enhance the diversity and inclusion of students and employees, boost enrollment domestically and internationally, increase fundraising, and transform Adelphi University into a nationally recognized modern metropolitan university. 
Here are a few highlights of what's been accomplished since the plan launched:
Grew total University enrollment by more than 10 percent
Enrolled the most diverse incoming classes in Adelphi's history
Launched 15 accelerated dual degree programs
Opened the $76 million, 100,000-square-foot Nexus Building
Completed a $50 million expansion and modernization of the Ruth S. Harley University Center on Adelphi's main campus in Garden City, New York
Named to the 2020 Long Island Press Power List for creating a more diverse student body, for launching 35 new academic programs at Adelphi and for sharing her expertise on the handling of COVID-19 on college campuses
Won numerous regional and national awards for diversity, enrollment strategy and career guidance
Improved national rankings with four 2021 "Best Grad School" awards from U.S. News & World Report
Powering Up the Panther Network
Each year, President Riordan travels from coast to coast, sharing the Adelphi story with alumni, students and extended members of the Adelphi family as part of her Momentum tours.
Launch Gallery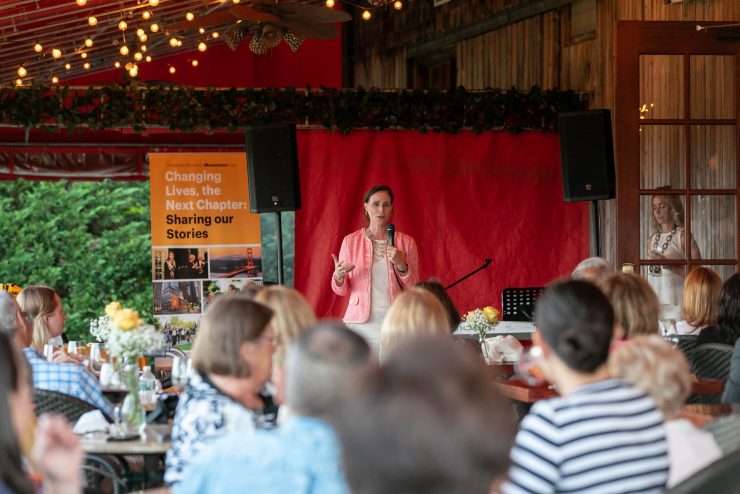 5 Photos
Powering Up the Panther Network
Each year, President Riordan travels from coast to coast, sharing the Adelphi story with alumni, students and extended members of the Adelphi family as part of her Momentum tours.
5 Photos
Learn more about our plans and progress:
Connect With Our President
Our president is actively engaged at the state level in higher education leadership, as well as in local Long Island communities. Here are just a few of the ways you can learn more and stay in touch. 
From My Desk
On the first Wednesday of each month, President Riordan releases a new edition of her From My Desk newsletter, spotlighting stories of transformation and powerful community partnerships.
Subscribe or view past issues here.
Follow on Social
From finding stories about our amazing students and faculty to seeing pictures of our campus cherry blossoms, keep up to date with President Riordan on your favorite social media platform. 
You can also follow Georgia, Dr. Riordan's Olde English Bulldog. A student favorite, Georgia often visits campus and stops for photo opps. 
Focus on Family
President Riordan is married to Robert (Bob) D. Gatewood, PhD, author of Human Resource Selection (8th ed.) and professor emeritus at the University of Georgia. They have two children, Mikaela and Mason.