At a recent panel discussion, Adelphi faculty and experts alike discussed the differences in health care between regions of New York.
by Patrick Granata, M.F.A. '16
How is one's street address a good indicator of health? What happens to a person's health when he or she lives in one neighborhood rather than another? Tonya Samuel, Ed.D., assistant professor in the College of Nursing and Public Health, and Todd Vanidestine, Ph.D., assistant professor in the School of Social Work, raised the important issue during their April 7 Master of Public Health panel discussion.
The panel—headlined "Unnatural Causes…Is Inequality Making Us Sick?"—followed a showing of Place Matters. The documentary showed that the social conditions in which people are born, live and work every day, according to their economic situation, are the biggest determinants of their health, rather than a person's behavior and habits.
Individuals' choices are often limited by the place in which they live, so those in more upscale neighborhoods are far less likely to be hospitalized and suffer diseases—such as heart disease, cancer, diabetes and asthma—than those living in low-income neighborhoods.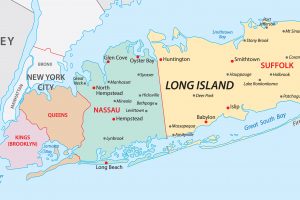 Bringing the conversation home, Nassau County currently ranks an impressive second among 62 total counties in the State of New York on the 2016 Overall Rankings in Health Outcomes and Factors list. However, even within one of the state's healthiest counties, there are significant health disparities in lower-income neighborhoods within Nassau. For instance, Dr. Samuel explained that people in Elmont, Roosevelt, Long Beach, Freeport, Uniondale, Westbury, Glen Cove and Hempstead have considerably higher rates of elevated lead levels, type 2 diabetes, liver disease, asthma and chronic obstructive pulmonary disease than people living anywhere else in the county.
What is significant about those neighborhoods is that they are all lower income, and mostly African American and Hispanic population centers. On the other hand, the neighborhoods reporting healthier statistics are mostly higher-income, white neighborhoods. The rate of hospitalization is also more than double in low-income, predominantly minority communities than anywhere else on Long Island.
"Is this a case of race or place?" Dr. Samuel asked. "The real question is whether government policies contribute to the racialization of place and invariably enforce social hierarchies of its inhabitants, which can affect health."
Dr. Samuel not only raised the question of how housing policies and racial housing segregation might play a role but also brought up how those factors are stigmatized in how people think and converse about the issue.
"We can see that place is melded with racial characteristics," Dr. Samuel said. "Even when somebody describes living in an 'urban environment,' or 'inner city health,' people get a picture of what is 'urban' and 'city health' or 'city living,' and it's a picture of loud, poor, black, fast—hence maybe poor health. If one says, 'What is the look of suburban health?' you get white, settled, quiet—hence good health."
Place Matters was originally created in 2002 to focus on public health department policy relating to health in inner cities having some of the higher health disparities across the nation. Looking at ways to alleviate the national problem, Dr. Vanidestine discussed the importance and need for civil health departments, community activists and politicians to work together to provide solutions for the people most affected.
Dr. Vanidestine pointed out that the way in which the School of Social Work and the College of Nursing and Public Health came together in bringing awareness of the troubling issue to the Adelphi community, is exactly the kind of transdisciplinary collaboration needed between social workers and public health officials to ultimately solve one of the biggest social problems facing contemporary American society.
"We need to come together now and collaborate in order to be more effective," he added.
The Master of Public Health panel discussion—held at the Center for Recreation and Sports in conjunction with National Public Health Week—was moderated by M. Pilar Martin, M.D., director of the College's M.P.H. program.
---
For further information, please contact:
Todd Wilson
Strategic Communications Director 
p – 516.237.8634
e – twilson@adelphi.edu