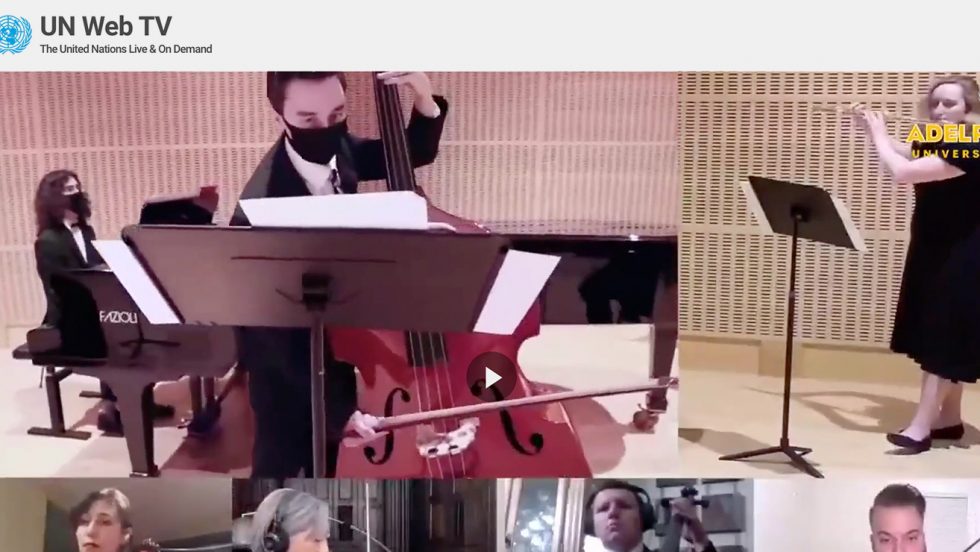 When the United Nations wanted to host a concert celebrating its 75th year and the 10th anniversary of its Academic Impact program, it chose the Adelphi Symphony Orchestra. Our students and alumni had the outstanding experience of playing before a global Zoom audience.
Adelphi student musicians have had the opportunity to perform for many audiences over the years, but none have been larger and more widespread than the one that tuned into the concert they gave this fall celebrating the 75th anniversary of the United Nations and the 10th anniversary of the U.N. Academic Impact program.
"A Concert for the Future We Want," an hour-long event of prerecorded pieces by the Adelphi Symphony Orchestra, led by music director Stefano Miceli, was streamed across the globe via Zoom on November 18. It was viewed by 400 people on the Adelphi University Performing Arts Center's YouTube channel and reached a potential audience of more than 140,000 on the U.N. website.
"It was such a unique honor," said Sidney Boquiren, PhD, associate professor and chair of  Adelphi's music department, who helped plan the event. "The U.N. could have approached any number of conservatories, and they came to us."
The program included the premiere of a new work, "Autumn Song," by Adelphi University Professor Paul Moravec, DMA, a Pulitzer Prize-winning and Grammy-nominated composer. The video also featured special guest speakers, including His Excellency, the eighth Secretary-General of the United Nations and founder of Academic Impact, Ban Ki-Moon; His Excellency, United Nations Secretary-General António Guterres; and Ambassador José Singer '73, an Adelphi alumnus and Special Envoy of the Dominican Republic to the U.N. Security Council.
Adelphi and the U.N. Academic Impact Program
The Academic Impact program is a partnership between the United Nations and more than 1,400 universities. It has created an international network of students devoted to supporting human rights, access to education, sustainability, conflict resolution, and other U.N. goals.
Adelphi has a robust history of participating in the program. As a nongovernmental organization (NGO), Adelphi also nominates one youth representative each year to attend U.N. briefings and events. Last year's representative, Saira Amar, a junior international relations major and Levermore Global Scholar, spoke during the concert about her experience in this role. She recalled, in particular, the honor of attending the opening session of the General Assembly in September 2020, where 24 world leaders spoke about their plans to build a better future.
"This is the room where it happens—where businesses, nongovernmental organizations and nation states come together to discuss and solve world problems," said Amar during the concert. "To this day, it still brings me immense joy whenever I'm in the building—that I, as a student just like anybody else, can be part of the bigger picture that is civil society and make an impact. Working all year with other NGOs, I've learned that we are part of the global process. Change starts with us."
A Performance During a Pandemic
The concert came together in six months, thanks to the leadership provided by Dr. Boquiren, along with Susan Briziarelli, PhD, assistant provost for global affairs at Adelphi, and Ramu Damodaran, U.N. deputy director of partnerships and public engagement.
"It was a bit of a challenge at first, trying to imagine how this could be done during a pandemic," Dr. Boquiren said. "A Zoom concert is not your typical concert."
With this challenge, however, came a great opportunity. The Adelphi music department was able to supplement its student orchestra with alumni participants from across the country, who prerecorded their parts. Adjunct music professor Dennis Sullivan, DMA, and videographer Erin Rodgers pieced the recordings together.
"It's a rather unusual situation of making music without ever actually hearing each other," Dr. Boquiren said. "Challenging, but I think the end result is the goal. It's something that we can be proud of in terms of what our students and community have accomplished."
Now that Dr. Boquiren has experience hosting virtual concerts—and incorporating alumni musicians—he looks forward to doing it again for the Adelphi Symphony Orchestra spring concert.