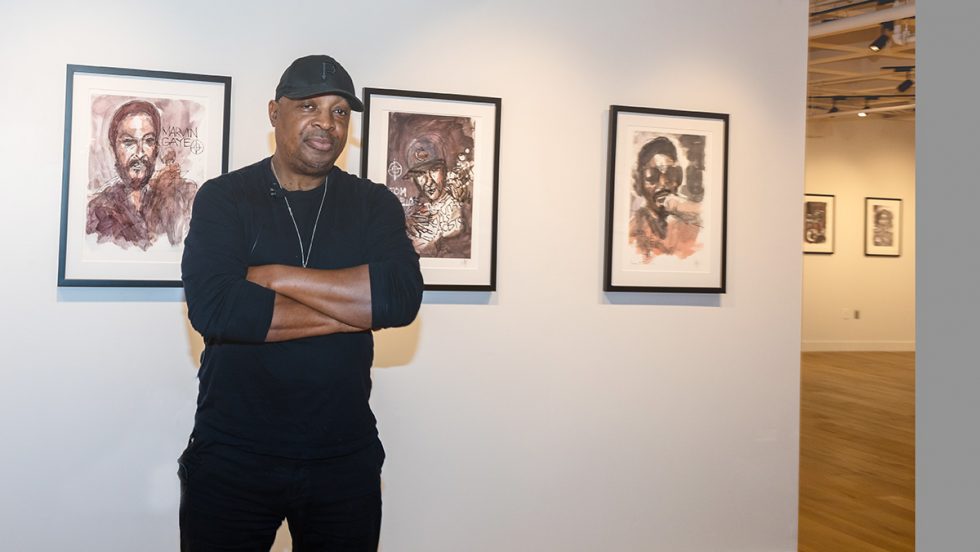 Chuck D '84, '13 (Hon.), who earned his Bachelor of Fine Arts at Adelphi, is rediscovering his college roots as an illustrator. The hip-hop pioneer is releasing his first fine art book this month, Livin' Loud. An homage to legendary musicians in hip-hop, rap and rock, it features more than 250 of his works.
Chuck D's importance cannot be overstated.
One of the greatest and most influential hip-hop artists of all time, Chuck D '84, '13 (Hon.), is best known as co-founder and frontman of Public Enemy. A multi-platinum recording artist, his accolades include a Grammy Lifetime Achievement Award and induction into the Rock & Roll Hall of Fame as a member of Public Enemy.
A lifelong activist and a celebrated visual artist, he produced and hosts a four-part documentary series, Fight the Power: How Hip-Hop Changed the World. Exploring the cultural and historical background of the genre, the program premiered on PBS on January 31.
He is also publishing his first fine art book. Livin' Loud, releasing in February 2023 by Genesis Publications, features more than 250 paintings, sketches and drawings, along with his commentary on his musical and artistic journey.
Fittingly, given that he was a graphic design major at Adelphi University, an exhibition of his work, Chuck D and the Near Def Experience: Most of My Heroes Don't Appear on No Stamps, was held at the University's Adele and Herbert J. Klapper Art Gallery last winter.
"In a digital era where people are listening with their eyes, I think we're seeing the elements of sight, sound, story and style finally coming together in a way that I've been about my entire life," Chuck D stated when his book's publication was announced.
"I was raised with an artist's mentality; my first 25 years were spent as somebody who wanted to live among graphics and artwork and illustration, and then for the next 30 years it was all music," he said. "In the last six years, I've reverted back into the arts, combining all of these elements in my work, still trying to change the world."
"Adelphi had the best graphic artists design department …"
"Living among graphics and artwork and illustration" was how Chuck D, then known as Carlton D. Ridenhour, spent his time as an undergraduate at Adelphi. He first learned about the University when he was a middle schooler in nearby Roosevelt, New York, and attended a summer program on campus.
That's what he told the Adelphi community in 2019, noting that he turned down scholarship money from another institution to study architecture because he wanted to be a commercial artist and study graphic design.
"Adelphi had the best graphic artists design department of any university," he said. "So that was a no-brainer."
At Adelphi, he designed flyers for local hip-hop events and drew a cartoon called "Tales of the Skind" for The Delphian.
He was drawn to music, too, hosting hip-hop shows on Adelphi's radio station, WBAU, and on WLIR, a local commercial station. He also started collaborating with another Adelphi student, William Drayton, aka Flavor Flav.
Musically and politically revolutionary
The two went on to cofound Public Enemy, releasing their first album, Yo! Bum Rush the Show, in 1987. The group quickly established itself as innovators, with Chuck D's lyrics bringing a political and socially conscious sensibility to hip-hop. The group's musical style was equally revolutionary.
Public Enemy's third album, Fear of a Black Planet, released in 1990, was "a lasting monument to the extraordinary richness of the African American experience," Rolling Stone wrote. It is "a seismic album that hipped a whole generation to the extraordinary richness of the African American experience."
Considered one of the greatest hip-hop lyricists of all time, Chuck D was also a co-founder of the supergroup Prophets of Rage and has performed with artists as varied as Janet Jackson, Run-D.M.C., George Clinton and Meat Loaf. He continues to speak out and be politically active.
And he still finds time to return to his alma mater, because, as he said, "My time at Adelphi was the foundation of my social, political and musical world."