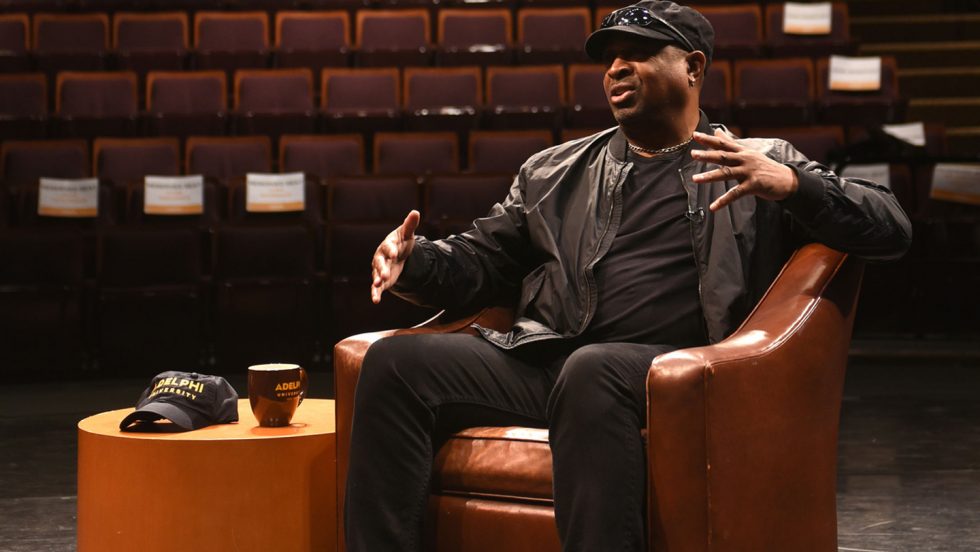 Chuck D is known around the world as a cofounder of the iconic hip-hop group Public Enemy, the group which got him into the Rock & Roll Hall of Fame and gave him a voice as a rapper, author and activist.
As Carlton Douglas Ridenhour, he got his start as a graphic design major at Adelphi, where he drew cartoons for The Delphian and was an early supporter of a nascent musical style that came to be known as "hip-hop" on Adelphi's radio station, WBAU. On Tuesday, February 22, Chuck D '84, '13 (Hon.), returns to Adelphi to discuss his exhibit, Most of My Heroes Don't Appear on No Stamps, on display at the Adele and Herbert J. Klapper Art Gallery through March 5. This is the first solo exhibition of Chuck D's artwork to date.
The registration-required event will begin at 4:00 p.m. and be followed by a gallery reception.
The exhibition, comprised of 31 portraits, is a celebration of Chuck D's musical influences that showcases an eclectic swath of American musical history including rap, R&B, reggae, rock, pop and folk.
A native of Roosevelt, on Long Island, Chuck D graduated from Adelphi in 1984, earning his BFA. During his college days, Adelphi radio station WBAU was becoming a hub for the early expansion of the hip-hop movement. Ridenhour was a driving force at the station, hosting a program that featured MCs and DJs from Long Island and New York City, some of whom would later join him in Public Enemy. Since the 1980s, Public Enemy earned fame and accolades including the Grammy Lifetime Achievement Award in 2020.
Chuck D is also a best-selling author and a media commentator. He has served as a national spokesperson for Rock the Vote, the National Urban League and The National Alliance of African American Athletes. He has also appeared in public service announcements for HBO's campaign for national peace and for the Partnership at Drugfree.org (formerly the Partnership for a Drug-Free America). Through his work, he aims to encourage young people to remember the value of education and share their learning with their families and communities.
In his book Chuck D Presents This Day in Rap and Hip-Hop History, he writes about musical figures who have influenced his work—including a reggae great portrayed in his Adelphi show. "I usually describe 1984–1986 as my 'punk rock orthodoxy phase' where I refused to listen to anything else, though I did discover and love Bob Marley," he shared. "I was open to Marley and loved his messages against oppression."
In 2014, he started a global art ad agency called mADurgency dedicated to servicing the entertainment industry and hip-hop culture. The virtual collective showcases graphic artists, illustrators and painters from around the world.
The Adele and Herbert J. Klapper Art Gallery is located on the main level of the Ruth S. Harley University Center.