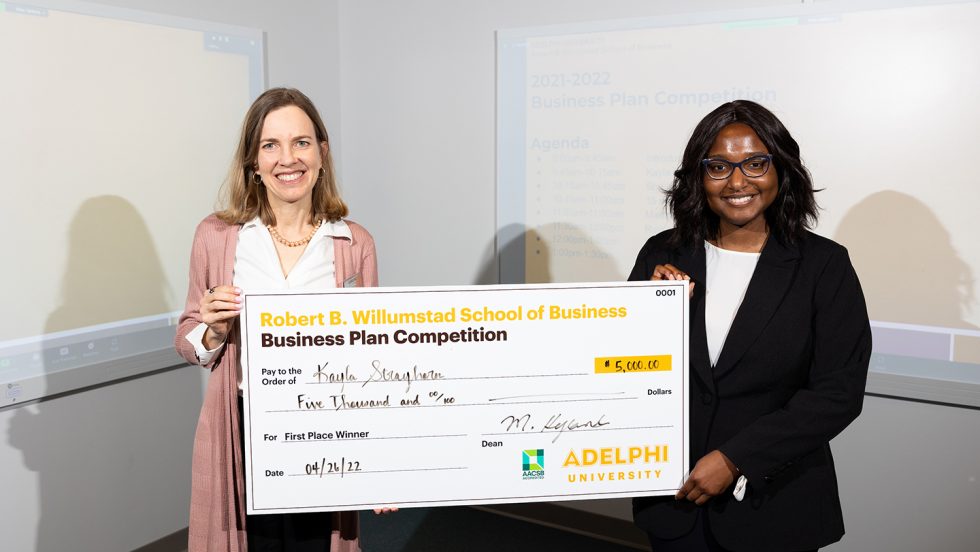 Benjamin Franklin espoused the idea that one can be financially successful while making the world a better place, an idea now known as the oft-quoted "doing well by doing good." Embracing ethical practices has been intrinsic to the Robert B. Willumstad School of Business since its founding as the School of Business Administration in 1964, both for business and personal actions. In recent decades, that ethos has evolved toward a more structured approach to teaching corporate social responsibility.
"For many years, Adelphi and the business school have deliberately focused on imparting a culture of conscience among students, both because it's the right thing to do and because it continues to be ever-more important in the world of business," said MaryAnne M. Hyland, PhD, dean of the Willumstad School. "Our faculty, alumni and current students have done great work in the area of corporate social responsibility, in the classroom, in research and in practice in the business world."
Lecture Series Spotlights Outstanding Examples of Corporate Social Responsibility
In 2003, a gift from the late Amy Hagedorn '05 (Hon.) and Miracle-Gro's founder, the late Horace Hagedorn '01 (Hon.), established the annual Hagedorn Lecture Series on Corporate Social Responsibility. Prominent speakers address pressing issues of the day. Past speakers have included the CEO of American Express, the retired chair and CEO of the KeySpan Corporation, a Wall Street industry expert, the CEO of The Scotts Company and the former United States Secretary of the Treasury, Robert Rubin.
The November 2022 lecture, "Corporate Social Responsibility in the Cannabis Industry," featured the senior leadership team at Curaleaf, Khadijah Tribble and Joseph Bayern '85.
"Social responsibility in companies means that success is measured not just by profits, but also based on impact," said Zachary Johnson, PhD, associate professor of decision sciences and marketing and moderator of the event. "Curaleaf also focuses on equality within its sourcing, [and] provides opportunities for members of society that have often been excluded, so persons of color, members of the LGBTQ community and women have opportunities to become business leaders of tomorrow through a rapidly growing industry. These practices also help consumers and regulators understand how the industry can add to, rather than take from, society."
Faculty Scholarship, Classroom Work Add to the Effort
Faculty research delves into issues of corporate responsibility and government oversight, including published work by Zhimin Huang, PhD, professor and chair of decision sciences and marketing, on carbon emissions—most recently in a publication in the journal Energy Economics, "Capturing the least costly measure of CO2 emission abatement: Evidence from the iron and steel industry in China."
In the classroom, Willumstad faculty emphasize social responsibility in business. Laura Messano, senior lecturer of management, at the invitation of Cristina Zaccarini, PhD, associate professor of history, joined forces on the Mindfulness Resolution Project. This initiative is a partnership with Network Support Services, an organization that delivers comprehensive support to recently incarcerated individuals with a discharge plan. Messano said the School of Business students, led by the Delta Sigma Pi professional business fraternity, "will expand on an existing program as they develop and distribute a letter writing campaign to raise monetary support for this important initiative and gain knowledge and experience researching, vetting and communicating with corporations as they compare the goals of corporate entities with the mission and philanthropic needs of a small nonprofit."
Many Adelphi business faculty members are quoted by the news media for their expertise on business ethics and corporate social responsibility. Among them are Mariano Torras, PhD, professor and chair of finance and economics—who has had several letters to the editor published in The Financial Times—along with Robert Goldberg, James F. Bender Clinical Professor of Finance and Economics, Rakesh Gupta, associate professor of decision sciences and marketing, and Dr. Johnson.
Business Plan Competition Adds Element of Social Responsibility
Adelphi's annual Business Plan Competition, now in its sixth year, allows individuals and teams of students to flesh out ideas and pitch their plans to a panel of experts in the field. In 2022, the competition added another category for honors and prize money: Environmental, Social and Governance. The prize recipient, Kayla Strayhorn '22, who also won first place overall, proposed a rooftop farming operation that would improve the availability of fresh produce in urban areas as well as be sustainable environmentally.
"The judges were impressed with the efforts and intellect of all of the competitors, but were particularly enthusiastic about Kayla's proposal, which represents a synthesis of profit and societal benefits," Dr. Johnson said.
The 2023 competition will again include a category for the best socially responsible approach. See more about the annual Business Plan Competition, scheduled this year for final presentations on March 3.