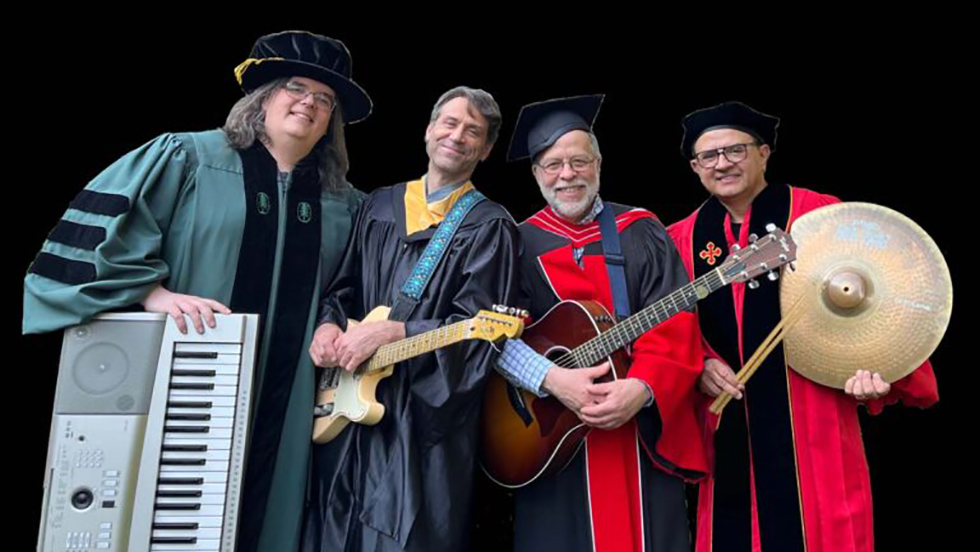 The members of the Mad Professors come from the dance, math and psychology departments, united by a passion for playing classic rock of the '60s, '70s and '80s.
Interdisciplinary studies is often a locus for creative thinking, but even so, finding Pink Floyd and the Rolling Stones at a crossroads of mathematics, psychology and dance might come as a bit of a surprise.
But that is exactly what's to be heard—along with classic songs by The Band, David Bowie, the Grateful Dead, Taj Mahal and other such rockers of a certain age—when mathematics and computer science professor and chair Rob Bradley, PhD, associate professor and chair of dance Orion Duckstein, psychology professor Jairo Fuertes, PhD, and professor of mathematics and computer science Lee Stemkoski, PhD, perform.
Duckstein started talking music with Dr. Fuertes after noticing a guitar in the background during an online faculty conference call.
"One day we were on a Zoom meeting and Rob had a '50s Les Paul in the background," said Duckstein, himself a Telecaster devotee. "I messaged him, 'Hey, nice axe,' and we started talking about guitars."
Dr. Fuertes had been in an early rock 'n' roll and rockabilly band with Dr. Bradley that was on hiatus after losing a couple of members. With the addition of Duckstein and then Dr. Stemkowski, the act became an all-Adelphi affair.
The band has played some parties and receptions, but even the near-weekly rehearsals have been a way to get a break from the rigors of academic life.
"It was a good way to meet other Adelphi people and not talk about work," Duckstein said.
Professors as Performers
Despite having spent more than a decade with the Paul Taylor Dance Company, the form wasn't Duckstein's first creative pursuit. Hearing an uncle play a Jimi Hendrix song on guitar put him on a different course. He studied guitar and then theater before finally finding his inner dancer.
But all of them satisfied a "need to go up there and have a communal experience with the audience and fellow performers," he said. "Dance was a way to quiet the storm in my head and be in one place at a time."