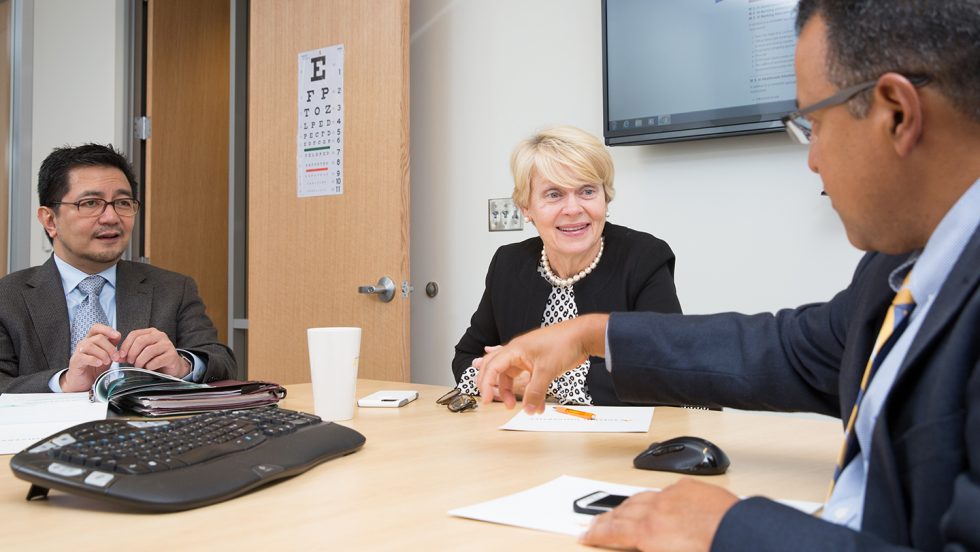 Adelphi's new Faculty Mentoring Academy is our way of supporting our newest academic colleagues by providing important connections, perspectives and valuable support for balancing teaching, research and service.
"We expect mentors to be that friendly face on campus that you can always go to through your highs and your lows—because they've been through it themselves. These are people who are saying, 'Hey, I'm here. I want to help.'"
That's how Anne Mungai, PhD, associate provost for strategic initiatives and graduate studies, describes the role of Adelphi's Faculty Mentoring Academy. As leader of the academy, Dr. Mungai hopes to aid faculty retention by assisting and supporting new faculty members as they ease into their new roles.
The academy just finished its first year, pairing 15 mentors with 15 mentees from a range of disciplines, cultures and backgrounds. The academy is helping new faculty members acclimate to the campus and community, meet research and publication goals, and stay on track to receiving tenure or reappointment.
"The Faculty Mentoring Academy creates an atmosphere of advocacy and respect, ensuring that all faculty have access to the resources and support that we offer at Adelphi," said Dr. Mungai. "Faculty members can grow professionally in their careers knowing that they have someone to lean on."
Each mentee is paired with a volunteering faculty member from a different department, helping them build relationships outside of their discipline. Mentors also can't be supervisors, evaluators or members of review committees on campus, ensuring they provide truly unbiased support and advice.
"We've found that this creates a lot of freedom for the mentor and mentee to just have a discussion, meet together, and even go over new research," Dr. Mungai explained. "I always say, if somebody who's not in your department can read your paper and understand it, then it's going to be clear to the publisher and the person reviewing it."
For example, mentee Sara Terrana, PhD, assistant professor in the School of Social Work, was paired with mentor Melissa Van Alstine-Parris, PhD, an associate professor of chemistry.
"Being connected with someone outside of my unit was great for a better understanding of the University as a whole," Dr. Terrana said. "We were able to meet via Zoom and grab lunch on campus. I had felt disconnected a bit with the ongoing pandemic, so this was an excellent way to create community."
Each pair commits to meet for a year, but many plan to continue their mentorship beyond that.
"The point is to guide the new faculty members and make sure that they're successful at Adelphi," Dr. Mungai said. "That's the bottom line. How can we put a new faculty member we hired in the fall on the road to success for reappointment, promotion and tenure?"
Mentors can also help mentees find service opportunities with campus committees, navigate teaching challenges in the classroom, and balance their work and personal lives.
Edmund J.Y. Pajarillo, PhD, associate professor in the College of Nursing and Public Health, volunteered to be a mentor because mentorship has been a foundation of his career. He mentored students at the University of the Philippines Manila, the American Nurses Association, and the New York State Nurses Association Leadership Institute.
"I've been so fortunate to have been mentored from my grade school until now, and I'm still benefiting from being mentored by the giants of nursing," Dr. Pajarillo said. "I've also been mentoring ever since I was in college, so it is in my blood."
Raghida Abdallah Yassine, PhD, assistant professor in the Robert B. Willumstad School of Business, requested to be mentored by Dr. Pajarillo because of their mutual interest in management, research and leadership.
"Mentoring others in the same discipline is pretty homogeneous, but by working with a faculty member from another school, I can contribute my own perspective, which they can adapt in their own practice as a mentee," Dr. Pajarillo said. "Then when they are evaluated by their school, they have something different to present that can be much more impactful."
With such a successful first year of the program, Dr. Mungai looks forward to seeing the Faculty Mentoring Academy grow and evolve. "In three or four years, when mentees go up for tenure, they'll be ready because they've had someone to mentor them," she said. "It's just exciting. So this is something that we hope to continue to do."
Dr. Mungai also hopes the program comes full circle and makes a long-term impact on the Adelphi faculty.
"My hope is that the same people who are being mentored now will eventually become mentors for other new faculty members," she added. "So they'll be able to give back to the community."