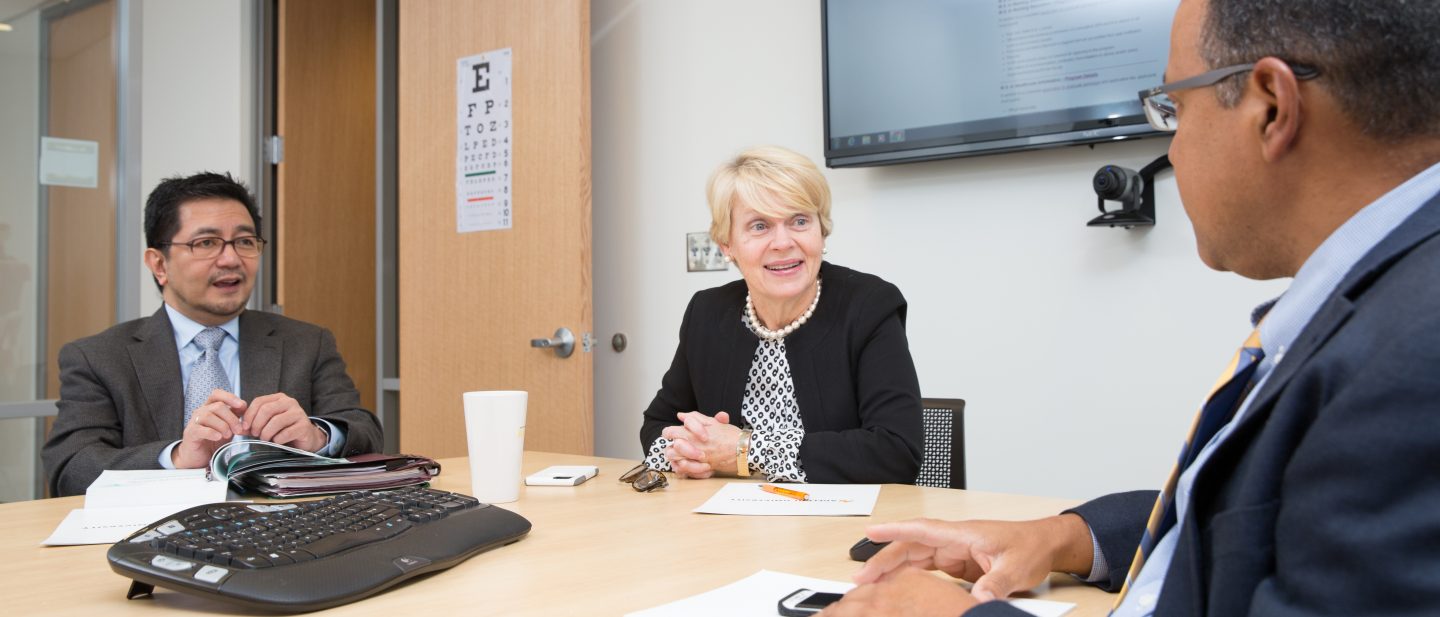 Faculty Mentoring Academy
The Office of the Provost is committed to faculty retention, creating an atmosphere of advocacy and respect, and ensuring accessibility for its entire faculty by offering an active faculty mentoring program.
The Faculty Mentoring Program is administered by the Office of the Provost. The program is open to all faculty at Adelphi University.
New faculty members are provided with a faculty member from any college/school to help navigate the transition to a new institution and new responsibilities. In addition to the Faculty Mentoring Academy, each school has a unit  mentoring program. Unit/Department mentors are especially useful in learning about the culture and expectations for that discipline and their department, as well as helping the mentee cultivate a discipline-specific network outside of Adelphi University. The mentor program through the Faculty Mentoring Academy is not intended to be  a supervisory or evaluative tool. No mentor shall serve in a supervisor or evaluator role. Members of the Faculty Committee for Retention and Promotion (FCRTP) and Unit Peer Review Committees should not volunteer to be mentors.
Assistant and associate faculty members and senior faculty members representing a variety of backgrounds, cultures, and ethnicities are paired as mentor/mentee. Pairs commit to meeting throughout the semester to provide the mentee with valuable guidance to assist them in building successful careers at Adelphi. The Office of the Provost funds one lunch per semester, per pair, and encourages pairs to meet on a regular basis.
Mentees can expect mentors to get to know them as individuals and offer confidential guidance in areas of interest and concern, and to orient them to Adelphi. Mentors are committed to taking a genuine interest in their mentee's professional progress, familiarizing them with Adelphi policies, and offering honest, constructive appraisal of their scholarship and progress.
What to Expect from the Faculty Mentoring Program
For New Mentees:
Orientation to the university's climate, structure, and surrounding community
An advocate in the form of a senior faculty member dedicated to discussing research goals, publication information, teaching challenges and opportunities, and service-related questions
Access to a successful mentoring relationship so that the junior faculty member can thrive both personally and professionally
A non-judgmental environment in which to pose questions and concerns
Insight into teaching and career development from a seasoned veteran
A friendly face to share the highs and lows of balancing work, personal life, and time.
For New and Seasoned Mentors, expectations include:
Sharing firsthand knowledge about the university, academic life, and professional development
Helping shape the careers of new faculty
Providing a valuable service to the university by promoting collegiality and championing mentoring relationships among faculty
Being available to guide and support the mentee
We are requesting participants to commit to at least one year with a possibility to extend the mentoring experience.