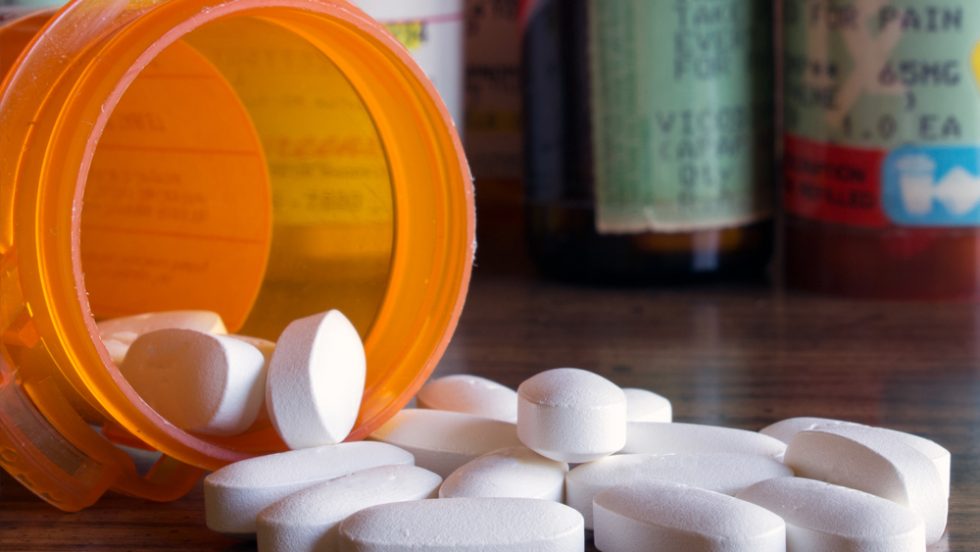 An underutilized drug, buprenorphine, can pave the way to recovery.
A man walks into a clinic. After describing years of OxyContin abuse, he professes a strong desire to overcome his addiction. The nurse practitioner correctly diagnoses the man's condition as opioid use disorder (OUD), but she has never treated a patient with these symptoms and knows that starting treatment can make the patient's symptoms worse if done incorrectly. Fortunately, she knows she is free to make mistakes without worrying about consequences to the man's health—because he is an actor participating in a simulation.
This scene, part of a simulation that plays a key role in Adelphi's nursing curriculum, is the brainchild of Marissa Abram '08, PhD '17, assistant professor in Adelphi's College of Nursing and Public Health. Together with Maryanne Forbes, PhD '98, the College's associate dean for academic affairs, and Vincent Guilamo-Ramos, PhD, professor in the NYU Silver School of Social Work and associate vice provost of mentoring and outreach programs there, she is committed to helping tomorrow's nurses manage the ongoing opioid crisis.
One of the most effective means of treating opioid use disorder and preventing overdose deaths involves stabilizing the patient with the medication buprenorphine in combination with behavioral therapy. Because starting buprenorphine can cause precipitated withdrawal, which is extremely painful for the patient, new providers may be nervous about initiating treatment. But for patients who are using opioids, "buprenorphine or methadone can give them the stability they need to reengage and have functional lives," Dr. Abram said.
However, because only 2 to 3 percent of primary care physicians have obtained a license to prescribe buprenorphine, many patients do not receive the care they need. "The issue is complex because stigma keeps buprenorphine from being utilized as much as it should be," Dr. Abram said. "It is sometimes viewed as replacing one drug with another. And even though students learn about this treatment in the classroom, starting the medication can be complex, so hands-on training is needed to help new practitioners become more comfortable with prescribing buprenorphine."
Dr. Abram designed a reality-based teaching simulation to address this gap in care, which can be filled by nurse practitioners. With the support of Dr. Guilamo-Ramos and Dr. Forbes, she sought to develop an effective means of preparing students to know when to initiate the buprenorphine treatment plan—and how to do it successfully. The team published its insights in the January 2020 issue of Clinical Simulation in Nursing as "Buprenorphine Induction Simulation: Focus on Patient Safety and Quality Care."
The simulation—which follows classroom instruction—is split into several parts. "First, the students assess the patient as he comes in, who in this case is played by the simulation center director. The students then determine if he is a candidate for buprenorphine and, if so, start treatment," said Dr. Forbes. "Next, students reassess whether the patient is still having withdrawal symptoms and determine the need for additional medication. If the patient is still uncomfortable, the student will then administer additional doses of medication."
Faculty members oversee the process to ensure that students make the most of the simulation's conclusion: the debriefing. "Finally, students sit with faculty and reflect on how they performed in the simulation," Dr. Forbes said. "That's when they really learn and remember. If you make a mistake, you will never forget it."
The program was an immediate success. At the end of the simulation, students were asked to provide written responses to a series of open-ended questions intended to determine the program's efficacy. Participating students reported that the experience helped them master essential skills and gave them a deeper understanding of patient safety. "If students practice managing barriers and obstacles to delivering treatment in the simulated environment," Dr. Abram said, "they will be better prepared when they meet real patients."
Although this simulation was only a pilot program, Dr. Abram is looking to scale up her pedagogical method and share it with others. "This is an innovative strategy of ensuring patient safety," Dr. Forbes said. "We're always talking about preventing errors, and the best way to prevent them is by reflecting on process." Now that Adelphi students are given the chance to make errors in a safe environment, they'll know what to do when lives are on the line.
---
Abram, Marissa D., Vincent Guilamo-Ramos, and Maryanne O. Forbes. "Buprenorphine Induction Simulation: Focus on Patient Safety and Quality Care." Clinical Simulation in Nursing, 18 January 2020.