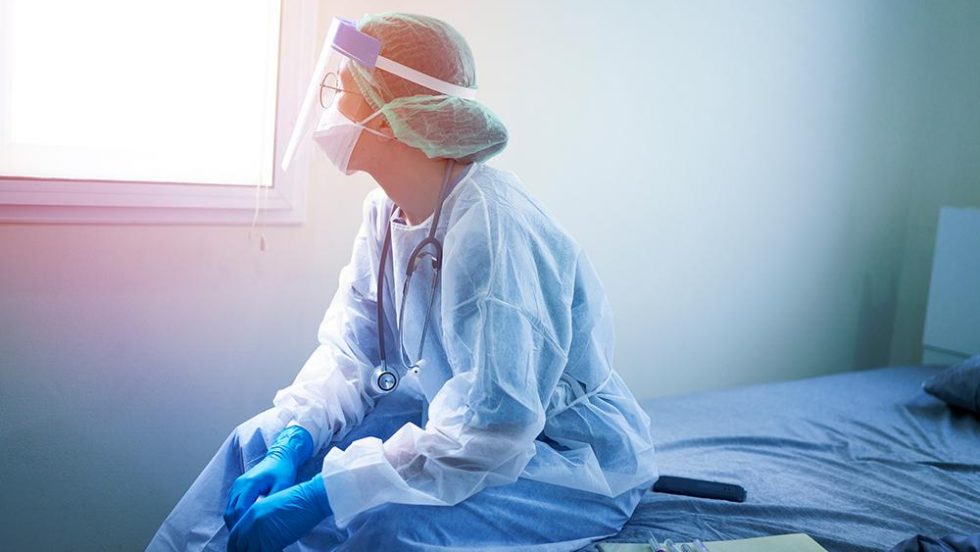 COVID-19 has sparked a greater need for mental health care—and mental health practitioners and scholars. Adelphi is at the forefront with three prestigious mental health-focused programs, including two at our renowned Gordon F. Derner School of Psychology and one at the College of Nursing and Public Health that prepares nurses for advanced practice in caring for body and mind.
The demand for mental health providers has increased significantly during the COVID-19 pandemic, with the number of adults reporting they were suffering from depression and anxiety up threefold from the same time the previous year. Adelphi is responding with three prestigious graduate programs: Clinical Psychology, Mental Health Counseling and the MS in Psychiatric-Mental Health Nurse Practitioner program. Graduates of these programs will be taking on an extraordinary role: treating the mental health challenges of a post-COVID-19 world.
Like many other universities and colleges, Adelphi has seen a sharp spike in the number of applicants to its graduate programs in mental health this year. In fact, applicants are at a record high.
The number of applicants to the PhD in Clinical Psychology program is up 74 percent over last year. Applications to the MA in Mental Health Counseling program are up 52 percent, and applications to the MS in Psychiatric-Mental Health Nurse Practitioner program are up 58 percent.
"It's unprecedented," said Dory Ferraro, DNP, clinical associate professor in the College of Nursing and Public Health and director of the nurse practitioner programs. She said the increase in applicants to the Psychiatric-Mental Health Nurse Practitioner program she oversees can be attributed partially to the reputation of these Adelphi programs and partly to the COVID-19 pandemic. "Many of the applicants are nurses working on the front lines, and they're witnessing firsthand the psychological effects of the pandemic," Dr. Ferraro said. "They want to respond to the need and play an active role in restoring health and well-being to their patients and their co-workers."
Programs' strengths attract students
The increases in the clinical psychology doctoral program may be driven in part by a reduction in tuition and increase in student financial aid, according to Jacques Barber, PhD, dean of the Gordon F. Derner School of Psychology. The University lowered the tuition by recalculating the way it counts credits, so now a student needs fewer of them to get a PhD. The University also increased graduate assistantships given to PhD students who work with faculty, and Derner added a scholarship for minority students.
The result is a cost reduction for students of as much as $15,000 a year, Dr. Barber said.
Derner's global reputation also plays a role. The Derner School was recently ranked fourth in the world in psychology/psychoanalysis by the Center for World University Rankings and has a storied reputation for training in psychoanalysis and psychodynamics. Over the years, Derner has developed a faculty versed in a diverse range of theoretical perspectives, giving students a greater scope of understanding, said Chris Muran, PhD, associate dean at Derner and director of the PhD program.
"We've become more cutting edge because we're very integrative and pluralistic," Dr. Muran explained. "We're integrating other perspectives, including cognitive behavioral and humanistic, so students get exposed to multiple perspectives right out of the gate. It makes us kind of an exciting think tank."
The quality of the program also accounts for the rise in applications to the nursing school graduate program. The first graduating class from the Psychiatric-Mental Health Nurse Practitioner program had a remarkable 100 percent pass rate on the board certification exam. And U.S. News & World Report ranked Adelphi's nursing master's degree program in the top 20 percent nationwide on its 2020 list of Best Graduate Schools.
Growing demands for service, especially in underserved communities
Growing demand for mental health professionals is driving interest in related careers. Employment for mental health and behavioral disorder counselors is expected to grow by 25 percent over the decade, adding about 79,000 new positions, according to the Bureau of Labor Statistics. Although mental health needs are widespread across the general public, people of color have experienced even higher levels of distress—a fact that has not been lost on the students entering Adelphi's mental health graduate programs.
"Many of our students currently live and work in underserved communities, and they recognize the disparities, with Blacks and Hispanics having higher rates of mental health issues related to the pandemic," Dr. Ferraro said. "So they're aware of the need in that community and they want to fill it. We're giving them the training to do that."