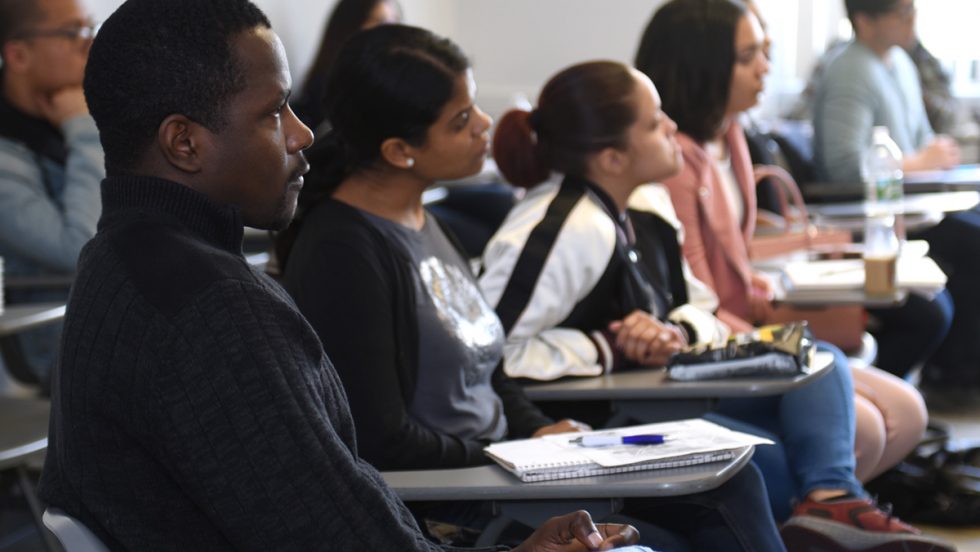 The College of Professional and Continuing Studies' Finish Line Program is designed to help students who left Adelphi get back on track to a degree. Dedicated advisers are skilled at meeting the needs of returning students by charting their personalized paths to graduation and future success.
Students en route to a college degree sometimes run into unforeseen roadblocks, such as personal responsibilities, financial challenges or even professional opportunities that can delay their paths to graduation. The Finish Line Program (formerly called the Panther Potential Program) is designed to help students who left Adelphi get back on track. And academic advisers Marsha Bazelais and Samantha DiSibio '14 are with these students every step of the way—from the minute they ask about the program right up to graduation.
Once students return to Adelphi, they are assigned to one of the two advisers. Then either Bazelais or DiSibio gives one-to-one guidance. They go over degree options and plans of study to kick off their reinstatement process and guide them through academic, financial and other issues. With their help, on average, it takes students as little as a year to a year and a half to graduate.
Dreams Accomplished
DiSibio reported that her student advisees are often motivated by their families. "They want their kids to see them graduate from college and accomplish this goal that may have seemed like a far-fetched dream."
Bazelais agreed that a major motivator for Finish Line Program students is a sense of accomplishment. "They want to complete the degree they began 10, 15, even 20 years ago," she said. "They usually tell me that they feel unaccomplished and finishing their degrees will fulfill the longing that they have."
To this end, Bazelais and DiSibio leverage the flexibility and convenience of CPCS' online, evening and weekend courses and Adelphi's abundant student support services to help students—many of whom are working full time—complete their degrees.
"I believe that the biggest advantage offered by the program is the ability for students to complete their degrees without feeling like they have to start all over," said DiSibio. "We have programs that can accommodate almost any returning student and help them complete their degrees quickly and affordably."
Credit for Life Experiences
For Bazelais, another major advantage of the Finish Line Program is the opportunity to receive college credit for life experience.
Since at least three years must elapse after stopping before students can apply for reinstatement via the Finish Line Program, getting course credit for professional and life experiences is especially attractive.
The CPCS Credit for Prior Learning program, or CPL, evaluates students' experiences to see if they are equivalent to college learning. For example, students who have participated in certain military, police or EMT training programs, as well as internal corporate training programs, may receive credit and thus save both time and money.
Inspired by Their Students
Both Bazelais and DiSibio admire their returning program students. "I admire the students' dedication to finishing their degrees while having so many other responsibilities, such as work and family," Bazelais said. "Their drive and tenacity are incredible."
DiSibio, who remembered how tough it was to get back into the swing of things after she'd waited for a number of years to return to school to start her master's degree, is consistently inspired by her students' "drive and ambition to not only come back and complete their degrees, but also to achieve great grades while doing so.
"Seeing these students return, even before the Finish Line Program was officially launched, gave me the determination and confidence that it wasn't too late to continue on to my master's degree," she explained. "They are truly inspiring—even if they don't realize it."