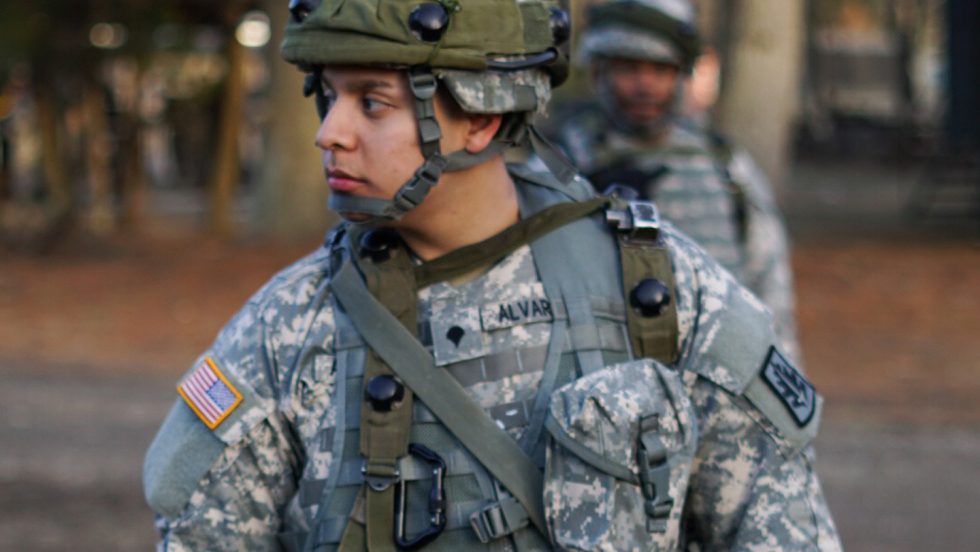 Osvaldo Alvarado enlisted in the Army Reserve while still a senior in high school. After six years, he wanted to continue to serve others, this time by becoming a social worker. "I enjoy helping people and serving the community," he said. "It's a calling."
His aunt earned her Master of Social Work (MSW) at Adelphi and had "nothing but good things to say about the program," he said. Alvarado then looked into the courses in the Bachelor of Social Work (BSW) and MSW programs and liked how they covered many aspects of social work "not just micro/mezzo/macro, but all the different aspects of social work we can do. That's what I really like about Adelphi."
Cecelia Acevez-Terrel left U.S. Army active duty in 2017 and plans to serve in the National Guard until 2023. She enrolled in the BSW program in 2019. "Adelphi had the program I wanted and it was a great convenience for me," she said. "I am a working mom and I have to make my schedule around my kids. Adelphi has provided me with everything I need to be able to work, be in the National Guard, take care of my responsibilities at home and go to school."
Alvarado and Acevez-Terrel appreciate the convenience of taking classes close to home, at the Adelphi University Hudson Valley Center's Middletown, New York, location at Orange County Community College.
Both plan to continue at Adelphi for their MSW.
A History of Veteran Support
Ohiro Oni-Eseleh, MSW '93, director of the Hudson Valley Center School of Social Work, finds that veterans often gravitate toward social work because of their continued desire to help others.
"[Social work] is a place where people come to find comfort for themselves and others," said Oni-Eseleh. "And we do more than just provide the education. We also provide support for the human experiences our students go through."
Adelphi has a rich history of supporting military personnel with resources for mental health, career development and networking opportunities—throughout the University. Veterans can use benefits from the Post-9/11 GI Bill®  to enroll in any of Adelphi's degree programs. Adelphi was also named one of 2020's Best Colleges for Veterans by U.S. News & World Report and is part of the Yellow Ribbon Program, which provides additional funds to military and veteran students.
When veterans enter the Hudson Valley program, Oni-Eseleh connects them with the Veteran Affairs (VA) Center in Albany, which has many resources to support veterans going back to school. "The center will assign someone to work with each student until they graduate, providing them with access to financial help, military benefits and material resources like laptops," said Oni-Eseleh. "We've had students who, by the time they come to us, are not receiving military benefits and have been trying for a while. The program in Albany helps them."
Veteran students are also connected to internship opportunities at the local Vet Center and the veteran program at the Mental Health Association.
"We provide them an opportunity to be of help to other veterans in dealing with the issues that arise from their service," said Oni-Eseleh. "They really learn how to provide services to fellow military veterans who need support for mental health, substance abuse or family issues."
The School itself offers a course that specifically covers social work practice with military veterans and their families. Students learn to address postwar issues of anxiety, depression, PTSD, suicide, traumatic brain injury and other health-related issues. Veterans are also provided with a safe space in this and other courses to share and explore their own military experiences.
Vets Helping Vets
Acevez-Terrel hopes to work with her "veteran brothers and sisters" or with those dealing with trauma. Alvarado would also like to help his fellow veterans. "I believe veterans feel there's a stigma about seeking mental health treatment; they don't want to be seen as weak. Being part of the military, I feel they would appreciate being able to seek help from someone who's been in their shoes and can relate."
Oni-Eseleh said the Hudson Valley Center is there to help veteran students who need the extra support. He mentioned one student who had had difficulty completing three different college programs due to his post-traumatic stress disorder (PTSD).
Adelphi provided him with the resources he needed for success, including helping him coordinate his school schedule with his military program and present a paper on his military experiences at a conference in Garden City. The student was able to graduate from the program in May 2020.
"Our program is driven by compassion, support and understanding," said Oni-Eseleh. "We were able to provide all of the support to this student that he needed. His family became our family at the Hudson Valley Center."