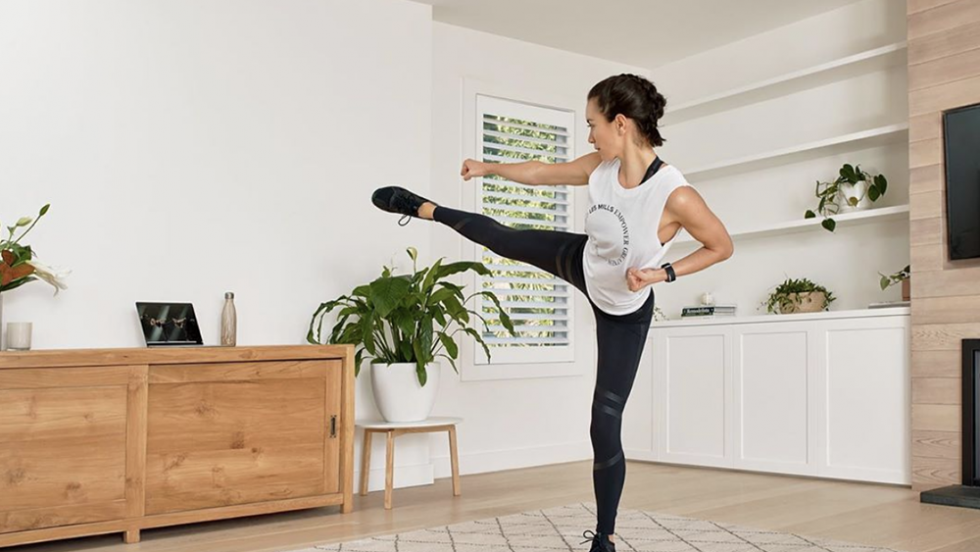 Campus Recreation continues to provide ways to stay active throughout the summer.
Adelphi Campus Recreation wants to help you stay in shape, and they're making it easy to participate by offering a range of options.
The Adelphi community has always preferred in-person group fitness classes, but due to the pandemic, Campus Rec has switched to a Zoom format. Panthers have been able to continue taking their favorite classes by logging in for live sessions. You can choose to turn your video camera on so the instructor can see you or turn it off for privacy.
Live Classes With Adelphi Instructors
According to Linda Gundrum, MS '86, director of Campus Recreation, live classes will continue through August 7. If you miss a class or the time is inconvenient, Campus Recreation has you covered. Recordings are made available on its YouTube channel.
"Yoga is the easiest class to offer which requires little to no equipment at home," Gundrum said. "There is a following of people in the Adelphi community who have been practicing yoga with instructors such as Dianne [Condon] and Stephanie [Falkowski], who have been teaching at Adelphi for a number of years."
In addition to yoga, there's a class in relaxation and mediation and another focusing on those soon-to-be-flat abs.
Yoga Flow: Mondays, 5:15 p.m., through August 3. Taught by Stephanie Falkowski '11, this is a great class for building strength and flexibility. Open to all levels from new to advanced.
30-Minute Abs: Tuesdays, 1:00 p.m., through August 4. Instructed by Olivia Minogue '19, this intensive class incorporates elements of Pilates and strength training to work all your abdominal muscles.
Vinyasa Flow: Wednesdays, 1:00 p.m., through August 5. Instructor Lisa Pineda makes hump day a healing day by teaching Panthers how to enhance their body movements and health.
Yoga for Healing: Thursdays, 1:00 p.m, through August 6. Dianne Condon wants to help you ease anxiety through yoga with relaxation and meditation.
Condon hosted a beginner fitness class as part of the 2020 Orientation events. "We wanted to introduce the new students to the classes we offer and give them a taste of what we do despite not being able to be on campus yet," Gundrum said. "It was an introduction to yoga that anyone can try," she said.
There will also be a beginner Strength and Conditioning pop-up class for new students at 10:00 a.m. on Wednesday, August 12, taught by Harris Cherpelis '19.
Other Online Options
In addition to these classes, Adelphi has partnered with Les Mills, a free digital home exercise option, which is available to students, staff and faculty through August.
And to stay motivated this summer, Panthers can join the 2020 Recreation Movement. "This program was birthed from the effects of the pandemic this past spring among a small number of participating colleges and universities looking for a way to engage students remotely," Gundrum said. "It now includes nearly 100 schools."
The program gives you access to live classes offered by other colleges and universities around the country. There's also a competitive aspect to it. Log the minutes you spend on physical activity to help Adelphi move up the leaderboard and contribute to the national goal of 5 million minutes of movement.
You can inspire others to stay motivated too! Try daily challenges on TikTok using the hashtag #recathome. Post your own challenges and tag Adelphi Campus Rec on @adelphirec to help promote the movement.
Plans Underway for Fall
Live classes will continue to be offered online and recorded for later viewing on YouTube, said Gundrum, adding that the department is currently evaluating other options for online classes as well as holding classes and offering options for us to exercise on campus safely. This may include a hybrid model of virtual and in-person classes, outdoor classes in the early fall (weather permitting) and holding prerecorded classes in the Center for Recreation and Sports "to give people the experience of taking a class in person with the bikes and equipment they may not have access to at home, but in a safe, socially distanced way," she explained.