Adelphi's Healthcare Informatics program positions students for a career at the crossroads of healthcare, business and technology—and its curriculum is constantly evolving.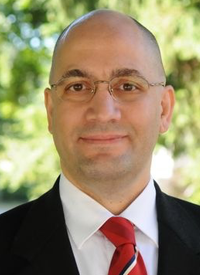 The College of Nursing and Public Health's growing Healthcare Informatics program positions nursing students for a career at the crossroads of healthcare, business and technology—and its curriculum is constantly evolving. With a focus on novel technologies in informatics and medical monitoring, the program addresses high-demand needs emerging in the healthcare marketplace.
To determine future training needs, it is critical to analyze health trends. According to projections cited by Hasan Sapci, M.D., chair of the College's Department of Allied Health, the population aged 65 and over will soar to over 83.7 million in the United States by 2050 and top 1.5 billion globally, causing a paradigm shift in how the healthcare industry approaches solutions for diseases associated with aging. The pace of medical technology is already increasing, but new solutions are needed to coordinate care and improve health outcomes, especially for this growing segment of the population.
To stay ahead of the curve, the College's M.S. in Health Informatics program has two major initiatives: the founding of a new training and research laboratory and the establishment of a new Telemedicine and m-Health certificate program, which will focus on remote health monitoring systems connected through the Internet of Things (IoT). IoT is a recent development in networking defined by devices that collect and exchange data. The College's program will equip students with the knowledge to design, develop and implement IoT solutions for aging populations.
---
Other Initiatives
The College received funding in 2015 for the Health Informatics Training and R&D laboratory— which will include two telepresence robots plus computing tools to establish a distributed medical information database, Dr. Sapci said. A recent initiative with the University's IT department will take this project to the next level by adding health telematics and an HL7-compliant smart home healthcare system. The lab is further enhanced by a blueprint of Dr. Sapci's own design.
These exciting developments are in sync with the program's move to the new Nexus Building, which also houses the laboratory. "The enhanced Health Informatics Training and R&D laboratory will give Adelphi a national competitive advantage," Dr. Sapci said. "In this first-of-its-kind laboratory, students will be able to learn novel healthcare systems and applications and observe real-time streaming data in various healthcare applications. Students will be able to have an experiential learning experience with these state-of-the-art health informatics devices."
Dr. Sapci, who has in the past developed partnerships with industry businesses, plans on augmenting the academic experience by bringing these companies to the College. Such relationships will help students and faculty develop proof-of-concept applications and apply for National Institutes of Health (NIH) grants.
"Tele-assistance, medical data collection and processing from intelligent environments and smart homes are the future of health informatics, and we are ready to answer the need of the market," Dr. Sapci said.