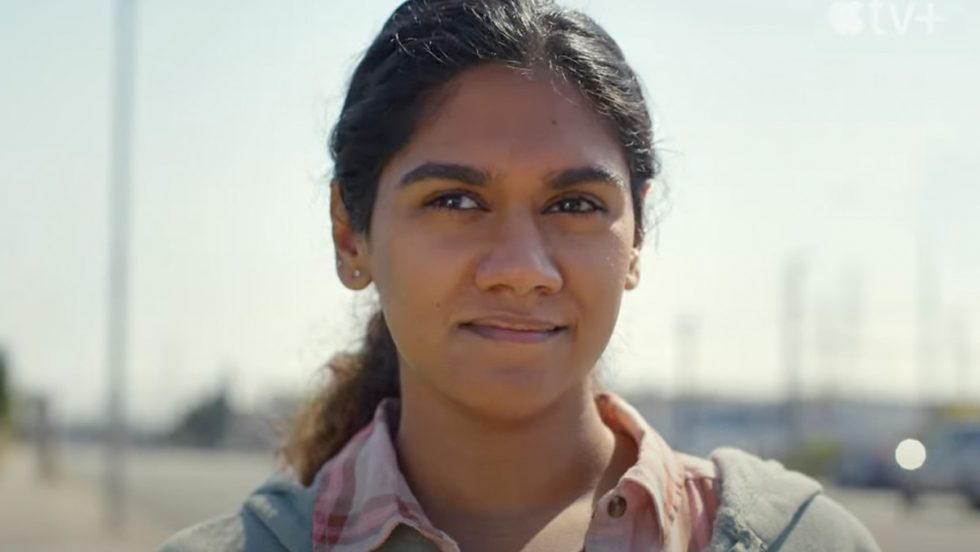 Little America, an acclaimed anthology series on Apple TV+, is inspired by the true stories of U.S. immigrants. All eight episodes will become available on December 9 on Apple TV+. And the third episode, "The 9th Caller," is about a young Sri Lankan woman who is played by Isuri Wijesundara '18.
Like the title character, Wijesundara is Sri Lankan.
"I moved to America seven years ago," Wijesundara said. "At this point, to do exactly this, to be able to tell stories of my people—this is what I moved here to do."
The breakout role of a lifetime
Based on a true story, the episode follows a Sri Lankan girl who moved to the United States at about age six. The story is "similar and different at the same time to my own," said Wijesundara, who appreciated the director being receptive to her experience growing up in Colombo.
For instance, Wijesundara, who is currently attending the David Geffen School of Drama at Yale University, came to the United States fully fluent in both Sinhala, which she spoke at home, and English, which she spoke at her international high school. Sachini, the title character, had come to the United States as a young child, unable to speak English. By the time Wijesundara plays Sachini as an adult, the character is fluent in English, but the actor suspected the character still longed for her original language.
"The director was gracious," Wijesundara said. "She was like, 'If there's any moment in this where you feel like you want to just say things in Sinhala, translate things, by all means go ahead.' So, there are little bits where I just scattered in something that wasn't initially written in the script. It was incredible that I was given so much agency as an actor."
Being able to play someone from her own country was an extraordinary opportunity, Wijesundara said. "Throughout my life as an actor I've had to work incredibly hard at all the 'actor homework' that you do—creating the backstory, research, creating the life of the character for myself. But with this job, it wasn't hard to figure out where to access this character. She lived within my body. That was the first time that I've ever been able to do that."
She is also delighted to bring attention to her home country. "Sri Lankans are not known in the Western world," she said. "We don't hold prestige in any way, shape or form. This is important to me, for myself and for people who could follow after me."
Seizing the day at Adelphi
Wijesundara has always sought out opportunities and taken the initiative. A theater major with an acting concentration, she was also in the Adelphi University Levermore Global Scholars program. She joined student government and took on as many leadership positions as she could. Her efforts culminated in her election as president of her senior class and becoming the student speaker at Commencement.
"I chose Adelphi because I would be a whole person by the end of the four years," she said. "Meeting people from all around the world—and being an international student myself—gives me perspective and awareness of humanity and the issues of the world that we live in."
She is also an activist and used her advocacy skills in several theater projects. For instance, in 2016, Wijesundara and Maggie Lally '82, associate professor of theater and now associate dean of faculty and programs, partnered with the University's Title IX office to produce a piece they called Now You See Me/Now You Hear Me.
"Isuri enlightened many of us through her social justice work," said Lally. "It is no surprise—and I am thrilled for her—that she is where she is. Isuri is a dynamo!"
What's next?
For now, Wijesundara is focused on finishing up her final weeks at Yale and excited about the new season of Little America.
"It's a great, funny, vulnerable show about what it means to be an immigrant in America—which is pretty much a roller coaster," she said. "But it's not just this 'life is hard for immigrants' show. What's beautiful about this show is the fact that there is humor, there's joy and there's hope."