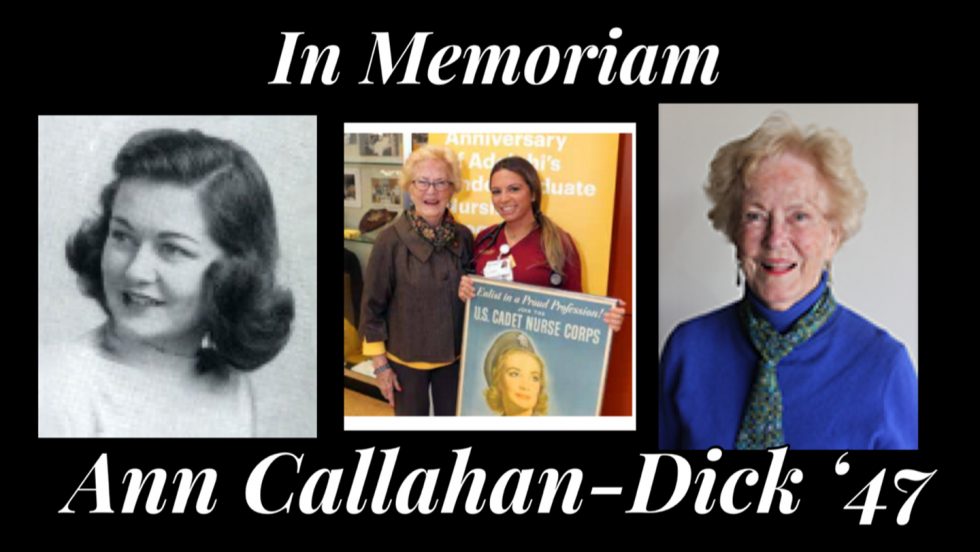 Adelphi recently lost one of our first nursing students. She was a nursing trailblazer, engaged alumna and aspiring part of Adelphi's history of preparing nurses to take the lead.
Adelphi recently lost a nursing trailblazer and inspiring alumna. Ann Callahan-Dick '47 graduated from Adelphi's School of Nursing (now the College of Nursing and Public Health) in 1947 and later became a founding member of Adelphi's Women's Giving Circle—a union of women philanthropists with a mission to celebrate, promote and support the University, its students, faculty and programs.
Callahan-Dick started her nursing career in September 1944 in the Cadet Nurse Corps at Adelphi. The corps had been formed by the United States Public Health Service, Division of Nurse Education, to relieve the nurses who were joining the Armed Forces during World War II. The Adelphi Cadet Nurse Corps was one of the first in the country.
Upon graduating with a BS and RN, Callahan-Dick began working at Nassau Hospital, now NYU Langone Health. After two years she moved to Washington, D.C., to work at Georgetown Hospital. She later married, and she and her husband moved to Houston, Texas, where she worked at Hermann Hospital. She continued to work until the week before her first daughter was born.
After her first marriage ended, Callahan-Dick returned to New York with her four children and worked at Nassau Hospital. She, her second husband and their growing family moved to Oyster Bay on Long Island. Over the years, Callahan-Dick raised nine children while managing a busy household. Her husband was a pediatrician with two busy offices, one of which was in their home. He passed away in 2006.
Callahan-Dick will be remembered for her impact on the next generation of Adelphi healthcare heroes and her dedicated support of the College of Nursing and Public Health.