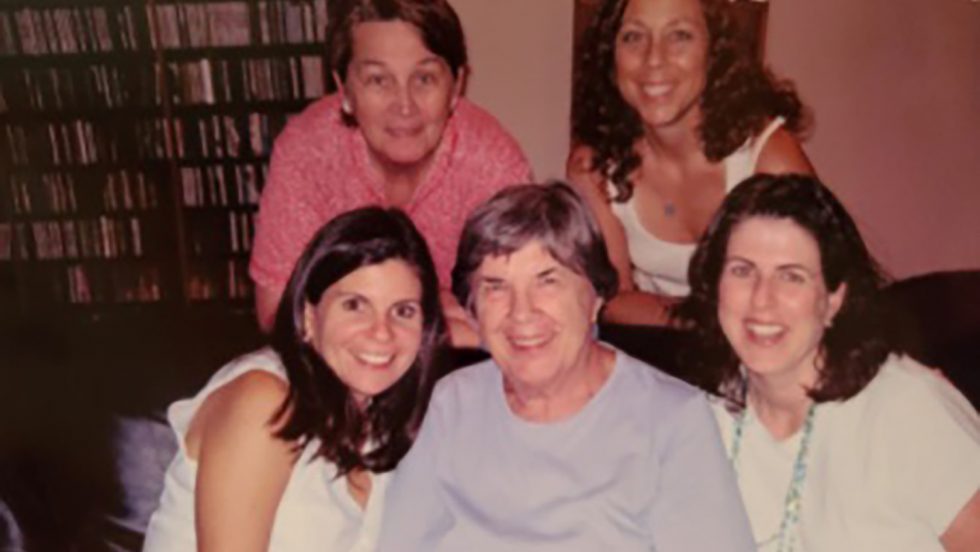 A mother, teacher, mentor, early-childhood-education advocate, lover of the arts and culture and a world traveler, Alice Brown never lost her sense of wonder and the ability to see the world through the eyes of a child.
Whitney Brown, daughter of Alice C. Brown, MA '88, recalls getting a phone call from her mother early one spring morning. "She told me she'd been walking in her garden and saw that the cosmos were in bloom, and curled up inside each flower was a bee, sleeping."
It's an observation that would enchant a young child, almost like the beginning of a children's book. And it's an insight into the mind of Alice Brown. A mother, teacher, mentor, early-childhood-education advocate, lover of the arts and culture and a world traveler, Brown never lost her sense of wonder and the ability to see the world through the eyes of a child. It's something she shared with the children in her care and the students under her tutelage who would become the next generation of early-childhood teachers at the state-of-the-art facility that bears her name: the Alice Brown Early Learning Center (ELC).
Brown passed away on December 16, 2021. According to her daughter, her mother "loved life so much that it wasn't until life became truly diminished for her that she could let go, and then she let go beautifully and peaceably."
She is survived by two of her children, Whitney and Carey. She is preceded in death by her husband, Whitney, and son Chris.
Brown began working at Adelphi in 1983, serving as director of what was then called the Child Activity Center. She retired in 2006, after advocating for the ELC, which opened in 2008. The ELC is known for providing outstanding education and care for preschool students and fostering the education and socialization of children in coordination with their parents.
Parents, such as Frank and Harriette McDonough, can attest to how the ELC provides an environment where children thrive. In a joint statement, the McDonoughs said, "In an era when active boys were being viewed as problems to be medicated, Alice Brown's comprehensive expertise in early childhood development nurtured, protected and encouraged our son's creative spirit. This preserved spirit continues to guide his professional and personal life."
Her Lasting Legacy
Brown's advocacy didn't stop with the youngest students on campus. She also incorporated the University's students into the ELC. During her tenure, Brown expanded the opportunities for graduate assistantships, student employment, observation and experiential learning. The program continues to develop and implement these opportunities for Adelphi students today.
"Alice Brown leaves behind a rich legacy at Adelphi University," said Xiao-lei Wang, PhD, dean of the Ruth S. Ammon College of Education and Health Sciences. "Her leadership in the field of early childhood education has increased Adelphi's reputation in the context of the Early Learning Center, setting the trend for our University and paving new paths in the field. We are deeply grateful for Alice's contributions to both the center and the University. At the same time, we appreciate the strong leadership of Laura Ludlam, MSEd '00, the current director, who has taken up the torch for Alice and is upholding her legacy at the ELC."
Brown grew up near Adelphi on Kilburn Road and lived in her childhood home until her death. She followed in the footsteps of her parents who were committed to education and social justice. In fact, H. Frank Carey High School in Franklin Square is named for her father. Brown earned her BS in Education at Hofstra University and taught second and fourth grades in public elementary school for several years. After her three children—Whitney, Carey and Chris—were born, she became involved in early childhood education in earnest as a teacher, then director at the Garden City Community Church Nursery School. She became an active advocate in the field of early childhood education and care. She was a member of the Child Care Council of Nassau County's Advisory Board, served as an active executive board member and past president of the Nassau County Association for the Education of Young Children (AEYC) and also on the executive board of the New York AEYC.
Remembrances From Those Who Knew Her
"Alice Brown was a pioneer in early education who laid the groundwork for the current philosophy and curricula of the Early Learning Center," said Ludlam, the current ELC director. "She was a colleague, mentor and advocate in the field of early education."
Andrea Caligiuri, MA '87, associate director of the ELC who worked with Brown for 22 years, said that everything she needed to know about how to create good places for children and families, she learned from Brown. "Alice was my mentor and friend and I am so in awe of how much she influenced my own professional growth through the years," Caligiuri said.
"Alice was an expert in the care of young children, with a wealth of knowledge about how young children grow, how to teach them and how to train and support their teachers and parents," said colleague Sandra R. Wolkoff '75, PhD '14, former director of the North Shore Child & Family Guidance Center's Training and Consultation Center programs and Early Childhood Training Institute. Brown had invited her to offer on-site training at the ELC. "She was an early leader in the field of child care/day care and eager to partner to assure that early childhood care and education also addressed the social and emotional needs of young children and their families."
Alice Brown will be deeply missed by the Adelphi community.
If you'd like to join us in continuing Alice Brown's legacy, please consider making a donation to the Early Learning Center Restricted Fund in memory of Alice Brown.
A memorial service will take place on Saturday, February 19, 2022, at 1: 00 p.m. at the Garden City Community Church.