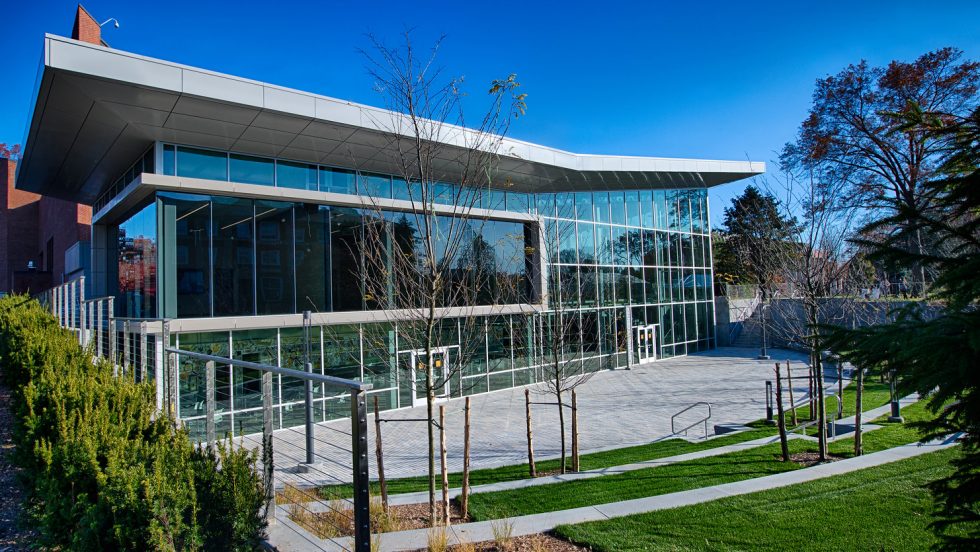 Adelphi's reimagined Ruth S. Harley University Center reopened last month and is designed to be environmentally friendly. The iconic building on our Garden City, New York, campus was renovated, rather than demolished and rebuilt. Take a walk through.
When it came time to address the limitations of a nearly 50-year-old building meant to serve as the center of campus life, Adelphi faced a choice: start anew or renovate.
Adelphi chose the latter path, deciding to fully renovate and significantly expand its Ruth S. Harley University Center (UC). The decision was influenced in large part by the University's commitment to sustainability. Renovation not only preserved a campus landmark, but also kept hundreds of tons of material out of area landfills.
The recycled, reinvented University Center reopened in January after an 18-month building project that doubled the amount of dining space, upgraded the ballroom with the latest technology and assistive listening systems, and added an outdoor amphitheater, a full-service Starbucks, and needed classrooms and office space. It now stands as a vibrant, state-of-the-art campus centerpiece, designed to serve the needs of today's students, faculty and staff.
"We wanted to provide a space where everyone can feel at home before and after class, a place where they can meet and mingle with their classmates, colleagues or coworkers," said Joseph Battaglia '05, MS '14, director of project management and assistant vice president at Adelphi. "I believe the University Center will become a major hub, as it was intended."
While Adelphi's commitment to sustainability guided the building's design and construction, the decision to renovate did have a downside, as the original architecture does not allow for rooftop plantings or solar panels. Still, the building incorporates a range of recycled materials and energy-efficient systems.
"A lot of building materials we used have recycled content—from floor finishes to ceiling tile to acoustic treatments," said Robert Shipley, Adelphi sustainability coordinator and assistant vice president for facilities management. "In the exterior, we used a more efficient drip irrigation system and tried to make sure we used plants native to the Long Island region."
Close to 70 percent of the ceiling materials in the building's lounge, ballroom, offices and meeting rooms are recycled, as is 45 to 66 percent of carpet tiles in corridors, meeting and conference rooms, and offices. Recycling efforts also included furniture from the Panthers' Den, the temporary dining hall used during the renovation project; the University donated the hall's 46 tables and 158 chairs to the Hempstead Union Free School District in nearby Hempstead, New York.
The new building is brighter and more energy efficient as well. Adelphi partnered with utility providers PSEG and National Grid to add LED lighting, update the HVAC system, and redo all of the duct work distribution and hot water piping. Solarban glass also replaced single-pane glass to keep the building better insulated. The dining hall includes energy-efficient, state-of-the-art equipment for food storage, preparation, cooking and cleanup.
"In the old days, if you added 22,000 square feet to a building, all of your consumption costs would go up," Shipley said. "But since we were able to use more efficient equipment, we anticipate that the increase in utility consumption could be about a net zero from where we were before."
The University also worked with Chartwells, its food service provider, to reduce food and plastic waste and offer locally grown and organic options. (Plastic utensils will still be used for health and safety reasons during the pandemic.) And the dining hall includes an innovative ORCA food prep waste management system that reduces scraps into liquid for discharge down a dedicated drain.
"We included a GardenChef to grow our own herbs, too," Battaglia said. "That will save a lot of time and energy, especially when purchasing those ingredients."
Adelphi has been invested in sustainability for years now. The University has three buildings awarded LEED certification by the U.S. Green Building Council: the Center for Recreation and Sports and the Adelphi University Performing Arts Center, both opened in 2008, and the Nexus Building, which opened in 2016. The roof of Swirbul Library is home to a 50 kW solar energy system of 180 solar panels. Recycling programs, bottle filling stations and electric vehicle charging stations also contribute to a more sustainable campus.
As with all its initiatives, the University Center renovation was completed with one goal in mind: creating a better experience for the Adelphi community.
"We wanted to better serve our students," Battaglia said. "A lot of planning and effort was put in to make sure that students and everyone else on campus has a great experience when it come to the University Center."