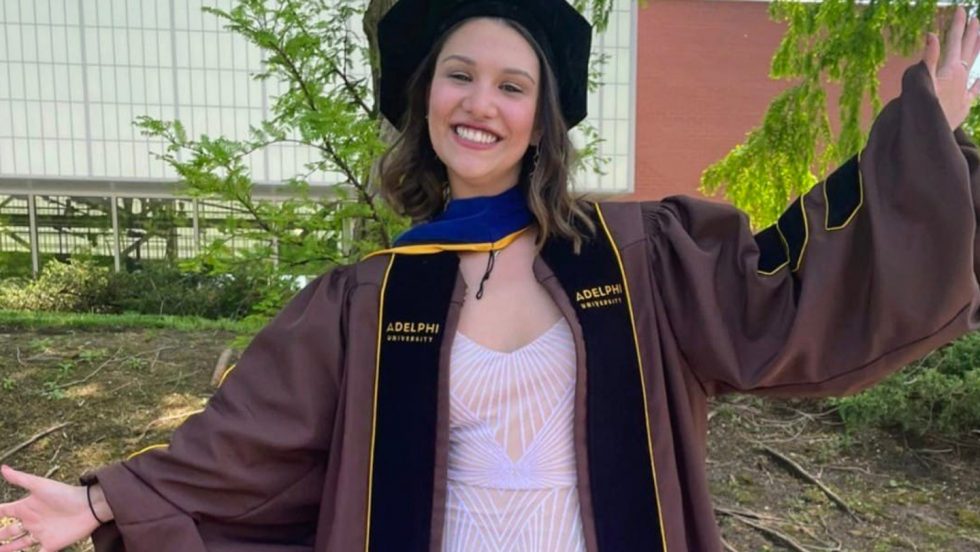 When Adelya Urmanche, PhD '22, was looking for a school for her doctoral studies, she wanted to stay close to home. At the age of 9, Urmanche emigrated from Kazan, Russia, with her mother, landing first in Brooklyn, New York, and then in New Jersey. Home had moved around enough for her already. She wanted a strong psychology program that offered both research and clinical experience, but she also wanted to stay near her mother.
On her first visit to Adelphi, she met J. Christopher Muran, PhD, associate dean of the Gordon F. Derner School of Psychology, who would become her mentor. That day, she said, she knew she had found a program that would give her the training and career experience she wanted and a second home not too far away.
Choosing doctoral study at Adelphi
"I remember feeling really comfortable at Adelphi," she said of that initial tour. "People seemed really interested and interesting. When you think about where you're going to spend four or five years, fit is important."
While at Adelphi, Dr. Urmanche published an impressive eight peer-reviewed journal articles and presented at five conferences on subjects spanning phonetics, substance misuse and the psychotherapy process. She received a prestigious George Stricker Fellowship, named for the former dean of the Gordon F. Derner School of Psychology, and a Steven O. Walfish Grant from the American Psychological Foundation.
Doctoral hoodings on the rise
Dr. Urmanche was also part of a small but growing number of doctoral students completing their degrees at Adelphi. Adelphi's 2022 Doctoral Hooding celebrated the conferring of 48 doctoral degrees, representing an increase of more than 125 percent in the last 10 years.
"As the first private coeducational institution of higher education on Long Island, Adelphi University plays a very important role in educating our citizenry," noted Provost and Executive Vice President Christopher Storm, PhD. "Adelphi is special in part due to its range of liberal arts and professional school offerings, which means that we are able to respond to regional educational needs in a powerful way. We have a legacy of success with Adelphi's clinical psychology PhD program and boast terminal degree (doctoral) offerings in school psychology, audiology, social work and nursing."
Dr. Urmanche is currently completing an internship at Rutgers University in New Brunswick, New Jersey, and plans to begin a postdoctoral program at Mt. Sinai Beth Israel in New York City in the fall. Her goal is to work at the intersection of research, clinical practice and policy in substance abuse.
Having already negotiated a foreign land in her youth, Dr. Urmanche said she was glad to find small classes and a helpful community at Adelphi.
Her advice to students choosing a school to enroll in: "Ask a lot of questions. Make sure to try to feel it out. It's about fit."