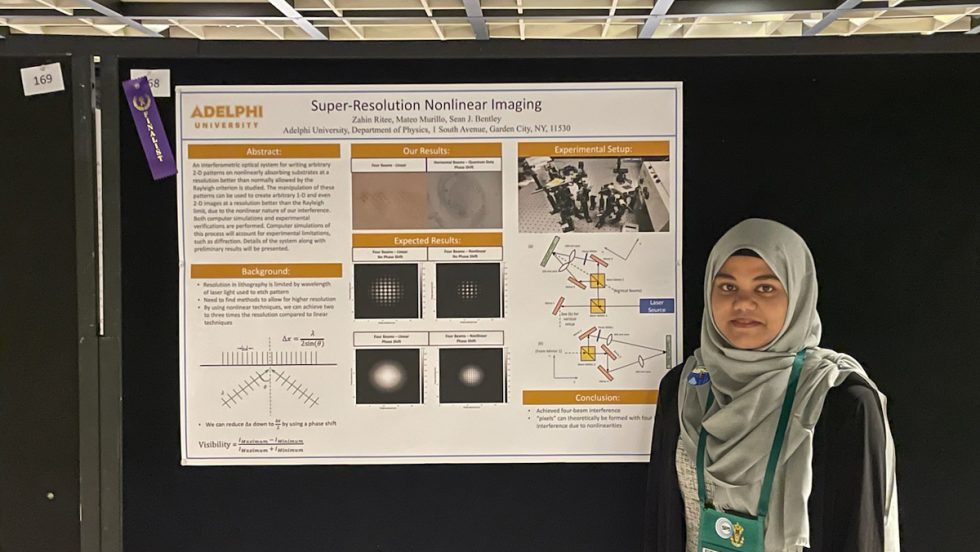 Zahin Ritee is a physics scholar, a leader, a high achiever—and an award-winning singer. Now she's been named a Barry Goldwater Scholar for excellence in STEM.

Adelphi junior Zahin Ritee has been named a Barry Goldwater Scholar, a prestigious national honor that provides financial assistance and networking opportunities to high-achieving natural science, engineering and mathematics students. A physics major, Ritee was supported in her application by physics faculty members Sean J. Bentley, PhD, Kevin Liang, PhD, and Matt Wright, PhD.
"Having had the pleasure of mentoring Zahin in research, teaching five of her courses, and working with her in the leadership of the Physics Club, it is clear to me that she is more than deserving of this high honor," said Dr. Bentley, associate professor of physics. "Zahin is an exceptional scholar, a dedicated leader and, most importantly, she is someone who wants to use her knowledge and skills to make a positive difference in society through science."
Since 1989, the Barry Goldwater Scholarship and Excellence in Education Foundation has awarded the scholarships in cooperation with the U.S. Department of Defense National Defense Education Programs. The program honoring the late Sen. Goldwater encourages outstanding students to pursue research careers. The Goldwater Scholarship is one of the preeminent undergraduate awards in the STEM (science, technology, engineering and mathematics) fields.
"It's really a great honor for me to be chosen," Ritee said. "There's a Goldwater community, chat groups and other networking—and that's really important in the research and academic world. I absolutely love optical, nuclear and particle physics."
Awarded for Her Research on Optics
At Physcon 2022, a conference for undergraduate physics students held in Washington, D.C., Ritee was awarded as a top presenter for her research poster on super resolution nonlinear optics. Her poster describes "an interferometric optical system for writing arbitrary 2-D patterns on nonlinearly absorbing substrates at a resolution better than normally allowed by the Rayleigh criterion." In simpler terms, her system uses nonlinear material to make light interfere to create images "at a resolution that's almost double than what they have in the industry."
Ritee is considering a 3-2 program with Columbia University in which she would earn her bachelor's degree at Adelphi along with an advanced engineering degree from Columbia. Either way, she likely will continue her studies at the graduate level. She's grateful to Adelphi for the opportunities she has found here so far.
"After I got here, I fell in love with the physics department and the physics people," Ritee said. "The faculty is wonderful. I talk to them about everything, physics-related or otherwise—they give me wonderful advice. We go to research conferences every year, I've presented posters, and the research we do at Adelphi is basically at the graduate level."
Ritee has also traveled to research conferences in Las Vegas, Nevada, and in Rochester, New York, and was inducted into the Adelphi chapter of the physics honor society Sigma Pi Sigma. This summer, she will participate in Cornell University's Research Experience for Undergraduates, a 10-week program in which she will work with professors on interdisciplinary science projects.
Ritee has also enjoyed being involved in the Physics Club and currently serves as co-president. The club, which offers public events as well as special opportunities for physics students, has been regularly named an outstanding organization of its kind nationally. In addition to her physics activities, she's also won multiple awards for her South Asian singing and acting, including making the top 20 in the Bangladeshi Young Star singing competition.
On a personal note, Ritee noted that her parents are proud of her achievements, and her mother in particular deserves some of the credit. "My mom played a huge role, helping me with every step—she was a teacher in Bangladesh before retiring," Zahin said. "I couldn't have gotten where I am without her encouragement and help along the way."
A Selective Honor
This year, 413 scholars were selected from a national applicant pool of more than 5,000 college students. The last Adelphi student recognized as a Goldwater Scholar was Justin Dove '12, also a physics major (with a second major in mathematics), who went on to study for a master's degree and PhD in electrical engineering and computing science from the Massachusetts Institute of Technology (MIT).
Ritee graduated from John Adams High School in Ozone Park, Queens, New York, after starting her studies in Bangladesh.
"Zahin is one of the most motivated and intelligent students I have run across in the 10 or so years I have taught," said Dr. Wright, associate professor and physics department chair. "She wants to be the best and is doing everything she can to be amazing."