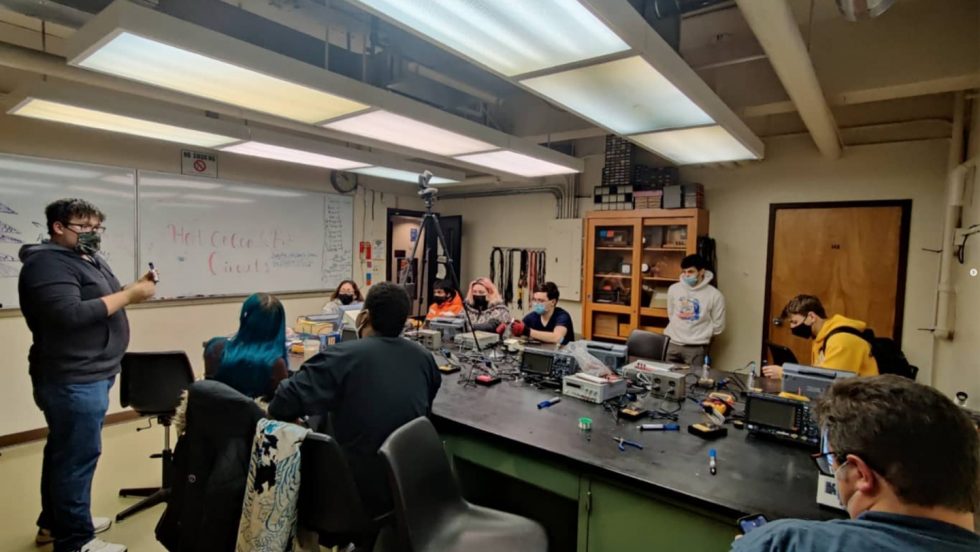 Going 13 out of 14 is an impressive statistic, especially when it comes to physics. Over the last 14 years, Adelphi University's Physics Club has been recognized as an outstanding chapter by the Society of Physics Students National Office (SPS National) a whopping 13 times.
In other words, it's consistently ranked in the top 10 percent of physics clubs around the nation—an accomplishment of which Matthew Wright, PhD, associate professor and chair of the Department of Physics, is extremely proud.
Dr. Wright, a laser physicist, came to Adelphi from a research position at Harvard University. "I love the feel of Adelphi," he said. "The diversity here is what really drew me in." Since joining the community in 2012, he's taught classes like Electrodynamic Theory and Quantum Mechanics and has been chair of the physics department for the last four years. He's also a co-adviser to the University's Physics Club, along with his colleague and fellow associate professor of physics, Sean Bentley, PhD. But these aren't the only things on Dr. Wright's résumé. "He has a reputation as being the fun teacher," laughed Katie Gifford, who served as president of the Physics Club during the 2020–2021 academic year. "He once told us, 'If you want an ostrich in this club, then we'll make it happen.' He's just exciting and inspiring."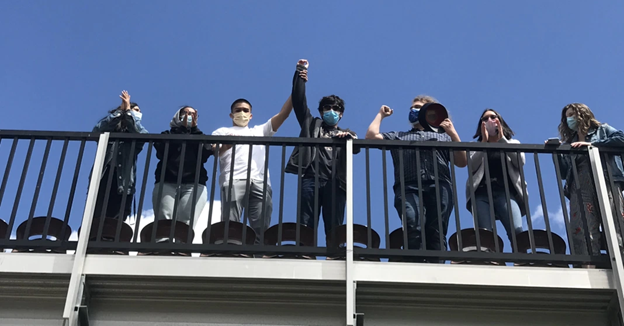 As president, Gifford, now a senior, met with an executive team of students every week to plan events and activities for the club. Some events, like Alumni Night or Internship Night, are tailored to help students prepare for the workforce. Others are just plain fun, such as a project in which club members created a rainbow using light and prisms for a Pride event. Or when they held an egg-drop competition, where students had to protect their eggs from cracking after dropping them from a certain height. For another project, they designed and printed 3D bridges, and then tested them to see which one could hold the most weight—or, in this case, Dr. Wright himself. "I'm a big dude," he laughed. "They tested the bridges to see if they can hold me. They're always coming up with challenges they need to tackle with limited resources." The club also collaborates with local high schools, such as Westbury High School, to arrange Lab for Kids events. Here, club members can spend the day teaching physics to high schoolers, giving them a chance to mentor and foster an interest in physics among younger students.
"It's a great club," said Gifford. "It offers a community outside of the classroom and helps build connections." Since her time as president, she has shifted her focus to writing her thesis for her Bachelor of Science in physics. After that, she plans to continue her education at Adelphi in the Scholar Teacher Education Program (STEP), a one-year master's degree program, and eventually work as a high school physics teacher. "The program was advantageous in terms of offering connections and financial assistance, and I can take courses now that count toward my master's," she explained.
The Physics Club continues to garner the outstanding recognition that it's received over the last 14 years. Dr. Wright never did bring an ostrich into the club. But it was his idea to utilize the social media phenomenon TikTok (@SPSNational) to create videos and promote SPS National and the Physics Club online.
"We're a very active club," said Dr. Wright. "We do a little bit of everything, and we're continuously busy. But it's the students who really run the show."