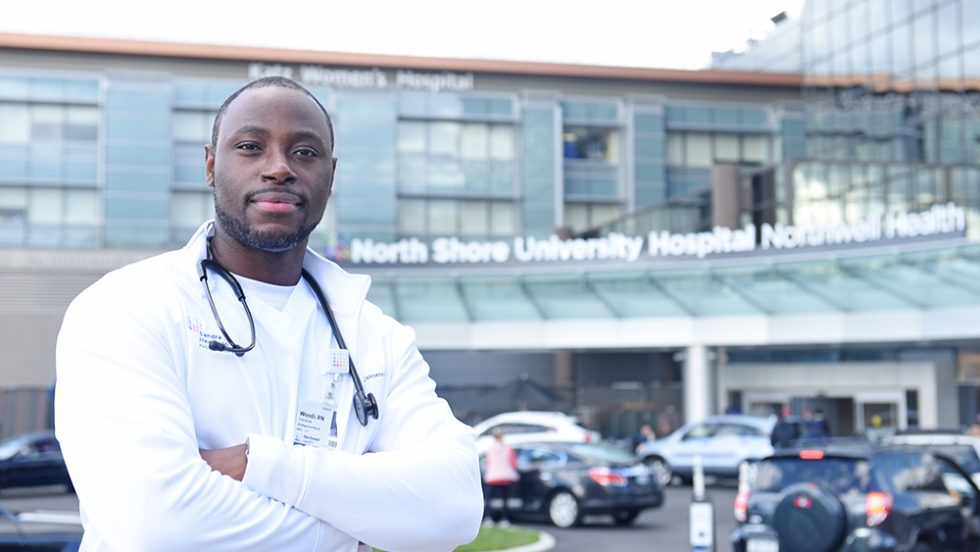 Woods Conserve '20 studied to become a nurse while working full-time as a medical assistant. Overcoming challenges brought on by the pandemic, he's now an RN caring for patients in a high-pressure intensive care unit.
When the pandemic hit New York, Woods Conserve '20 was just months from graduating from Adelphi with his BS in nursing.
As it did for so many, the global health crisis brought unexpected financial challenges for his family. Conserve, 33, was still working full time as a medical assistant at Northwell Health on Long Island, but he had to take time off after being exposed to the coronavirus, and he had to study for finals. The setup was daunting. Worried he wouldn't be able to make his final tuition payment and graduate, he contacted Adelphi staff for help.
That's when the University awarded him a President's Student Success Scholarship, an emergency award for juniors and seniors facing financial reversals. Conserve went on to graduate as planned in May 2020 and pass his state board exam after only three weeks of preparation, even though it usually takes two months to prepare for the test. Now, he's completing a yearlong fellowship as a registered nurse in the cardiothoracic intensive care unit at Northwell Health North Shore University Hospital in Manhasset, New York.
"I chose to study the field of nursing because I believe my God-given gift in life is one of service," Conserve said. "I worked at UPS for about seven years, and that was a form of service, but I felt like there was something more me."
Conserve began his healthcare career at Northwell Health in 2012 as a medical assistant in employee health services. While working full time, he completed his associate degree at Nassau Community College and then transferred his credits to Adelphi in 2018.
Now, as a registered nurse, he cares for critically ill patients coming out of open heart surgery. He's responsible for monitoring and assessing their blood flow, documenting their progress, and making necessary interventions in critical situations. These interventions might include administering IV medications, repositioning patients and performing CPR.
"It's very intense, but if you go at it with a clear head, use your clinical judgment and lean on the knowledge that you acquired from school, it helps," Conserve said.
At Adelphi, Conserve was able to apply his classroom learning to real-world scenarios in the Clinical Education and Simulation Lab, which is equipped with 22 beds, seven clinical exam rooms and more than 25 patient-care manikins. Conserve recalls one simulation in particular, when the manikin's chest tube was unexpectedly clamped underneath it, causing respiratory distress.
"That simulation experience is one I can relate to day-to-day, because almost every single patient who comes out of open-heart surgery has chest tubes to help drain blood and fluids from the thoracic cavity," Conserve said. "Fluids can build up if those chest tubes aren't working as they should, and the patient may not be able to perfuse properly. Complications can develop if the problem isn't caught early. So you have to be alert and know when an intervention is needed."
Conserve also gained hands-on experience during his clinical experiences at a range of hospitals in the tristate area. He worked in the medical surgical unit at St. Francis Hospital, The Heart Center, on Long Island, the psychiatry ward at Woodhull Hospital in Brooklyn, and the obstetrics department at New York-Presbyterian in Queens.
"Clinicals were great because they gave me the opportunity to learn the different cultures of various hospital systems and the way they work," Conserve said. "You get to see healthcare from different vantage points, and that helps you narrow down a decision as to where you may want to work in the future."
Conserve ultimately decided to apply for his position in the cardiothoracic ICU because of its reputation as a high-pressure unit.
"I believe that I have what it takes to be calm throughout the storm," he said. "It has its ups and downs, but keeping my focus on my internal gifts and attributes helps me block out the unnecessary so I can continue to grow, learn and persevere despite everyday challenges."
After Conserve completes his fellowship in June 2021, he hopes to continue honing his clinical skills in the cardiothoracic intensive care unit and eventually study to become a university professor.
"I realized I can see myself in front of a classroom teaching a group of students, making learning fun and keeping the class engaged," Conserve said. "While I was at Adelphi, my professors inspired me."