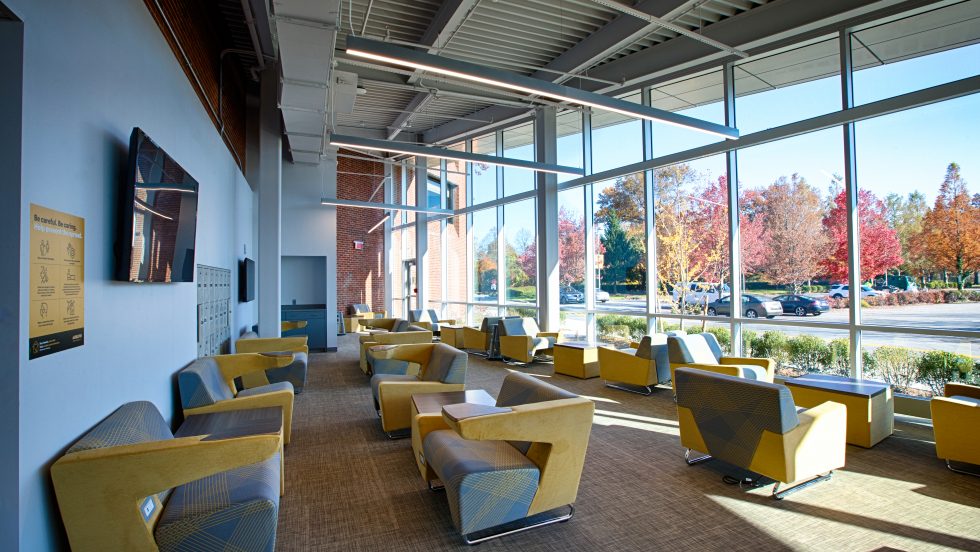 On January 18, 2021, the completely renovated and expanded Ruth S. Harley University Center (UC) reopened to the Adelphi community.
The completely reimagined and modernized UC is a spacious, sunlit, energy-efficient building perfect for gathering, dining, studying, accessing student services, grabbing a cup of coffee, and hosting meetings, conferences and events.
As we celebrate the reopening, we provide the fourth and final part of this series, looking at the amenities, grounds and sustainability features of the UC. We look forward to joining our community in a grand opening when we are all together again!
Part 4—Amenities, Grounds and Sustainability
In the fourth and final part of this series, we look at the amenities, landscape and sustainability features of the renovated Ruth S. Harley University Center and how they support the University's mission and goals.
Sustainability and Energy Efficiency
From the earliest discussions about the updating of Adelphi's Ruth S. Harley University Center, the planning has been rooted in our commitment to sustainability. The first major decision was to renovate—rather than demolish and rebuild—the fortress-like 1972 brick building. This prevented tons of construction debris from ending up in landfills and eliminated the emissions of heavy equipment that would be required for such demolition and carting. Instead, the vast majority of the building was incorporated into the new design, as evidenced by the many brick walls and original architecture still evident in the modernized UC.
The building and finishing materials selected are largely sustainable or recycled materials. Ceilings are composed of recycled PET (plastic from water bottles) and flooring includes recycled product. Wall coverings in the Student Lounge, Thomas Dixon Lovely Ballroom and Interfaith Center are composed of a biobased material made from sugarcane. From the carpet tiles and terrazzo flooring to the acoustic panels in the ceilings, sustainability abounds.
The soaring glass walls throughout the UC are made of energy-efficient Solarban glass. All mechanical, plumbing and electrical systems are upgraded to meet or surpass today's codes for safety and energy efficiency. The building's heating, ventilation and air-conditioning systems also exceed guidelines set by the American Society of Heating, Refrigerating and Air-Conditioning Engineers (ASHRAE).
Energy efficiency has also been enhanced in the new UC Dining Hall and its state-of-the-art food storage, preparation, cooking and cleanup equipment. The Dining Hall's dishwasher can handle 25 percent of the dishes produced during times of peak capacity. In the food prep area, an ORCA food prep waste management system allows the dining staff to dispose of scraps from food preparation (not meal waste) in an environmentally friendly manner. The machine pulverizes these food materials into liquid for disposal through a dedicated drain instead of the trash.
Water refill stations are located throughout the building, in support of our community's commitment to using reusable bottles rather than single-use containers.
Environment
Sometimes wide-open floor plans and high ceilings can mean a noisy environment. Not so in the new UC, which was designed with acoustical panels to keep noise levels low. Natural light is a key element of the new UC's function and beauty. Its dramatic floor-to-ceiling windows are equipped with electric shades to filter light when needed. Multiple spacious student lounges with comfortable and reconfigurable furniture provide ideal spaces for study and group work. This supports Goal 2 of Momentum, our strategic plan, a relentless focus on student success.
Accessibility and Amenities
Thoughtful architectural design improves accessibility throughout the building. The new UC is fully compliant with the Americans with Disabilities Act (ADA). The building has two elevators and a Handi-Lift wheelchair lift that connects the main floor with the Dining Hall on the lower level.
Meeting rooms are equipped with the latest technology, including some with assistive listening devices that provide sound directly to users' hearing aids.
Traditional restrooms are supplemented with single-person gender-neutral restrooms throughout the building. All told, the UC now offers six all-gender restrooms, including four on the first floor, one on the second floor and another on the third floor.
A lactation room provides privacy and comfort for our community's breastfeeding mothers.
These amenities and resources help support our Momentum Goal 3, to be a model of diversity and inclusion.
It's hard to stay connected when your device's battery is dead or you can't access the internet, so charging stations and WiFi access are ample. These important features of the new UC strongly support Momentum Goal 4, being a powerfully connected university.
Momentum Goal 5, to ensure our University's financial and operational strength, guided our efforts to improve resources and operations. The newly renovated UC, with its blend of old and new, brick and glass, comfort and modern technology, is an outstanding example of purposeful fiduciary management.
Security
With on-campus safety and security a top priority, the new UC is outfitted with surveillance and closed-caption television cameras. Select areas feature electronic access control and motion detectors to ensure that the building is secure at all times. A Public Safety Community Affairs office on the first floor will be staffed by an Adelphi public safety officer during peak times and continue to offer an accessible Lost and Found.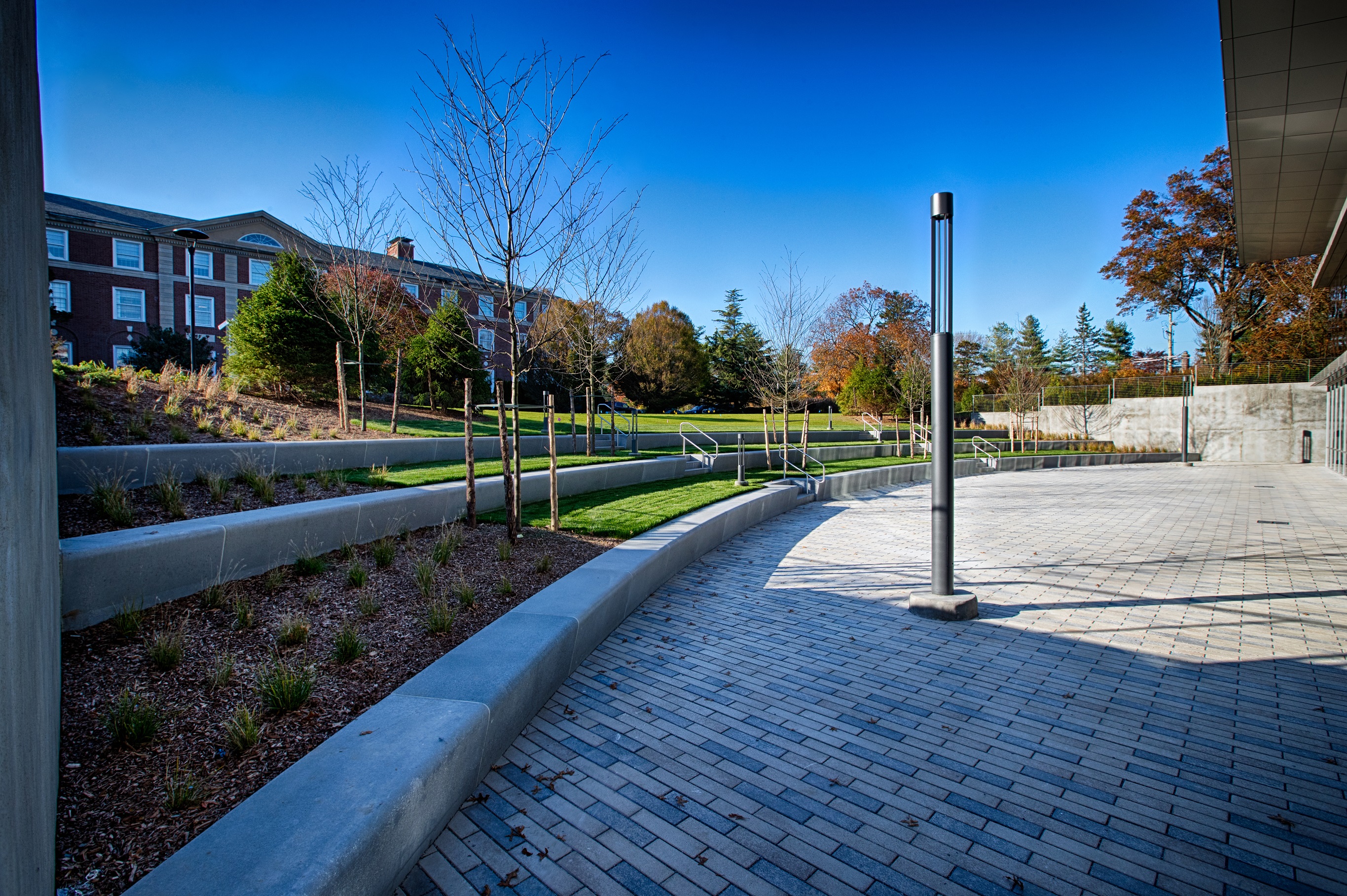 Landscape
To the west of the UC, beside Levermore Lawn, is our new amphitheater and patio area, with tiers of built-in seating and grassy areas. The UC Dining Hall on the lower level opens onto the patio for outdoor dining and socializing. Here, glass curtain walls overlook the amphitheater, connecting the indoors and outdoors both visually and literally.
The landscape around the UC was restored with thoughtful attention to the Garden City campus's status as an arboretum. Adelphi's landscape professionals incorporated only indigenous plants in the plan and are looking forward to seeing them bloom this spring.
COVID-19 Safety
As the COVID-19 pandemic continues, the new UC features safety accommodations, including thermal scanners at entry points, social/interpersonal barriers and fewer chairs, which are spaced apart to promote social distancing. Campus site safety monitors will continue to ensure compliance with CDC recommendations for masks and social distancing and to check users' daily COVID-19 screening on the AU2GO app. Similar to the precautions being taken in buildings at all Adelphi locations, these steps help to ensure a healthy and safe environment for our community.
The UC project was an opportunity to think about how students, faculty and staff would interact with and experience every aspect of its spaces, inside and out. This building will be a lively center of activity, and an embodiment of the transformative experience of Adelphi.
This concludes Adelphi University's four-part series about the renovated and expanded Ruth S. Harley University Center. For additional information and photos, please visit the UC website.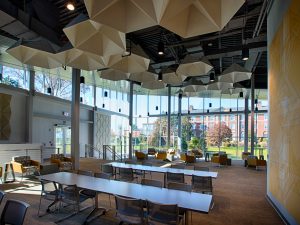 On January 18, 2021, the completely renovated and expanded Ruth S. Harley University Center (UC) was reopened to the Adelphi community.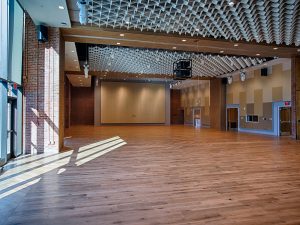 On January 18, 2021, the completely renovated and expanded Ruth S. Harley University Center (UC) was reopened to the Adelphi community.