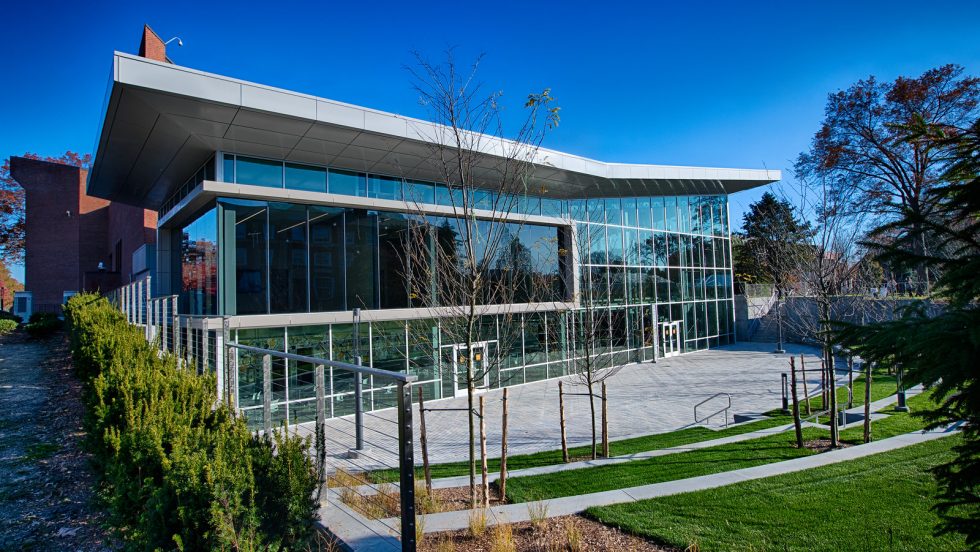 On January 18, 2021, the renovated and expanded Ruth S. Harley University Center (UC) will be reopened and accessible to the Adelphi community.
The completely reimagined and modernized UC is a spacious, sunlit, energy-efficient building perfect for gathering, dining, studying, accessing student services, grabbing a cup of coffee, and holding meetings, conferences and events.
As we prepare to open our magnificent new building, we will provide a four-part view inside for our community members and friends. We look forward to joining our community in a grand opening when we are all together on campus again!
Part 1: Main Floor
The vision for Adelphi's reimagined Ruth S. Harley University Center is clear from first glance—to transform the once dark, fortresslike building into a bright, open, welcoming heart of our Garden City campus. Designed to be a vibrant hub of campus life, the new UC is a place for dining, socializing, meeting, studying and enjoying all that Adelphi University has to offer.
The main entrance on the east side of the UC features soaring glass panels that welcome sunlight and visitors into a modernized building. Immediately to the left, students, faculty, staff and visitors receive a warm greeting from the welcome wall, whose striking gold background is adorned with the word "Welcome" in 36 languages, highlighting the rich international culture of Adelphi University.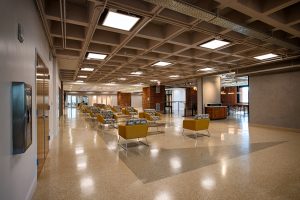 The UC's first floor features an expansive central mall with ample comfortable seating and terrazzo floors that subtly carry the Adelphi colors of brown and gold throughout the building.
Directly across from the main entrance, the wide glass storefront of the Adelphi University Bookstore and spirit shop offers a lively view of the Adelphi apparel and accessories available inside. A large digital display, one of many in the building, informs passersby of the activities going on within the UC and across campus.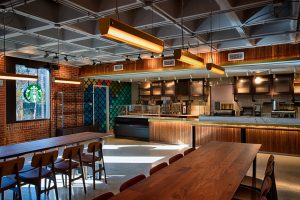 To the left, a hand-painted mural of the Starbucks mermaid on one of the UC's original brick walls calls attention to a beautiful full-service Starbucks, with ample seating, WiFi and charging stations, amid handsome woodwork and warm lighting.
Also to the left, in the west addition, are the expanded offices of our Student Government Association (SGA), the Center for Student Involvement (CSI), and a lounge with soaring floor-to-ceiling windows that offer a stunning view of Levermore Hall.
The enormously expanded CSI suite features offices, a workroom, a spacious printing bank, a dedicated conference room and expanded space for students and staff to come together. The light-filled west lounge offers flexible furniture configurable for a variety of uses. Its ceiling features the exposed beam that was signed by hundreds of Panthers on December 5, 2019—a remarkable complement to the lounge's glass and steel architecture and a permanent tribute to our community members on campus during the building's renovation.
To the right, an international flag wall, updated each semester, will display flags from the country of citizenship of each of Adelphi's current international students and scholars—a visual testament to the University's values of global learning, diversity, equity and inclusion.
A new and spacious contemporary art gallery offers twice the exhibition space of its previous location and is enhanced by improved lighting and climate control. The art gallery has a pre-active fire suppression system, which remains dry until the activation of several zones within the building, preventing unnecessary activation of sprinkler systems that might soak precious artwork.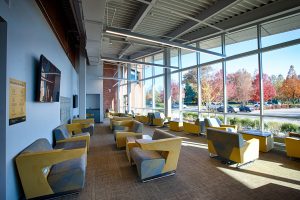 Also to the right, on the east side of the first floor, a spacious student lounge features a variety of amenities for student use, including a bank of computers, rentable lockers, microwave ovens, a water refilling station, vending machines, and many power towers and chairs equipped with outlets for charging devices. This lounge also includes huddle stations with large screens for collaborative work on projects.
Print-release stations are located on the lower level and first and second floors so that students can easily print their papers when they get to campus.
The first floor is also home to the Department of Public Safety and Transportation Community Affairs office, Auxiliary and Event Services, the lost and found, a lactation room, and both traditional and gender-neutral restrooms, which are also located on the second and third floors.
Rounding out the first floor, a sunlit corridor on the west side of the building leads to a stunning modern conference room, for up to 150 people, overlooking the outdoor amphitheater and Levermore Hall through floor-to-ceiling glass windows. With flexibility in mind, this room was designed to be easily divided into two or three conference spaces, each equipped with its own audiovisual (AV) system, recording devices and T-coil assistive listening devices. Setup can be banquet-style, row seating or conference tables, with presentations facing in either of two directions.
Opposite this conference space are additional meeting rooms, which can be utilized as two large spaces or divided into smaller rooms, each offering cameras for videoconferencing. There is a digital display in the hallway outside every conference room door to indicate which event is taking place and at what time.
Designed to be not only beautiful but also functional, the new UC is set to be a vital spot for all aspects of life and work at Adelphi.
In Part Two of this series, on Tuesday, January 19, we will explore the UC Dining Hall on the lower level of the Ruth S. Harley University Center and see how it has been expanded and modernized to provide an ideal central dining and gathering space for the Adelphi community.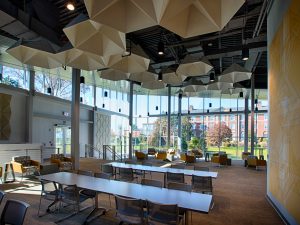 On January 18, 2021, the completely renovated and expanded Ruth S. Harley University Center (UC) was reopened to the Adelphi community.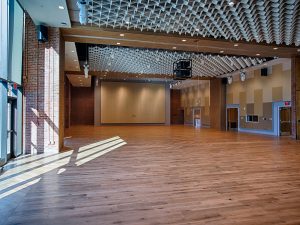 On January 18, 2021, the completely renovated and expanded Ruth S. Harley University Center (UC) was reopened to the Adelphi community.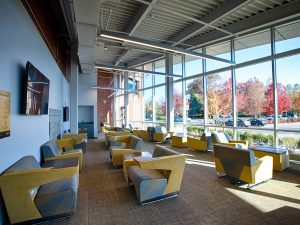 On January 18, 2021, the completely renovated and expanded Ruth S. Harley University Center (UC) reopened to the Adelphi community.