Adelphi's student entrepreneurs created their own products or services, developed business plans and made their pitches to a panel of judges to compete for $11,000 in start-up seed money.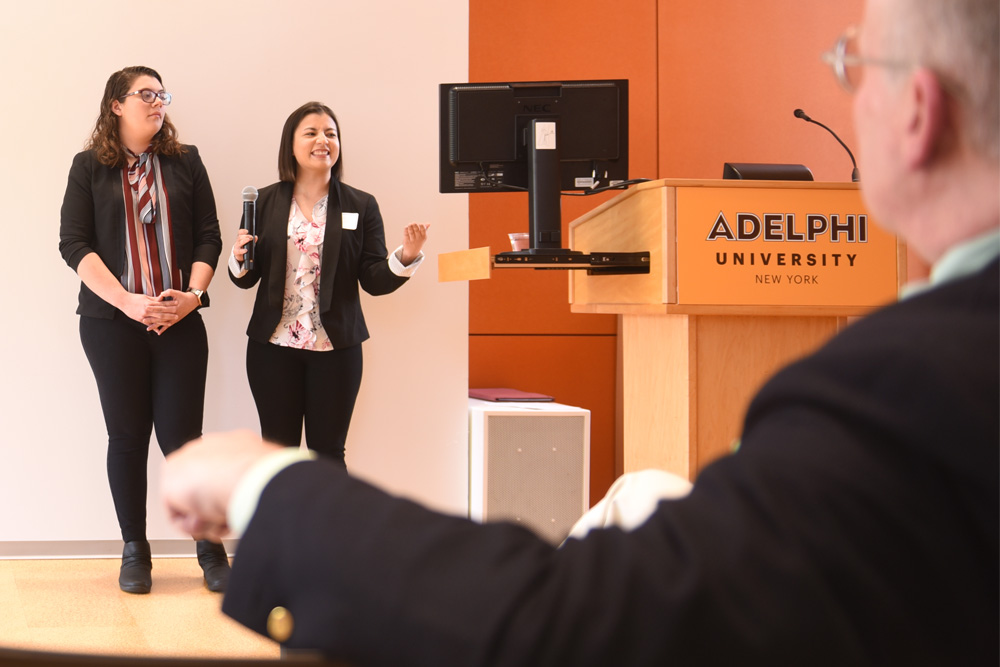 On the day of the annual Research Conference, seven students were presenting their research, but not in the traditional sense. Instead, as part of Adelphi's second annual Business Plan Competition, they'd come up with original business ideas, comprehensive marketing plans and elevator pitches. After giving their pitches to the judges, they presented their ideas in front of an audience and this panel of "sharks" in hopes of getting a share of the $11,000 in start-up seed money to fund business plans and get their ventures off the ground.
The work began in the fall semester, when students—who could work individually or as part of a team—submitted preliminary business proposals for a new, innovative venture. They then had to flesh out a full-fledged business plan that would include the capabilities and experiences of the students to carry out their plans; an analysis of the prospective consumers and competitors; how the product or service will be created, distributed and sold; sources of finance, projection of revenues and profits and attraction to potential investors.
The competitors and their projects were:
Ismael Voltaire—Volt Life, a device that tracks biomarkers to monitor health or improve athletic performance
Bai Ma—Yak! Shoes of Tibet, fashionable shoes made from yak skin for urban professionals in Tibet
Chitralekha (Pooja) Kar '18—Garden of Green, an online portal for consumers to shop for sustainable apparel from various suppliers 
Roman Boothe and Jack Thomann —First Option Sports Book, an online betting platform
Sarah Ferraro and Sonia Melendez—BitBox Fashion, a subscription service for users to order personalized apparel and cosmetics boxes to be delivered to their doors
Four alumni served on the panel of judges:
Andrew Bailen '78, managing partner, 3Pe Consulting LLC
Alan Cooper, PhD '95, MBA '03, associate dean of the Robert B. Willumstad School of Business
Kevin Held '87, MBA '04, CFO, AlphaPoint
Nicholas Iadevaio Jr., MBA '00, vice president, human resources, L'Oreal USA
Attendees included Adelphi faculty members; proud friends and family members of the contestants; Rajib N. Sanyal, PhD, dean of the Robert B. Willumstad School of Business; and Murat Sakir Erogul, PhD, assistant professor of entrepreneurship. Dr. Erogul, who has been responsible for creating and overseeing the competition and mentoring the student entrepreneurs, said, "The finalists did a great job in showcasing their well-thought-out ideas into working business models."
Drs. Sanyal and Erogul thanked the panel of judges for their support and Kevin G. Mahony '83, first vice president-wealth management, UBS Financial Services, for his gift toward the prize money. Dr. Sanyal noted that Mahony attended the presentation "and had penetrating questions for the contestants."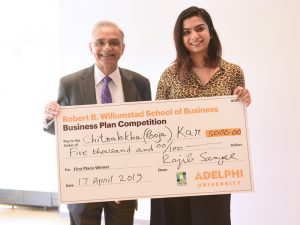 After deliberating, the judges awarded third place and $2,000 to Voltaire for Volt Life, second place of $3,000 to Melendez and Ferraro for BitBox (who also won $1,000 for Best Display/Elevator Pitch) and first place of $5,000 to Kar for Garden of Green.
Kar said, "It has been a pleasure meeting and presenting in front of the alumni judges. I heartily appreciate Mr. Mahony's generosity in providing Adelphi students such opportunity and attending our presentations."
Preparing for the competition was challenging due to her tight schedule juggling classes, a full-time internship and a graduate assistantship, she said. "I couldn't believe that I actually won," she added. "Every achievement of mine, however big or small, makes me realize dreams do come true and goals can be reached. Winning this competition gave me the confidence to take part in other entrepreneurship/business competitions to collect more funding."
She encourages other student entrepreneurs to participate in Adelphi's Business Plan Competition, saying, "It is a great resource and opportunity to show one's creativity and learn about the business world at the same time."
---
For further information, please contact:
Todd Wilson
Strategic Communications Director 
p – 516.237.8634
e – twilson@adelphi.edu