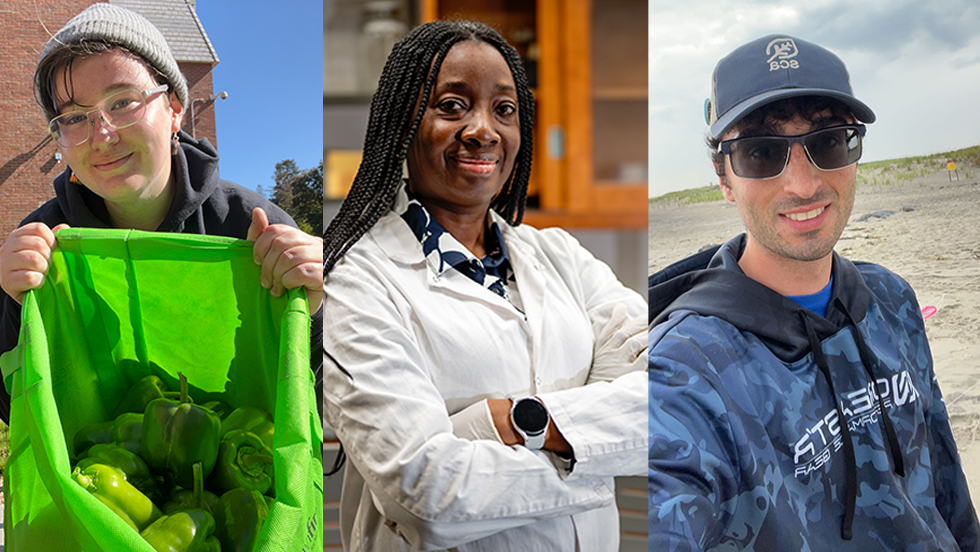 Whether it is getting Adelphi involved in state environmental initiatives, addressing the challenges of food waste on campus, or studying shorebird ecology for the National Park Service, these environmental science students are making remarkable strides for our planet.
In an age of climate change, an Adelphi graduate program is preparing the next generation of environmentalists to lead increasingly necessary conservation projects.
We talked to a trio of students in the MS in Environmental Studies program who are working on campus and in the community to protect wildlife, advocate for political solutions to climate challenges and promote sustainability.
Protecting Coastal Habitats
Joseph Benevento, a first-year student in the graduate program, spent the past summer in an internship with the National Park Service as a Shorebird Ecology Ambassador at the Jamaica Bay Wildlife Refuge in the New York City borough of Queens.
Benevento spent his days patrolling a two-mile stretch of beach to protect the habitats of American oyster catchers, piping plovers, black skimmers and other birds critical to the coastal ecosystem. Gateway National Recreation Area is a critical habitat for than 325 species of birds, most of which stop in as they migrate along the Atlantic Flyway.
Telling people that roped-off areas of the beach were bird nesting areas, and that picnicking wasn't allowed there, was part of his job. "Sometimes I had to deal with angry people," he laughed. "My job was to answer their questions and explain how helping the birds benefits people."
He also worked on education projects with the NYC Plover Project and taught school children about the coastal environment. "We did beach cleanups with the children, took them kayaking and taught them about invasive species that can damage the ecosystem," he said. "If the kids experience the ocean and learn about it, they'll be more interested in protecting it."
Benevento will graduate with a master's degree in Fall 2024 and plans to work in water quality management or in marine life conservation. He grew up on Long Island, less than two miles from the Atlantic, so the sea is in his veins. "I scuba dive, and I've had my boating license since I was 10," he said. "I've always loved the ocean, so I want to protect it."
Battling Invasive Plants to Preserve Natural Spaces
Kelly Andreuzzi '23 was a campus leader as an undergraduate at Adelphi, organizing a student activist group called the Environmental Action Coalition (EAC) to promote climate education and helping revive the Adelphi Campus Sustainability Committee to advocate for greener practices on campus.
"My goal was to help inspire, motivate, and provide resources and training to people who wanted to get more involved in environmental activism," Andreuzzi said.
Andreuzzi and other members of the EAC work off campus as well, often teaming with state and local organizations including NYRenews and the Long Island Progressive Coalition. Andreuzzi testified at the New York Climate Action Council's public hearing for the Draft Scoping Plan to reduce greenhouse gas emissions, increase renewable energy use and promote climate equity. The EAC took part in a rally in Albany—and met with legislators—in support of the Climate Justice campaign, a movement that encouraged legislators to include $15 billion for environmental justice in the state budget. Closer to home, the EAC is working with organizations in Nassau County on local issues.
Now, as a graduate student, Andreuzzi is working on a thesis project with Matthias Foellmer, PhD, professor of biology, on the effects of community-led invasive plant removal. Invasive species strangle native plants that provide shade, carbon storage and habitats for native wildlife, Andreuzzi explained. Their case study is being conducted at an 11-acre public area in Rockville Centre, New York, where Andreuzzi is working with volunteers from the Sierra Club and ReWild Long Island to remove aggressive non-native plants and replace them with native species. It has been out with the porcelain berry, multiflora rose and honeysuckle—and in with the smooth blue aster and field goldenrod.
Andreuzzi is also leading the establishment of a community garden on Adelphi's campus, where students grow vegetables using sustainable methods. The crop is donated to the Panther Pantry, a food bank run by the University to serve the campus community. "Any student from any major can help out in the garden," Andreuzzi explained. "It's an amazing opportunity for students to learn about sustainable agriculture while helping end food insecurity."
A Mission to Limit Food Waste
Most people don't pay attention to what they throw in the trash. But Morenike Olushola-Oni, who will get her master's degree in December, does.
She is leading a team of Adelphi students who are tracking how many pounds of food scraps get tossed in the trash on the University's campus. This matters because those food scraps could be composted instead of sent to a landfill where they'll emit methane, a potent greenhouse gas.
Her goal is to figure out how Adelphi can better manage that waste and promote sustainability. "We want to assess the food waste generated on campus and develop recommendations for ways for the students to direct food scraps to a composter, where the waste can be turned into natural fertilizer," Olushola-Oni said.
Three times a week, she and her team of five students pull on lab coats, gloves and masks, and sort through trash bins on campus, separating food scraps from recyclables. They weigh everything, write it all down on spreadsheets, and put food in compost bins and recyclables in their proper place.
It's dirty but vital work. "I'm passionate about the environment," Olushola-Oni said. "I hope to teach people that they can make a difference by educating them how to be smarter about their trash disposal."
Her work, which is also the subject of her graduate thesis, was prompted by a state law passed in 2022 requiring businesses and institutions that produce an average of two or more tons of wasted food per week to donate the excess edible food to food banks and recycle food scraps. Olushola-Oni's project is charting a road map for Adelphi's efforts to comply with the law, and a model for other universities to follow.
Some of those food scraps will end up as compost in Adelphi's Community Garden, the one run by Kelly Andreuzzi. So when the system is working well, food scraps generated by Adelphi students will be used to grow vegetables on campus that will feed the community.
"That's what sustainability looks like," Olushola-Oni said. "It's a goal we can reach."