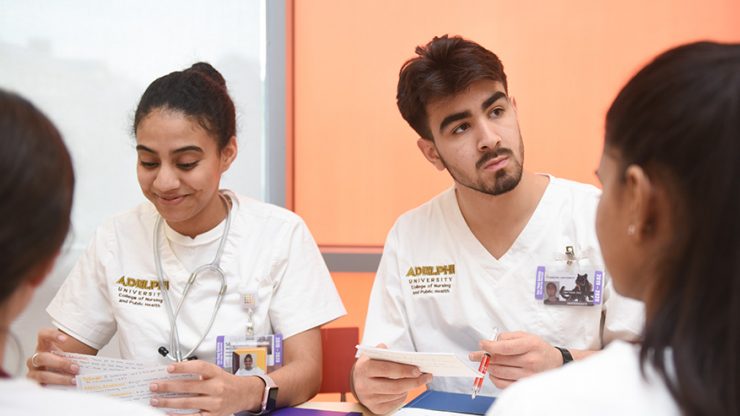 A year ago, Adelphi received a $1.92 million Interdisciplinary Education and Training Experience (IDEATE) grant. Through our partnerships with premier healthcare institutions, our nursing and social work students work together to help underrepresented children. Read what we've accomplished, and how children's lives were changed.
If a 15-year-old child is facing challenges at home and has a history of struggling with substance use and anxiety, could they be best helped by a social worker or a nurse?
The answer is both. The need for this type of holistic, integrated healthcare is critical, especially in the wake of the COVID-19 pandemic.
That's where Adelphi's Interdisciplinary Education and Training Experience (IDEATE) Fellowship program aims to help. Funded by a $1.92 million, four-year grant from the Health Resources and Services Administration, an agency of the U.S. Department of Health and Human Services, IDEATE trains 15 graduate social work and 15 nursing students each year to provide integrated behavioral healthcare for children, adolescents and transitional youth in underserved communities in New York. Students in the program receive financial and academic support, access to seminars and integrated coursework, and one year of specialized training in primary care and behavioral health settings. The program got underway in Fall 2021.
"Integrated care brings primary care into mental health centers and mental health services into primary care sites, allowing providers to have a holistic view of each patient," said Chrisann Newransky, PhD, associate professor in the School of Social Work and project co-director of IDEATE. "If somebody has diabetes and bipolar disorder, their care can be coordinated so all of their needs are met, be it psychosocial care or housing and food assistance."
IDEATE isn't just committed to helping diverse communities; it is also dedicated to supporting a diverse group of students for careers in healthcare. "The overall goal is to create a workforce pipeline of providers to work in underserved areas that are lacking healthcare resources," Dr. Newransky said.
For Nurses and Social Workers, Invaluable Clinical Experience
Fellows undergo real-world training by delivering integrated care to young patients through clinical placements at Adelphi partner organizations such as Concert Health, Northwell Health, and NYC Health + Hospitals.
Shelita Birchett Benash, a student in the Master of Social Work program, joined the IDEATE program to gain a cutting-edge social work education and practical experience helping others. She interned at Concert Health as a social work behavioral care manager, primarily helping patients of color.
"As a fellow, the IDEATE program placed me within a culturally diverse, innovative and expansive knowledge culture," she said. "I experienced firsthand how collaborative care contributes to improving the mental health and physical well-being of one family member and helps to strengthen the whole family system.
"The experience deepened my cultural competence and ability to hold space for others to feel seen, heard, valued and empowered," Birchett Benash said. "I am entering the social work profession as a competent, prepared, qualified, empowered and effective leader for advocacy and change within my community and beyond."
Minna Navvab, a student in the College of Nursing and Public Health's psychiatric- mental health nurse practitioner program, also completed her IDEATE clinical practicum at Concert Health. She gained hands-on experience using its collaborative care model and evidence-based approach.
"Psychiatric-mental health nurse practitioners and social workers use an integrative care model to provide plans of care to primary care providers who may not be as familiar with psychiatric medications," Navvab said. "This way, the patient is less inconvenienced and more likely to continue with care."
Classroom and Lab Work Deepen Understandings
IDEATE fellows also attend monthly seminars taught by leaders in the field, covering areas such as tools for patient assessment, challenges of rural healthcare, and résumé building for integrated care.
"Our professional development seminars provided cutting-edge, evidence-based practices that the students will definitely be utilizing when they go into clinical practice," said Marissa Abram '08, PhD '17, assistant professor in the College of Nursing and Public Health and project co-director of IDEATE. "We're really giving them the tools they need to go out and hit the ground running by using best practices in care."
Nursing and social work students are able to apply their learning in clinical simulations, acted out by Adelphi theater students. The virtual simulations focused on two competency areas: assessment and diagnosis, and evidence-based practices, each of which students indicated they'd like to explore further.
"This was an excellent way to utilize different screening tools we had learned about in lectures from a variety of highly qualified guest speakers," Navvab said.
Even after graduate students complete the program, they will remain in contact with the IDEATE team for guidance as they begin working in integrated care settings and building their careers. Dr. Newransky also hopes to build an alumni affinity group that will empower students to give back to the fellowship and support new participants.
"Once our IDEATE graduates are licensed in their respective fields, they can mentor IDEATE students," Dr. Newransky said. "That's one of our visions, because we do need strong supervision for students in the field. We want it to be a virtuous circle."
For more information on IDEATE, please visit adelphi.edu/ideate.