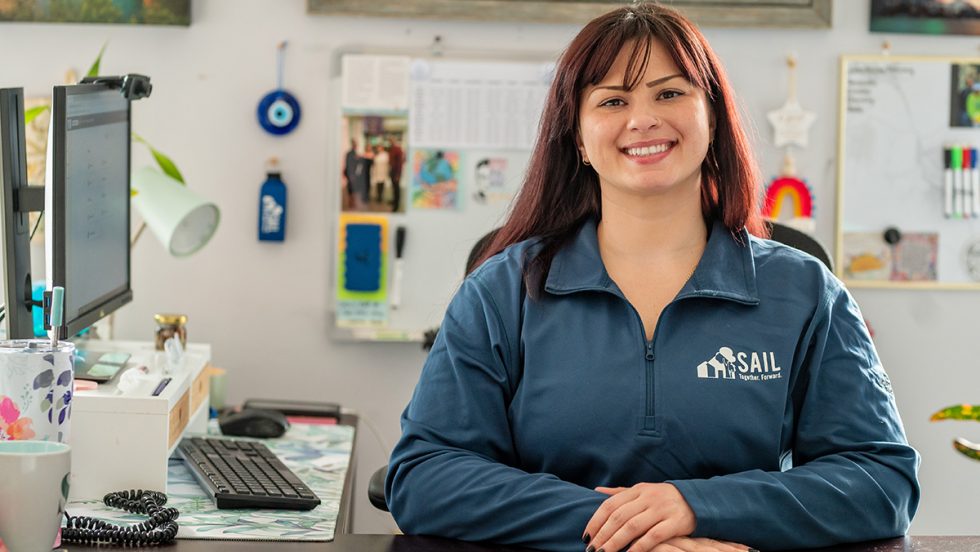 The Adelphi University School of Social Work was selected to participate in a premier program with the New York State Office of Mental Health. Graduate social work students like Stephanie Paterno work directly with adults diagnosed with severe mental illnesses—a unique bridge between two fields.
Adelphi's highly ranked School of Social Work has built its reputation on the hands-on training it provides its students. Guided by its mission to serve communities and support social justice, it places students in the field to work directly with individuals, families and community groups. The goal is to produce seasoned social workers experienced in collaborating with other professionals to effectively serve people in need.
The School of Social Work's standing as a leader was reinforced in 2022 when it was named a premier partner in the New York State Office of Mental Health (NYS-OMH) Schools of Social Work Project for Evidence-Based Practice in Mental Health. The goal of the program, which combines training and education in working with adults diagnosed with serious mental illnesses, is to prepare master's degree students for careers in a changing mental health service system.
Meet Stephanie Paterno, MA '16, one of two Adelphi Master of Social Work (MSW) candidates chosen as fellows in the NYS-OMH program.
An Exciting Opportunity
Paterno, who earned an MA in psychology from Adelphi in 2016, works full time while pursuing her MSW. She is a program director of the Apartment Treatment Program at the South Shore Association for Independent Living, or SAIL, which provides housing on Long Island for individuals with mental illnesses as they transition to life on their own.
"I'm super passionate about this field. I hoped for an opportunity to make more connections and find more resources," she reported.
Paterno's NYS-OMH fellowship has brought new opportunities and responsibilities to her job of working with adults diagnosed with schizophrenia, bipolar disorder and substance abuse disorders. "I've gotten the opportunity to work more closely with policy and grant writing and get more into the macro level of social work, instead of just working with clients and staff," she said. "This is exciting to be a part of."
As its name implies, the fellowship is also designed to prepare students in evidence-based practice, an approach that guides social workers to base their interventions on treatments supported by solid evidence. The approach also encourages social workers to consider their own expertise as well as the values and expectations of their clients.
In addition to evidence-based training at SAIL, Paterno is taking a semester-long master's degree course in evidence-based practice in mental health at Adelphi, as well as a series of colloquia, as part of her fellowship.
The fellowship has been extremely valuable, she said, increasing her knowledge, widening her professional network, and showing her new ways to help people with serious mental illnesses.
"I value building connections with NYS-OMH, which has access to different resources," Paterno said. "The more I know, the more goals we can achieve together."
A Path to the Future
Looking forward, Paterno plans to continue working at SAIL after receiving her MSW in May. She predicts she will eventually go into private practice and offer individualized therapy.
"Right now, I'm happy working at SAIL, which is a great organization that stands for everything the mental health population needs," she explained. "I love working with SAIL's population of those with severe mental illnesses or substance abuse disorders—and I love seeing them achieve things you never thought possible. They are people with goals and dreams just like the rest of us. To be a part of their success is awesome."
A Passion Fueled by Adelphi
A native Midwesterner, Paterno chose Adelphi for graduate school for its strong social science programs and connections to New York communities. "Doing the research, Adelphi had a beautiful campus and strong Rate Your Professor rankings," she recalled.
"I liked what they stood for," she continued. "I wanted to go into social work to help diverse communities—and what's more diverse than New York? I'm coming up on 10 years since I moved to New York. When I decided to go back for another master's degree, I didn't apply anywhere else."
While she said her NYS-OMH fellowship enhances her MSW experience, she also credits the "phenomenal professors who have brought their own experiences into the classroom" with contributing to her positive experience.
"It's easy to read from a book and learn things, but when you're put into the field, you don't have time to go back to a book. You're in the moment," she said, noting her professors give students the tools they need to handle challenging field situations.
Paterno concluded, "I owe a lot to Adelphi. SAIL had a booth at a job fair at Adelphi and I gave them an application." She hasn't looked back since.