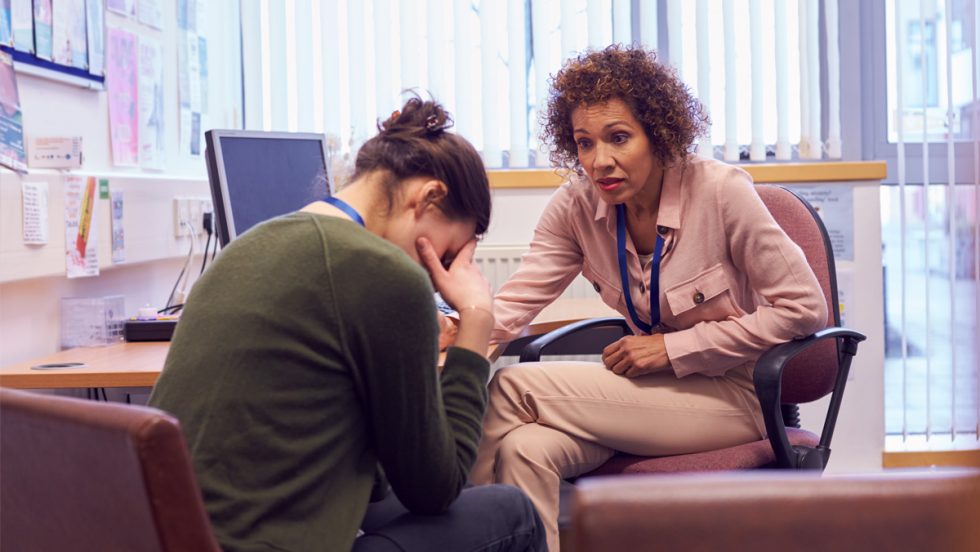 The Adelphi University School of Social Work is a premier partner in the New York State Office of Mental Health Schools of Social Work Project for Evidence-Based Practice in Mental Health, which provides training and education in recovery-oriented, evidence-based practices for adults diagnosed with serious mental illnesses such as schizophrenia or bipolar disorder.
According to the National Institute of Mental Health, as many as one in five Americans live with a mental illness. For those suffering from severe mental illnesses—whether bipolar disorder, schizophrenia or major depressive disorder—the ability to lead productive and nondisruptive personal and professional lives can depend on their access to effective treatment.
Evidence-based practice in mental health incorporates and applies up-to-date scientific research findings to patient care and clinical practice. While the School of Social Work Master of Social Work students benefit from an academic focus on evidence-based practice, they also have an opportunity to put theory into practice by participating in the New York State Office of Mental Health (NYS-OMH) Schools of Social Work Project for Evidence-Based Practice in Mental Health.
Online and in-person field placements are available in a variety of different medical and community-based settings, from Visiting Nurse Services and Creedmoor Psychiatric Center to the Family Service League and The Jewish Board of Family and Children's Services.
"The project is planting the seeds for making careers that will be that much richer and more meaningful," explained Aaron Kesselman, assistant director for field education and online MSW at the School's Manhattan Center.
Real-World Training
Adelphi's School of Social Work is among the 14 participants in the NYS-OMH project. "Up to eight slots in the yearlong project are available to our second or specialized-year graduate students," said Livia Posile, director of field operations at Adelphi's Garden City, Manhattan, Hudson Valley and Hauppauge campuses. "Adelphi's long-term involvement in the project, which was established in 2001, has made us a premier partner with the NYS- OMH."
For Patricia Joyce, DSW, School of Social Work associate professor and online MSW program director, the benefits for participating students are clear: cutting-edge, real-world training in evidence-based approaches, and an understanding of potential barriers in implementing these practices.
The project fully aligns with social work's core mission of social justice, as well. "Students also learn how structural racism in psychiatry has kept many Black people with severe mental illness from obtaining the best treatments," Dr. Joyce explained.
Connecting With Individuals
"We identify students for the project who are interested in mental health and research and who understand evidence-based mental health work," Kesselman said. "I'm involved every step of the way, as a bridge between our students and their agencies and OMH, which is tremendously supportive."
"Our students can focus on and connect with individuals," Kesselman said. "They learn to work with clients to assess how they are doing and to collaborate with mental health professionals, such as psychiatrists, who respond positively to the evidence-based practice's scholarly basis."
A Launchpad for Career Success
According to Dr. Joyce, program students must take an MSW specialized-year elective in Evidence-Based Practice with Severe Mental Illness, as well as meet with the OMH faculty director for four colloquia on topics related to mental health treatment and services. "Next month will be the first colloquium on peer advocacy in mental health, with presenters from NYS-OMH and Families Together in New York State. It's open to all Adelphi School of Social Work community members," she noted.
NYS-OMH Schools of Social Work project training in Assertive Community Treatment, Wellness Self-Management, suicide prevention and other best practices support its intentional workforce development.
Participation in the project can launch successful careers. "Many students have been hired by the agencies where they completed their field placements," reported Dr. Joyce. "They get highly trained MSW graduates who can hit the ground running."