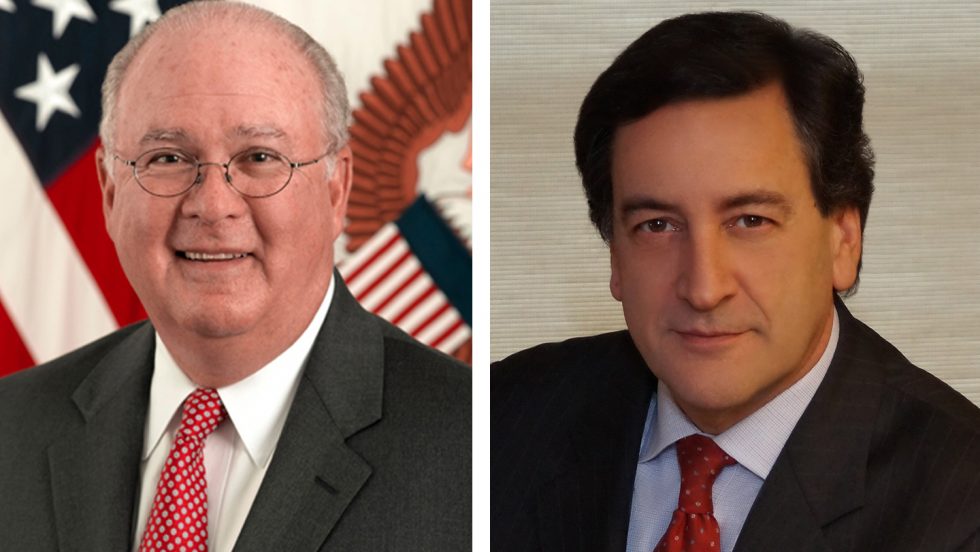 Two distinguished alumni, Joseph Westphal '70, PhD, and Charles Fuschillo '83, joined the Adelphi University Board of Trustees in October 2019. Both men bring considerable experience in areas such as politics, diplomatic relations, academia, public service and leadership.
Joseph Westphal '70, PhD
Westphal served on Adelphi's board from 2001 to 2009. A former U.S. ambassador to Saudi Arabia, he served under presidents Carter, Reagan, Clinton, George W. Bush and Obama. He is now Chang Sun Professor at the Lauder Institute, Wharton, University of Pennsylvania.
How did Adelphi shape the person you are?
I went to Adelphi during the Vietnam War and civil rights movement. I got drawn into that and majored in political science. I also met my wife, Linda, at Adelphi. We got married when I was a senior and she was a sophomore. We've been married 52 years and we've raised four kids.
Were you always a leader?
I was never reluctant to take leadership positions, not out of ego, but because there weren't always people willing to step up.
You served five presidents with different ideologies. Washington politics has become so partisan. Is this the new reality?
We need to bring back bipartisanship. But there would need to be structural changes in Congress. Leadership in both parties has to be willing to talk to each other, and that's not happening. In the last decade and a half, Congress has given more power to the president. That's exactly what Congress should not be doing.
What prompted you to return to Adelphi's board?
President Riordan reached out to me. I think she's doing a great job. I also think boards are crucial. The board gives advice and support to the president when they have to make a controversial decision and also puts a check on the president when necessary.
What are you most proud of in your career?
My public service. I've held jobs that were political appointments by presidents, but I've always seen myself as a public servant and acted that way. My academic career has been rewarding in being able to educate and shape the views of students, particularly on the policy side of government.
What's your message to the Adelphi alumni?
Adelphi's strength largely depends on how well the alumni support the students, not only through financial contributions, but also through support as the students venture into the real world. I encourage our alumni to be as generous as they can.
Charles Fuschillo '83
Fuschillo has been president and CEO of the Alzheimer's Foundation of America (AFA) since 2014. During his tenure, AFA has undergone enormous growth through initiatives such as an Educating America Tour and the country's first Respite Care Relief Park. From 1998 to 2013, he served in the New York State Senate.
Was there a class at Adelphi that put you on a path to success?
The Business Policy class I took with Professor [Rakesh C.] Gupta shaped my business experience and gave me the tools I needed to run a corporation. I always thought I would go into banking after graduation. But you never know which doors will open. I've been very fortunate because of the doors that opened for me.
What influenced you to attend Adelphi?
My father graduated from Adelphi, and so did my sister and my niece. It's sort of a family tradition.
Why is public service so important to you?
My dad was president of the local Little League and represented Hempstead as a councilman. My mother was a small business owner in Westbury and a leader of the chamber of commerce. Through them, I saw the way public service can enrich people's lives.
Why did you join the board of trustees?
I believe President Riordan has the right vision for the future of Adelphi and is the leader Adelphi needs in these challenging times. I was honored to be asked to become a trustee, and honored to be part of her team.
What are your proudest accomplishments?
It's a privilege and an honor to work for AFA…[and to] effect positive change in people's lives. Getting bills such as the anti-drunk driving legislation passed, which has saved lives, and the no-smoking law in New York state. And my greatest personal accomplishments are my three children.
Five Distinguished Alumni Elected to Adelphi's Board of Trustees
In June 2020 Adelphi welcomed five new trustees (above):
Emily Ladau '13
Tomislav Kostadinov '10
Dottie Herman
Hilda Perez '11
Sylvia Frances Moss '64