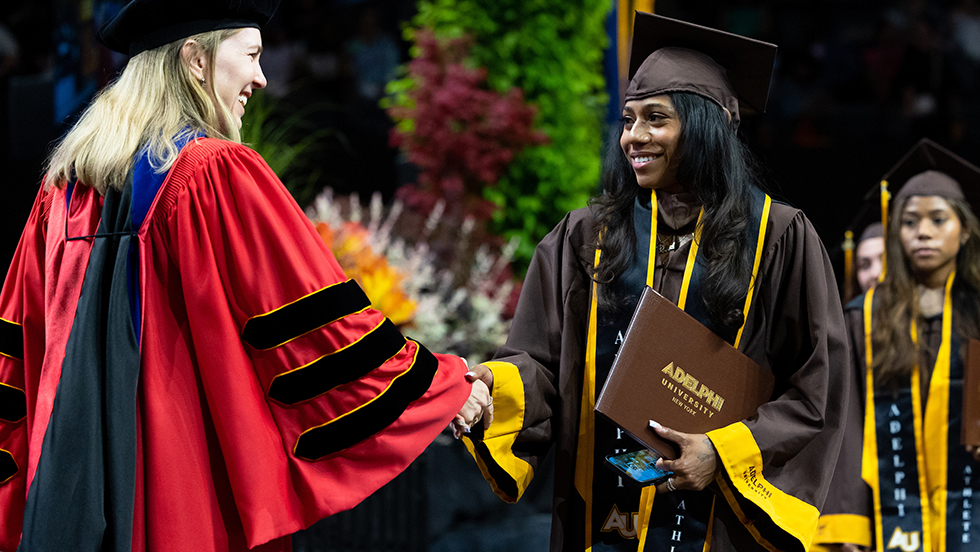 See why Adelphi is one of just 10 universities throughout New York state to earn the Higher Education Excellence in Diversity Award. Steps taken include a Hispanic-Serving Institution Task Force to build resources for Hispanic students, new career support for neurodivergent students, and a thriving mentoring program with a 100 percent graduation rate.
Remarkable accomplishments in retention of non-white students. Innovative programs promoting equity and understanding. Growing support for the Hispanic community. A campus renowned as pride-friendly. Outstanding support for neurodivergent students.
All helped Adelphi win a prestigious Higher Education Excellence in Diversity (HEED) Award from INSIGHT Into Diversity for the sixth year in a row. Adelphi is one of 109 U.S. colleges and universities to receive the 2023 honor, putting it within the top 3 percent in the country.
"I think the HEED Award demonstrates how we are responsive to our community's needs," said Chotsani Williams West, MA '07, assistant vice president of Diversity, Equity, Inclusion and Belonging. "We're committed to creating that sense of belonging and really actualizing that. This award just reflects that we are putting our values into practice, and we're able to measure their impact in a way that HEED has recognized."
Here are just a few of the outstanding initiatives that contributed to this recognition for Adelphi.
Growing diversity and tremendous strides in student retention
Located on Long Island in the New York City suburb of Garden City, Adelphi has recruited and attracted an increasingly diverse student body over the last decade. In Fall 2019, 44 percent of the University's entering class of first-year students identified as non-white. In Fall 2023, 51 percent of first-year students identified as non-white.
And Adelphi's focus on retention has produced remarkable gains for students identifying as Black or African American. In Fall 2019, 72 percent of Black and African American students in the first-year class returned for their sophomore year. In Fall 2023, 90 percent returned—a percentage higher than all other groups of students at the University.
Focused initiatives helped make these retention gains possible. Adelphi's First-Year Experience program—which U.S. News & World Report ranks as No. 32 in the nation—helps students acclimate to college academically and socially. Our nationally recognized Mentoring Program provides support for students of color, first-generation students and members of other underrepresented groups. The opening of our Multicultural Center has enhanced students' sense of belonging. And our new policy of no longer requiring a minimum GPA to retain merit scholarships gives students more time to adapt to the academic demands of college.
Approaching Hispanic-Serving Institution status
This past Hispanic Heritage Month—and throughout the year—Adelphi celebrates and supports the accomplishments of the Hispanic community. The Hispanic-Serving Institution Task Force, led by members around campus, seeks to build a network of resources to help Hispanic students thrive and graduate. These resources include mentorships, scholarships, counseling and a welcoming alumni network.
The Hispanic Community Partnership Program, which recently attracted corporate funding from Jovia Credit Union, introduces Hispanic high school students to college life with a range of summer workshops and on-campus experiences.
"We cover everything from financial literacy to public speaking to what it means to live in residential housing," West said. "We're really supporting potential Panthers and inviting them to envision themselves in a college setting."
These initiatives will help advance Adelphi's status from an Emerging Hispanic-Serving Institution to a Hispanic-Serving Institution (HSI). Colleges gain that status when Hispanic or Latino students account for at least 25 percent of total undergraduate enrollment. Adelphi currently has 23 percent.
Fostering a place of pride
For the second year in a row, the Campus Pride Index has given Adelphi a five-star rating and placed us on its list of the Top 30 Best of the Best LGBTQ-Friendly Campuses. This recognition illustrates Adelphi's ongoing commitment to supporting the LGBTQIA+ community.
"We've made an intentional point to ensure that our LGBTQIA+ students have access to volunteer mentors who help them navigate their entire college experience," West said.
Providing resources for neurodivergent students
Adelphi is committed to providing individualized academic and career support to all students, including neurodivergent students.
The Bridges to Adelphi program helps students on the autism spectrum develop the skills to navigate college life and access career and internship opportunities. Beyond providing mentorship and vocational services, the program also serves as a liaison to faculty, staff, families and community partners to help them better understand the needs of neurodivergent students.
"It's really important that we not only create a sense of belonging, but also, in the space of equity, make sure students have access to the resources they need to thrive," West said.
Introducing innovative programs promoting equity and understanding
Adelphi has also launched outstanding programs supporting our students.
In Spring 2023, David Machlis, PhD, an associate professor of finance and economics, launched the Two Museums Program, an inspiring project to unite Black and Jewish students to fight against prejudice and hatred. The program brought a group of 10 Black students and 10 white students to Washington, D.C., to visit the National Museum of African American History & Culture and the United States Holocaust Memorial Museum to explore the root causes and consequences of hate, antisemitism, racism and intolerance.
In 2019, Edmund J.Y. Pajarillo, PhD, a professor in the College of Nursing and Public Health, created the Equitable, Targeted and Structured (ETS) Onboarding Program for graduate students entering the MS in Healthcare Informatics program. Students in the program come with different backgrounds and levels of experience, and many need help adjusting to the demands of graduate work. The program provides guidance, training on technology and software, help with writing and research skills, and an overview of the resources available to professionals in the field.
Having the important conversations
As Adelphi's community evolves, so does its programming for diversity, equity, inclusion and belonging. This October, Adelphi hosted its inaugural Freedom of Expression Week to foster important discussions on campus. The event comprised multiple panels and presentations, including one about freedom of expression for protected groups and underrepresented populations.
"It's designed to help our community have important conversations with integrity and compassion," West said. "If there are things that they disagree on fundamentally, how do we get them to come to a place where they can disagree civilly?"
West also hopes to increase partnerships with local organizations and feedback from students, faculty and staff.
West said, "It's about strengthening the work that we have done, introducing new initiatives, and staying open and responsive to our community as we listen and we have deep conversations around this work."