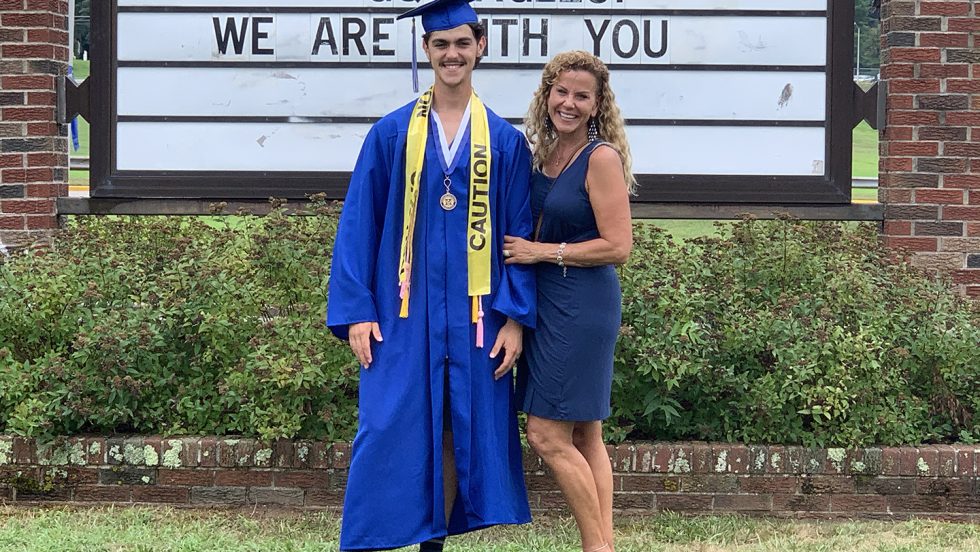 First-year student Matthew Brophy is a winner of a 9/11 Promise scholarship for children of first responders. Affected by a friend's suicide, he came to Adelphi for our top-tier psychology program.
Matthew Brophy, a first-year student from Smithtown, New York, begins each day with an expression of gratitude: "Thank you." He learned this daily ritual from Will Tennyson, a bodybuilder he admires.
"He says, 'The minute your feet touch the ground, say thank you, just for the fact that you're able to do it,'" said Brophy, 18, who plans to major in psychology. "It raises my spirits for the rest of the day and definitely motivates me."
Brophy is attending Adelphi with a scholarship from 9/11 Promise, a nonprofit providing financial aid to 10 children of first responders to the tragedy. Brophy's father was a New York City police officer who died of colon cancer when Brophy was 3, just a few years after serving at Ground Zero.
"He was called in to help go inside those towers to save people and clean up," Brophy said. "His cancer was related to 9/11. He was actually one of the first cases."
Brophy's decision to study psychology at Adelphi, however, was influenced by another life-changing event—the suicide of a high school friend.
"When I found out, it shocked me," Brophy said. "I had just met with him and he'd made so much progress. He was turning his life around for the better."
In hindsight, Brophy saw signs of his friend's despair, like giving away personal possessions.
"I want to learn things to help people in the future and stop people from doing bad things to themselves," he said. "If I can just help a few people, I've done my job. That's all I care about."
Brophy hopes to enroll in Adelphi's General Psychology 4+1 program so he can earn both his bachelor's and master's degrees in five years. He'd then like to study for his doctorate to become the first doctor in his family and eventually open his own practice. He sees himself working with children, since he enjoys doing so as a camp counselor and babysitter.
"Helping children and seeing them happy makes me feel like I'm watching a part of my youth I never had," Brophy said. "Not that I had an awful childhood, but because I feel like I missed out on certain parts in my childhood due to not having a father figure."
Along with helping others, Brophy is laser-focused on self-improvement while at Adelphi—particularly through bodybuilding.
"My father was a massive bodybuilder, so he's definitely an idol to me," he said. "He could bench-press 315 pounds for 12 reps, and he even continued lifting through chemo and up to a few months before his death. My goal is to be better than him by the end of my college years."
Brophy is already well on his way. He lost 60 pounds during quarantine by working out at home. "Sitting around all day only playing video games gets boring very quickly," he said.
To stay motivated in fitness and in life, Brophy keeps a journal where he logs his lifts and numbers as well as how he feels during his workouts."Every day before I go to the gym, I write, 'I will work hard today,'" he said. "It helps if you put it on paper. "
This 9/11 Promise scholarship winner is proving to be an expert in self-motivation—and is determined to motivate and inspire others in his future psychology career.