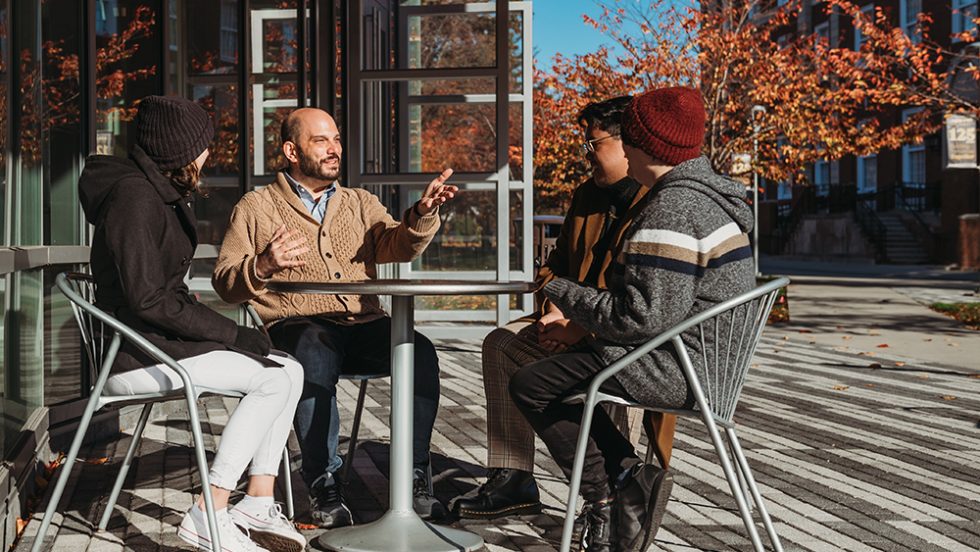 Our award-winning mentoring program is key to providing Adelphi's life-changing opportunities to all students. We help our students define their own success and nurture their goals with exceptional programs that support continued learning, personal growth, professional development and career advancement.
West, executive director of diversity, equity and inclusion at Adelphi, has been doing that since 2014, when she helped launch the University's award-winning Mentoring Program.
All students can benefit from mentoring, she said, but support for students from underrepresented groups can help them reach their fullest potential in college.
The program, which started with 10 students, now serves close to 100 students guided by an equal number of volunteer mentors from Adelphi's faculty and staff. It has helped raise the graduation rate of students of color and raised the cumulative GPA of mentored students to a level above the school average. Remarkably, every student who has been paired with a mentor has graduated from the University. These accomplishments were recognized with the 2019 Eduventures Innovation Award.
Providing Culturally Responsive Mentoring
West credits the success of the Mentoring Program, which pairs students with mentors on a one-to-one basis, to its culturally responsive framework.
"The program supports the identities and lived experiences of all students," she said. "We meet students where they are."
Culturally responsive mentoring encourages ongoing and deep introspection. It requires mentors not only to understand the student's background and values; it demands that mentors reflect on their own background and recognize their own biases. It encourages genuine conversation between the mentor and student about their different experiences—conversation that builds trust and sends the message "I see you, I hear you" to the student.
"This is one of the most challenging times in our nation's recent history," West said, "so these genuine conversations help create even more meaningful connections."
Successful mentoring also requires a multilayered approach, helping students build academic, social and career skills, including goal setting, time management and financial literacy. Many of these goals are supported by programs across the University, including those offered by the Center for Career and Professional Development.
Creating a Culture of Mentoring
Originally established to support students of color, the Mentoring Program has expanded its outreach to LGBTQIA+ students, veterans and first-generation students. At the same time, it has inspired a culture of mentoring across the University. In the past few years, it has helped the College of Nursing and Public Health and the Department of Communications Sciences and Disorders to establish their own peer-mentoring programs.
Zainab Osakwe '06, PhD, assistant professor in the College of Nursing and Public Health, devotes some of her own time to mentoring students. She credits a mentor she had as a student at Adelphi with helping her decide to become a professor.
"I was not the conventional high-achieving nursing student. Dr. Marilyn Klainberg, who was a mentor to me, really believed I could do so much for the profession," Dr. Osakwe said. "It made me optimistic about my potential as a student."
Now she uses a mentoring approach in her teaching to help students discover their full potential and overcome obstacles to success.
"I believe high-quality mentorship dismantles major barriers to succeed in college for minority students, including first-generation college students, because I experienced it firsthand," she added. "I believe in mentorship, because I know how life-changing positive, high-impact faculty-student interactions can be."
Faculty members and administrators across the University share Dr. Osakwe's belief.
Deirdre Donat '90, an adjunct professor in the College of Professional and Continuing Studies, became an adviser and advocate for Michael Hughes, an officer in the U.S. Army who returned to college to improve his skills as an intelligence collector. Though he'd spent years leading interrogations and creating operating procedures, being back in the classroom was an adjustment, and he found himself struggling with classwork.
Donat connected Hughes to Adelphi's Veterans Resource Center, which supports active, reserve and veteran military students throughout their academic careers. James McGowan, associate dean for professional programs, also provided individualized support to keep Hughes on track.
"I had about two weeks left in the semester, and I was on a spiral and in bad shape," Hughes said. "[McGowan] and I were talking one day and he goes, 'You do straight-A work. I know you can do it.' … It was because of that talk specifically that I walked out with a 4.0 GPA."