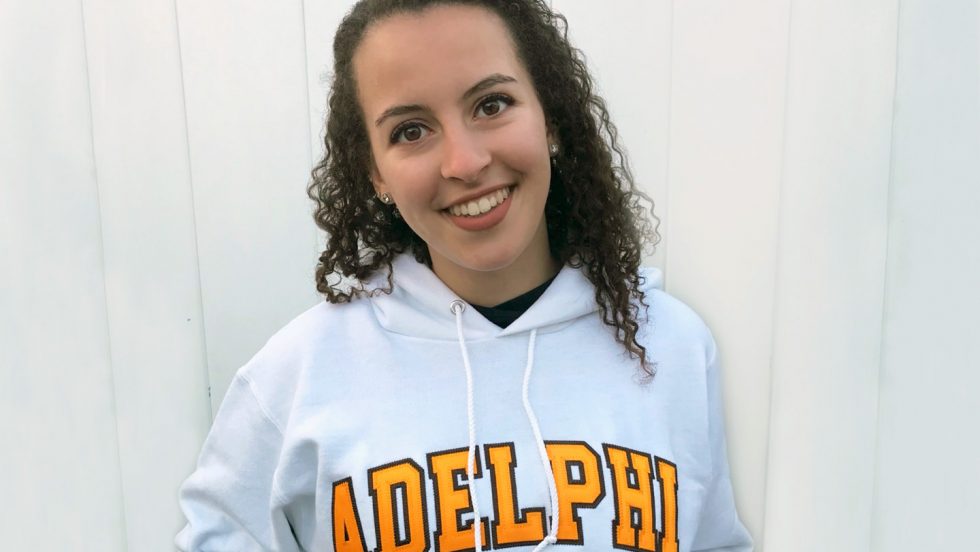 Opportunity to teach in the Madeira Islands honors her Portuguese heritage.
When making her college decision four years ago, Melanie Rosa-Chaves '22 knew that Adelphi's Levermore Global Scholars (LGS) program was a unique opportunity she couldn't pass up. Little did she know that the experience would be life-changing, paving the way for her to be awarded a prestigious Fulbright Scholarship to pursue lifelong passions: exploring the Portuguese diaspora, promoting cultural awareness and advocating for social justice.
Raised in Central Islip, New York, in a proud Portuguese family—her father was born in Portugal and her mother was born in the United States to Portuguese parents—Rosa-Chaves said her culture always "played a significant role" in her academic career and personal beliefs. Although she is not the first in her family to graduate from college, Rosa-Chaves describes her values, commitment to education, work ethic and struggles as similar to those of many first-generation college students. "I've always strived to find the right balance as a Portuguese American and to put my best foot forward," she said.
With the support of Adelphi's LGS program, Rosa-Chaves was able to design a multidisciplinary academic path and graduate on May 23 with majors in communication sciences and disorders and Spanish and a certificate in translation studies. Her career goal, to work as a speech-language pathologist serving diverse populations, was born out of her grandfather's struggles to regain speech after suffering a brain injury.
Rosa-Chaves explained, "My grandfather lived in this country but spoke Portuguese. Because there's hardly any diversity in the profession, we couldn't find appropriate speech-language therapy services to help him. More people of multicultural backgrounds need to go into this field so we can better serve all populations." She expects that her fluency in English, Portuguese and Spanish, and study-abroad experiences in Spain, Costa Rica and Belize, will be tremendous assets in working with multicultural communities.
Path to a Fulbright
Her desire for an immersive experience in Portugal led Rosa-Chaves to undergo the rigorous Fulbright Scholarship application process in October 2021, at the suggestion of LGS Administrative Director Peter DeBartolo.
"It was intense," she said. "Six essays, recommendation letters, interviews with the Adelphi Fulbright Committee," she said. "I never thought in a million years I'd get it." She was "thrilled" to get the news that she was one of three college students in the United States to get a Fulbright Scholarship to teach in Portugal. She will leave in September for 10 months in the Madeira Islands, teaching English to undergraduates along with various cultural modules to postgraduate students at the University of Madeira. Her plans to pursue a master's degree at Columbia University have been put on hold for a year.
"For me, experiential learning is the most impactful," said the Fulbright scholar. "This opportunity aligns academics with my self-purpose … it's work I'm called to do. I'll not only help these students explore their self-identities but will learn more about myself." She added that she's hoping to break down barriers created by labels. "I'm always going to be viewed as an American when in Portugal but as Portuguese when in America," said Rosa-Chaves. "I hope to bring the two together and show students that it's important to remember and respect who you are and where you come from."
Rosa-Chaves said the Fulbright Scholarship will fuel her desire "to do work that is much bigger than myself." She added, "My true calling is to give. I'm passionate about education and what that looks like around the world. If I can make a difference by providing insight that impacts the students in Portugal, it will be so rewarding … a highlight of my academic career." She has received other honors and awards, including a National Science Foundation research fellowship.
Rosa-Chaves said Levermore Global Scholars, for which she served as Student Leadership Council president this year, has been critical to her academic and personal success. "The students and faculty have become my family over the past four years," she noted. "It's been an honor to be part of a group that supports international diplomacy and advocacy and social justice through a multidisciplinary lens."
DeBartolo, who worked closely with Rosa-Chaves, said she is "one of Adelphi's most promising and effective emerging leaders. Her unique experiences, skills, knowledge, resilience and empathy have helped her grow into the global citizen that she is today, and I know she will make a very powerful and positive impact on our world in the years to come."