Lally, an associate professor of theater, talks about the Now You See Me/Now You Hear Me performance and her commitment to spreading social justice through theater.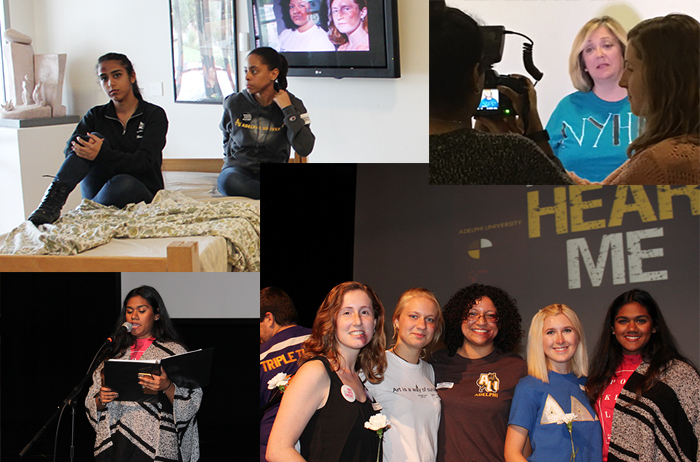 Last June, Margaret Lally '82, associate professor in Adelphi University's theater department, read the open letter from the woman who was sexually assaulted by a former Stanford University swimmer. The letter, which describes the woman's trauma and the lack of justice she experienced in the legal system, struck a chord. Lally knew too many other victims to succumb to helplessness and silence.
"I got an idea of sharing her letter and Vice President Joe Biden's beautiful response to her, and I got a small group of like-minded individuals together," Lally said. The Now You See Me/Now You Hear Me (NYSM/NYHM) project was born.
On Thursday, September 29, 2016, Adelphi students, faculty, and staff and administrators came together to share the letters. The event kicked off a yearlong End Gendered Violence campaign led by Adelphi's Collaboration Project.
Lally spoke about the project, the teamwork involved and her own motivations.
What do you hope participants and attendees take away from the performance?
To talk more openly about consent, coercion and respect for each other, particularly when it comes to sexual contact. I do believe young men can be confused. There are so many mixed signals out there in social media and on the Web. Let's talk and make it clear to end confusion about what rape is. This does not mean that I don't believe men can be raped. It is gendered violence, and I have heard terrible stories of gay and transgendered people being sexually abused. Not talking about it creates a culture of shame. It's time to end that culture.
When did you first combine theater and social justice? What compelled you?
When I was a student here I started directing cabarets on social justice themes with student writers, actors and musicians. The Brechtian cabaret form gave me permission to use my voice through art.
When I began teaching, one of my favorite classes at any school I taught was Cabaret. Giving young people the opportunity and tools to use their voices as artists to make a difference gave me tremendous satisfaction.
My heart is leading me more and more in the direction of theater for social justice, and I must follow it.  I have a core group of students who are finding a connection between their art and community. I believe the future of theater is in bringing it to communities and working with people in finding and owning their voice. It has already begun here on campus.
Why is theater such a powerful medium for addressing difficult issues?
Because it is truly a reflection of life, it allows us all to witness something alive and vibrant, yet ephemeral. We are moved by people's stories. Telling stories that are rich and complex allows us to feel. It helps tap into empathy, which is becoming a rare quality in this climate.
Seek nothing less than to change the world. Now my theater students know a number of ways of doing that for themselves, and some are actively pursuing it all over the country.
I understand that NYSM/NYHM was a giant team effort. Who were your partners on the project?
There are so many partners on this project. I've been told this kind of cross-University collaboration is rare. I would like to thank all of the partners who helped make this happen, especially Isuri Wijesundara and Jaclyn Lusardi, our student leaders. It couldn't have happened without such tremendous support.
See the full list of partners here.
---
For further information, please contact:
Todd Wilson
Strategic Communications Director 
p – 516.237.8634
e – twilson@adelphi.edu