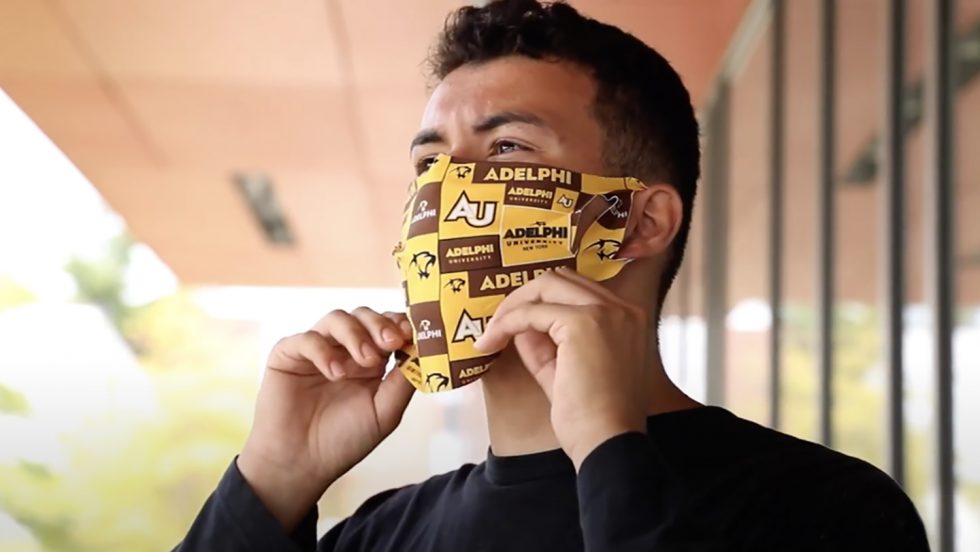 On August 31, Adelphi officially welcomed a reduced number of students, faculty and nonessential staff back to campus for the first time since the New York state lockdown began in March. Keeping our campus open for in-person learning and experiences until Thanksgiving break will require us all to do our part. Here are some initiatives in place to help keep us safe.
Take the Pledge
Have you taken the Pledge to Protect? As President Christine M. Riordan noted in her letter to the campus community, "If we all keep our pledge, our Adelphi family is likely to successfully complete the fall semester uninterrupted—as we have planned through Thanksgiving. Now more than ever, we must preserve our progress by following the guidelines and protecting the health and safety of our community. "
Do Your Daily Health Check
The University requires daily health monitoring for all students, faculty and staff before arriving at Adelphi on any day to ensure they continue to be free of any symptoms potentially related to COVID-19. To make this easier, we've added a COVID-19 screening section to the AU2GO mobile app and eCampus.
"Daily health monitoring plays an important part in keeping the Adelphi community safe as we return to our campus and learning centers," said Raymond Hughes '82, executive director of public safety and transportation. "Adelphi's AU2GO app is a widely used, easily accessible platform for our community to readily access."
The app can be downloaded on Google Play or Apple's app store. Or those in the campus community can submit screening on eCampus or fill out a paper questionnaire at the public safety booth or designated point of campus entry.
The questionnaire asks six health monitoring questions to assess risk/appropriateness to be on campus and to affirm compliance with personal protective equipment (PPE) and distancing policies. Upon completion of the questionnaire, the app gives the user either a bright green "CLEARED" screen or a message stating "You are NOT CLEARED to return to campus." These verifications are valid for 24 hours.
Anyone who fails a daily health monitoring check will not be permitted on campus or at a learning center until evaluated and cleared by the Adelphi Health and Wellness Office (faculty and staff) or Student Health Services (students).
"While students, faculty and employees are not asked to show the green screen before entering campus, they should be prepared to show their green screen at any given time while on campus," said Hughes. "In accordance with the New York State Department of Health, Adelphi has designated site safety monitors responsible for ensuring ongoing compliance through monitoring. The site safety monitors will perform random checks and ensure compliance around our Garden City campus."
Watch this video on how to use the Health Check on AU2GO.
If Selected, Get Tested
Our Master Restart Plan submitted to New York state provides for continual monitoring of our overall campus environment—referred to by the Centers for Disease Control and Prevention (CDC) as surveillance testing—to detect any early signs of positive cases and help prevent the spread of the virus. In week two of the semester, Adelphi retested all our resident students and staff (approximately 700) in addition to a random sampling of approximately 700 more faculty, staff and commuter students who came to the Garden City campus since the first day of classes on August 31, as identified by the daily health screening app.
Those selected to participate in regular monitoring will receive a COVID-19 self-administered saliva testing kit from our partner, Vault Health. Tests will be conducted under remote supervision via Zoom video call with a trained Vault test supervisor. Upon completion of the Zoom testing call, the sample must be returned and received within 48 hours of it being produced.
Stay Up-to-Date With RAVE Alerts
The University sends urgent messages to the campus community via the University Mass Notification System. Sign up for RAVE alerts, and you can opt to receive alerts via voice, text or email. The Rave Manager Profile Dashboard is accessible through eCampus. Sign in, go to the Services tab and select the University Mass Notification System icon.