The University Mass Notification System enables the University to immediately broadcast urgent messages and deliver instructions to the campus community when necessary.

Rave Alert
Please follow the instructions below to get to your RAVE Profile Dashboard, where you can input, update, change and/or test your information.
Go to the

 

University Mass Notification System accessible with your eCampus login.
The first time you access the Rave Alert service you must accept the service provider's terms and conditions.
Your mobile device and email can also be tested by hitting the yellow "Test" button at any time.
Confirm your mobile carrier and hit continue.

The system will send a confirmation code to your device that must be entered on the next screen.
Hit continue and your device is confirmed.
Please note that although the system settings may include your email address, at this time the University is using text and voice message to broadcast urgent messages.
Multilingual Messages
You have the option to configure your messaging preferences to include the following languages.
Spanish
Russian
Hindi
Urdu
Chinese (simplified)
To have your messaging translated to any of the above languages follow these easy steps:
Go to my account
Click on the "edit" button next to your name
Click on "Alert Text/Email Language Preference" and save
Visitor Opt-in Messaging
Visitors can opt to Adelphi Alerts in for a fixed period of time during their stay on campus by texting "YES" to a predetermined number. Construction crews, conference and seminar attendees, parents of children attending camps, can all benefit from this enhanced capability.
Note: The Department of Public Safety and Transportation tests the University Mass Notification System at least once every calendar year, and such tests may be announced or unannounced. View the Emergency Notification policy.
Alert Beacons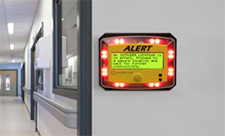 The integration of "Alert beacons" to the existing Adelphi Alert (RAVE) platform has increased the University's capability to reach a wider audience while simultaneously reducing the time it takes to send timely and actionable information in the event of an incident affecting the campus community.
The alert beacons are strategically located in the common areas of public use spaces throughout campus and are easily identifiable. When activated by Public Safety Officers manning the Public Safety Command Center, the beacons emit an alert tone and signal through the use of a strobe light, red flashers, and an alert siren. A predetermined message is simultaneously displayed on the screen which provides information as to the nature of the emergency and what actions to take.
In addition to the alert beacon activation, a message will be immediately sent to your wireless devices (if registered with the RAVE System) further increasing the reach of the emergency notification. Follow-up information and incident updates will be sent through the use of the RAVE system as necessary.
Training
Schedule an Active Shooter/Hostile Intruder, Emergency Preparedness or Fire Safety awareness training session for your department or group.
Hours
Office Hours

Mon, Tue, Thu, Fri: 8:30 am - 4:30 pm

Wed: 8:30 am - 6:00 pm

Command Center

Daily: 24-hour coverage