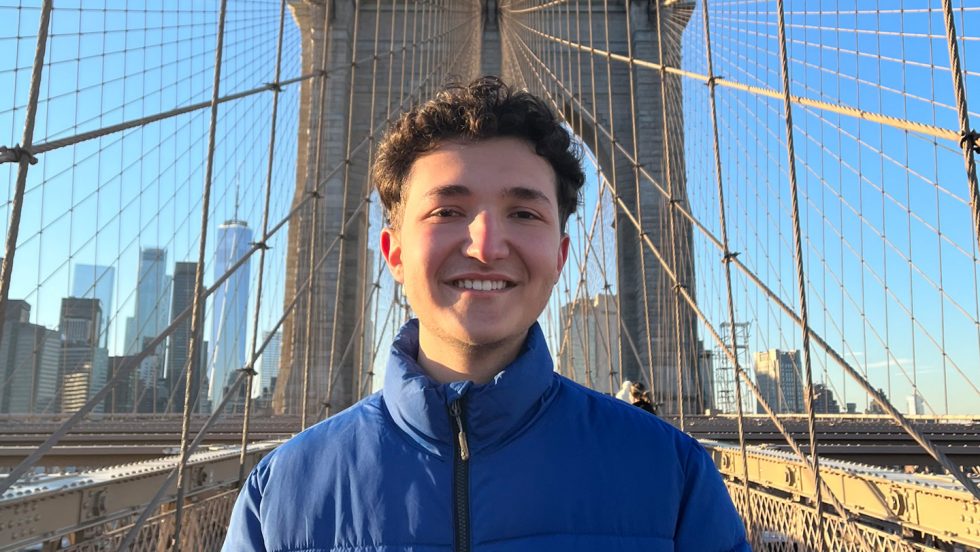 Joe Sawma is the 2022 recipient of Adelphi's Outstanding First-Year Student Award—and given his academic and extracurricular achievements so far, it's not hard to see why.
In addition to being a biology major, Sawma is a part of Adelphi's Levermore Global Scholars (LGS) program, a learning community that provides students with a global perspective.
Sawma is currently serving as secretary on the LGS board and has big ideas for the council next year. One of those ideas is working with the Center for Student and Community Engagement (SCE) to place donation boxes in every residence hall on Adelphi's campus so items can be donated to charity rather than thrown away. He also started the "A Meal for Me, A Meal for You" initiative, in which Adelphi students can donate funds on their meal swipes that would otherwise go unused at the end of the semester to purchase food and items from campus dining for the Panther Pantry. Sawma is also a member of the Equitable Adelphi Action Team, which works toward the progression of diversity, equity and inclusion at Adelphi. "We host events where students address their concerns to us," he explained. "We help bridge the gap between students and faculty by bringing student concerns to faculty members directly." He's also passionate about debates and political science and would like to start a debate club or a Model UN next year at Adelphi.
Sawma's story, however, doesn't come without hardship. His home country, Lebanon, is in the midst of an economic crisis. Gas prices are through the roof, many colleges are closing their doors and citizens are allowed only six hours of electricity every day. There's even a bread shortage. "If your home country doesn't give you the opportunity to flourish, you need to find somewhere else," said Sawma. "America has provided me with so many great opportunities."
One of those opportunities arose after he received an anonymous nomination in his inbox for the Outstanding First-Year Student Award. To be considered, Sawma had to submit an essay substantiating his academic excellence, community/campus involvement and strength in leadership. After being selected as a semifinalist, he was interviewed by Sarah Eltabib, senior lecturer of general studies, and Gina Fries '13, assistant director for experiential learning and strategic partnerships, and told them about his experience in Lebanon.
"Living in the U.S. physically but living in Lebanon mentally and emotionally has been hard for me," he said. "It's been hard to navigate, but I'm grateful to pull through with good grades and good involvement on campus." As the 2022 recipient, Sawma will receive a certificate and will speak to next year's first-year class at orientation.
For now, Sawma is keeping his options open for the future. After graduation, he said he's considering enrolling in medical school and pursuing a career in pathology. He's also toying with the idea of starting his own business. "I believe success stories happen in college," he said. "I'm trying to be a success story."