Nicole McEwan Caradonna '09's middle school students learn to combine art with technology, along with an important lesson.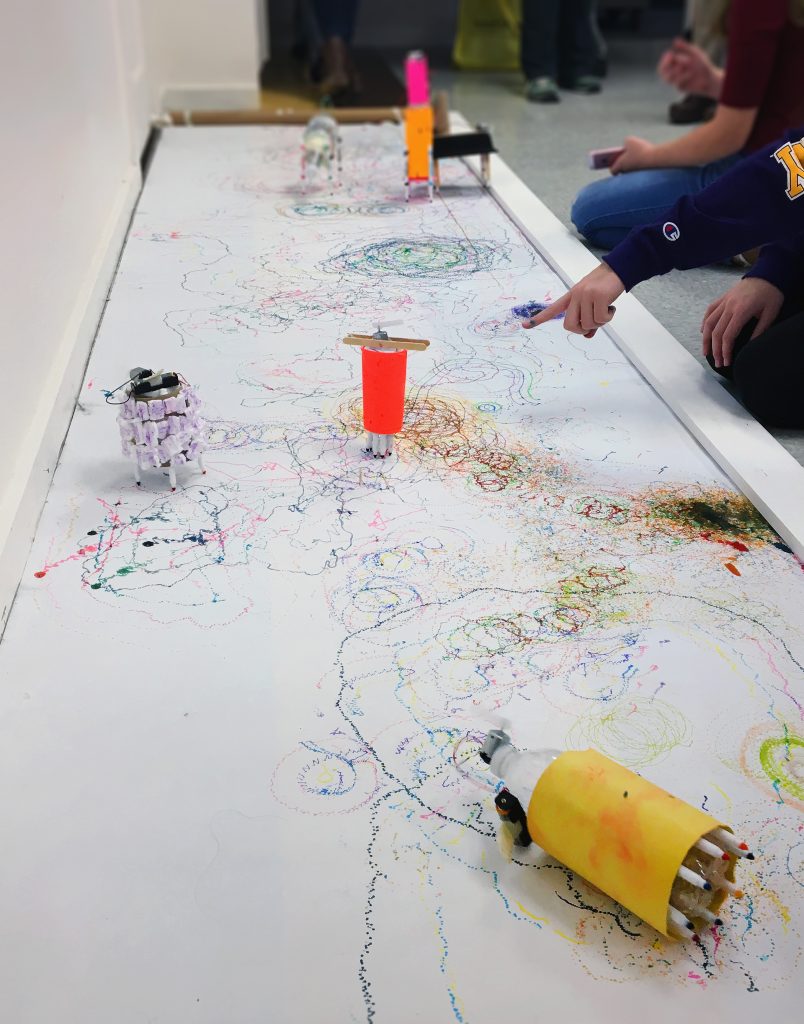 When picturing a middle school art class, one hardly thinks of batteries, DC motors and wires—or an assignment to "create a small kinetic sculpture that makes marks." But this was the task Nicole McEwan Caradonna '09 assigned to her eighth-graders from Plainedge Middle School in Bethpage, New York.
The middle schoolers brought recycled bottles, cans, toilet paper rolls and any other found objects from home and were given markers, hot glue and the components needed to make a simple motor.
Ideally, the drawing machine would rumble, vibrate and dance across the paper, creating a flurry of dots, dashes and patterns. But as students learn, sometimes parts fall off, tape may not hold and keeping balance isn't easy.
"Every student approaches it differently," explained Cindy Maguire, Ph.D., acting associate dean of the College of Arts and Sciences, who instructed the class with Caradonna. "Some spend most of the time decorating their machine while others want to get theirs out quickly." Dr. Maguire is also the director of Adelphi's B.F.A. in Art and Design Education program.
Putting the arts into the sciences, and vice versa, is what's referred to as STEAM (the acronym adds an "A" to STEM and stands for science, technology, engineering, art and math). The STEAM room, designated as Harvey Hall Room 104, is the product of the collaborative efforts of Dr. Maguire and associate professors in the School of Education Mary Jean McCarthy, Tracy Hogan, Ph.D. and Emily Kang, Ph.D. They also had the support of Office of Information Technology, who equipped the room with a 3-D printer and a sophisticated projector system. "The STEAM room will be a community makerspace," Dr. Maguire said.
"Mrs. Caradonna is a former student of mine," Dr. Maguire explained. Through creative projects like this, they both hope to transform the way students learn, as well as the way they view science, engineering and the arts.
Caradonna explained that "solving your own problems is such an important part of life, and the students don't always get that in the classroom." The workshop was an opportunity for students to learn to learn, fail and rebuild toward a particular goal.
---
For further information, please contact:
Todd Wilson
Strategic Communications Director 
p – 516.237.8634
e – twilson@adelphi.edu